UConn's promising performance in the Charleston Classic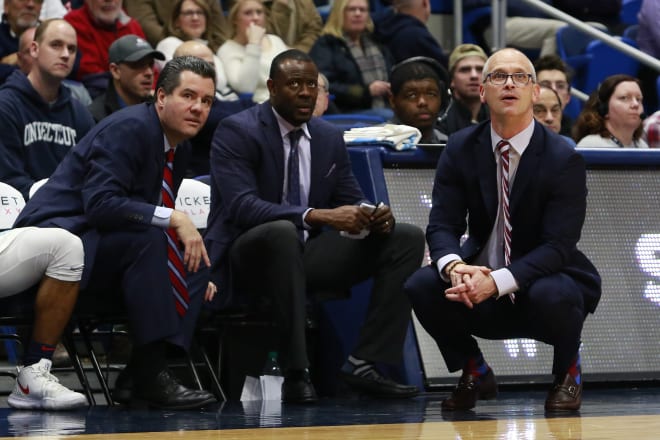 UConn men's basketball took third place in the Charleston Classic, and although the Huskies didn't make the tournament final, they're flying back to Storrs with their spirits high.
UConn routed Miami 80-55 Sunday afternoon, capping off a seven-day stretch that included wins over then-ranked Florida, a cagey Buffalo team, and an ACC school in Miami. They also went toe-to-toe with No. 18 Xavier in a double-OT loss, an instant classic that shows they are capable of hanging with the country's best.
Three games in four days in a tournament atmosphere is a great litmus test for a young team. We learned a lot about the makeup of this team and the direction it's heading.
It was the kind of feeling around the program that UConn men's hoops hasn't seen in a while, and it felt good for everyone.
"I don't think anyone's had a week in college basketball like we just had," Hurley said.
Huskies Travel in Packs
UConn was fueled by an impressive traveling crowd all three games --second to Xavier's by a marginal amount -- in a tiny College of Charleston gymnasium that amplifies the slightest sound.
Fans even figured out where post-game press conferences are held, and tapped on the glass to fire up some U-C-O-N-N chants to head coach Dan Hurley on two separate occasions. The first time it occurred, Hurley remarked, "These people are crazy, man. Everything they said about this job was true."
A Resilient Bunch
The Xavier loss was about as brutal as you could get. But the team did not let it affect their performance in the next game. The Huskies have battled through tough starts, but the double-OT loss was a different kind of adversity to overcome.
Redshirt junior Alterique Gilbert, at 1 a.m. in front of a host of media, noted "We'll learn from this game. We'll watch film, correct things, and bounce back. We'll keep moving forward and have a great year this year."
It was evident from the pregame shootaround on Sunday against Miami that the team was wired and ready to go. Credit senior Christian Vital, who wouldn't stop talking the entire warmup and was bouncing all over the place. He finished the 80-55 Miami win with 14 points on 5-of-10 shooting and five rebounds. Gilbert bounced back with a strong performance in leading the team, with four points and seven assists.
Gilbert and Vital are widely regarded as the leaders in the locker room, as confirmed by junior Josh Carlton after the Miami win: "Having a guy like him (Gilbert) helps us bounce back. He carries us and gives us the energy to come back."
A Deep Squad
By the end of the weekend, it looked like the second unit was as good as the first. Hurley went 10-deep every game, and it's not hyperbole to say that every bench player brought something to the table. Even guys who don't pop on the stat sheet, such as junior Isiaiah Whaley and sophomore Sid Wilson, made impact plays. Freshman Jalen Gaffney continues to improve each game running the point.
"At the start of the season, the only established role was Alterique being the leader. As the season goes on, guys are getting more comfortable. More guys know their roles. Everybody is ready to play every night, and everybody knows what they do well."
"We're finding out about our team right now," he later added. "We didn't know how all these players would respond. We have 10 guys we can put on the court... Guys can't pace themselves. They have to take advantage of their minutes while they're in the game.
"No one should be north of 30-32 minutes from how we looked this tournament."
Even if the rotations thin out later in the season, this sort of depth will keep players hungry to prove themselves across the season. For the first time in a few years, there's enough talent on the bench to push the starters.
"Competition for minutes is a critical part of your program," Hurley said. "When you have guys ready to come in and play at a high level, guys are much more aware defensively and aware of shot selection when there's quality behind you."
The Book Club
For as wild as the weekend was, five years from now it will probably be known as James Bouknight's coming out party. The freshman's rapid ascent has Husky fans, and pro scouts, salivating at his potential. First it was the ultra efficient eight points and six rebounds in 11 minutes against Buffalo. Then he led the team in scoring against Xavier, including a conventional three-point play to give UConn the lead in overtime. Against Miami, he was getting anywhere he wanted on the court and finished with 13 points.
"We see James in practice," Hurley said. "But we couldn't anticipate how when the lights come on, the level someone is going to perform at. What separates good from great and really good from special is what happens when the lights come on and there's refs and fans."
"The game slows down for him," Hurley added. "Some guys beat that initial defender and go faster, or they can't slow down. When he makes that first move and is by somebody, it slows down for him. His finish slows down, he has the athletic ability to glide around the court. He's a plus shooter too. He hasn't shown his three point shooting which is also in his bag, because he's still trying to figure things out."
While UConn fans may see a lot of Jeremy Lamb or Rip Hamilton in Bouknight's game, Hurley sees someone else more familiar to his past.
"The first time I saw J.R. Smith, Tristan Thompson when I coached them in high school," he suggested. "Those guys have a different level of fluidity and athletic ability. But James has a lot of work to do. He has to work defensively, the nuances of the game.
"We knew when we recruited him, he was under the radar. Our fear in the July recruiting period was Duke and Kentucky, because we didn't see many 6'5 guards in the country with his skillset."
Dan Hurley Has Alterique Gilbert's Back
After the Xavier heartbreak, social media lit up about UConn's last-second plays, zoning their gripes in on the ball being in Gilbert's hands too much. Not one minute into the post-game presser after Miami, Hurley voiced his mind on the criticism. Here are his full remarks:
"The reaction to his performance from some fans on social media was shameful. It's despicable. You're not a fan of this program, you don't even know what you're watching. You haven't spent enough time watching this game, studying what we do, and understanding what makes this a championship program. You just don't get it. The things that were said across the board speaks to how little some people know about a team and the game. To treat a college kid in that matter, is shameful and despicable.
"That guy is all heart and hasn't played a full college season yet. If we're going to have any success this year at changing our program's narrative, who's leading the way. It's embarrassing for us."
But Danny wasn't done. When asked about the team's morale on it's day off Saturday, he couldn't help bring up the criticism again.
"Yesterday was a tough day. A lot of it was sitting around. You could feel an outside vibe as a coach. I don't look for it and try to stay off it, but you could sense the noise from the outside. As a follower of the program, someone who deems themself basketball aware, I was stunned by the negativity coming out of the play on Friday. Think about the way those kids left their heart and soul on their court compared to a few years removed from how the culture was prior. Plus how it looks the way we showed our culture today bouncing back. And that comes from Alterique Gilbert.
"He needed a pick me up from all of us. He has an army behind him, we all believe in him. We had to support him yesterday because he felt it, and it was shameful and disgraceful. A college athlete shouldn't have to deal with that. You're a coward if you attack a kid like that. You don't even know what you're watching. You flip on a game and watch 30 games a year, you don't know shit."
The Unsung Heroes
You have to devote some space to the breakout performances of Brendan Adams and Akok Akok. The former looks like a completely different player from last year, and it all has to do with confidence, Hurley, "That's the issue with Brendan; he's athletic, strong, a tireless worker, and skilled. So it's a self-belief thing that takes some players longer than others."
"He also didn't walk into a program that was functioning at a high level that would allow him to mature and develop. It was dysfunctional in a transition year. He and a lot of these guys will perform better this year because the program is stable this year.
"He's in a great environment every day, surrounded by good teammates and a program that's going in the right direction."
And as far as Akok Akok, already as a freshman big he's a capable '3-and-D' player. That's his floor. He showed flashes of his ceiling with his ability to drive and a soft touch around the rim. If he's available against Xavier amid the overtime foul troubles, perhaps there's a different result. Akok takes pride in being a consistent presence defensively.
"That's what I was brought here for, to bring that toughness every day. Some nights I'll be a good scorer, but my value to this team will always be on the defensive end."
Misc. Notes
- Twice, Akok Akok met Tyrique Jones at the rim, and he was the only Husky to win that battle all night. His shot-blocking gives UConn a level of rim protection it hasn't had since the Amida Brimah days. It's even more impressive knowing that the talented freshman is battling a leg injury.
- The refereeing in the Xavier game was terrible. Awful calls on both sides.
- Captain Christian Vital shot 6-16 vs. Buffalo and 2-12 vs. Xavier. He was heavily shadowed in the Buffalo game and Xavier's backcourt length didn't give him much room. But he bounced back with an efficient 14 points against Miami, while applying his trademark fire and hustle plays. Oh and through six games, he leads the team in rebounding, despite standing just 6'1"