UConn Men's Basketball Recruiting Big Board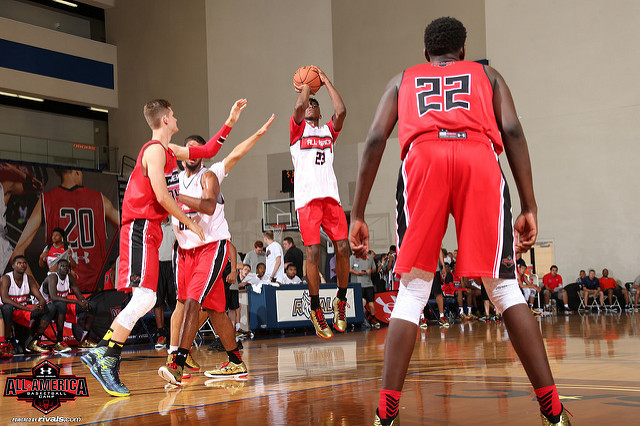 CLASS OF 2016
Kevin Ollie and his coaching staff still have a few targets left in the class of 2016. In addition to signees Mamadou Diarra, Juwan Durham, Alterique Gilbert, and Vance Jackson, VCU transfer Terry Larrier will be joining the Huskies' active roster next season.
Look for UConn to possibly recover a commitment from one of their remaining targets with the outside chance at a second. As it currently stands Kevin Ollie's 2016 haul is excellent. Another addition would make it even better.
Shooting Guard- Christian Vital, Interest: High
Vital recently re-opened his recruitment, de-committing from UNLV after they fired their head coach. The 6-foot-2 guard prospect has visited UConn and Louisville and may be making a visit to Iowa as well.
At this point, a decision could come relatively soon, depending on whether he decides to visit Iowa or not. The prolific outside shooter would fill a need on UConn's team next year so it's clear why Ollie is interested in adding him.
Power Forward- Taurean Thompson, Interest: High
Thompson is one of the highest rated bigs left available in the country. UConn offered him about a month ago and just a few weeks later he officially visited Storrs from April 18th-19th.
Other schools involved with the 6-foot-9 forward are Syracuse, Kansas, Seton Hall, Providence, among others. UConn seems to be making a late run at Thompson. With his big frame, he could be a very good low-post player for UConn in the next few years.
Small Forward- Alpha Diallo, Interest: Low
Diallo was also recently offered by Kevin Ollie. He's high school teammates with Thompson at Brewster Academy, Jalen Adams' old high school. UConn looks like they are behind a few schools like Providence, Oklahoma State, and VCU, all of which have received official visits with him. It doesn't look like UConn is currently making the headway needed to secure a commitment from Diallo in the future.
CLASS OF 2017

UConn's 2016 class is extremely talented but the 2017 class may be even better. Kevin Ollie has UConn off to a good start with five-star center Zach Brown. The Huskies are also in a very good position to land a few other blue-chip talents.
Ollie has brought UConn into a new recruiting category lately and if he closes on a few of the players the Huskies will be very good for a very long time.
Center- Zach Brown, Interest: Verbally Committed
Brown committed to UConn over the winter this past year and is a great start to UConn's 2017 recruiting class. He's a very large, mobile big who will grab rebounds and clog the lane defensively while providing inside offense.
He has had some issues sticking with a school, transferring from Putnam Science Academy in Connecticut back down to his hometown in Miami, Florida after already attending multiple high schools before coming up North, but currently remains committed to UConn. For what it's worth, Ollie and his staff appear to be going after other big men in the Class of 2017.
Point Guard- Makai Ashton-Langford, Interest: High
It has been rumored that UConn is Ashton-Langford's dream school and he has told UConn Report that he grew up a UConn fan. The talented lead guard for the Mass Rivals grassroots team is also being recruited hard by Providence, Louisville, Creighton, and others.
UConn should be in it until the very end for Ashton-Langford, who visited Storrs for First Night this past year. The staff really would like him to be a part of the 2017 class.
Center- Mohamed Bamba, Interest: Medium
Bamba, an elite player in his class, has been offered by UConn. Kentucky and Duke look like possible landing spots for him but UConn watched him multiple times over April's two evaluation periods. It will be very hard for Ollie to beat out every program that will be after him but coach Ollie will undoubtedly put UConn in the best position to do so.
Shooting Guard- Chaundee Brown, Interest: Medium
UConn offered Brown this past winter and has been talking to him ever since. In March, he listed UConn as one of the two schools recruiting him the most along with Wake Forest. It's unclear exactly where UConn is with him now but other schools such as Georgia, Florida, Kansas and others are also recruiting him.
Point Guard- Jay Jay Chandler, Interest: Medium
Chandler is a lanky point guard who UConn offered this past winter. Coach Ollie watched him a few times over April's two evaluation periods. When Ollie initially offered Chandler, he seemed very interested in UConn. As of now he's also hearing from Texas, Texas A&M, USC, Oregon, Oklahoma and others.
Shooting Guard- Hamidou Diallo, Interest: Top Target
The explosive guard was high school and AAU teammates with 2016 UConn signee Mamadou Diarra and they are extremely close friends. UConn is believed by many to be among his top few schools and has been named a leader in the past. Diallo has been on campus multiple times already and was at a bunch of UConn games this past season.
Diallo now has offers from basically every major school in the country, with Duke and Kentucky recently entering the mix, but there's a very good chance he ends up playing his college basketball at UConn right now. It looks like it may come down to UConn, Duke, and Kentucky for Diallo, who has set no timetable for a decision.
Shooting Guard- Jordan Goodwin, Interest: Medium
Coach Ollie and the rest of his coaching staff watched Goodwin a few times over the past two weekends and decided to offer him following April's second evaluation period. He's a very hard-working guard who rebounds very well for his size and is very versatile. He's also hearing from Illinois, Iowa State, Texas, among others.
Shooting Guard- D.J. Harvey, Interest: High
Uconn has been recruiting the elite shooting guard for some time now. This past weekend he said UConn, Duke, Villanova, Texas, and Notre Dame were recruiting him the hardest. Those five plus Arizona he has said are "virtual locks" to make his next cut down list which is at 16 schools right now.
Center- Ikechukwu Obiagu, Interest: High
Ollie looks to be pressing hard for the proven shot-blocker. UConn watched him a bunch towards the end last summer and has been talking to him often ever since.
The past two weekends, Ollie or his assistants were at almost all of his games and he also received a visit from the UConn coaches at home as well. He has said he may take a visit to Storrs at some point, which would be crucial for UConn to get him. Most of the top schools in the country are currently recruiting him.
Center- Nick Richards, Interest: High
It's clear UConn wants another extremely talented big in 2017 in addition to Brown and Richards is an option. He unofficially visited UConn this past summer and came away impressed. Also, Ollie was at multiple of his AAU games the past two weekends. He recently said UConn, Kentucky, and Syracuse were the three schools recruiting him the most.
Small Forward- D'Shawn Schwartz, Interest: Medium
Schwartz is a new name on UConn's recruiting radar but regardless UConn is already one of his favorite schools. He recently said he has three favorites right now: UConn, Colorado, and Stanford. It'll be interesting to see how hard the UConn coaching staff goes after him because he already seems like he's highly interested.
Center- Jarred Vanderbilt, Interest: High
Vanderbilt is a new name that UConn has recently been targeting. Ollie watched him multiple times in the past two weeks and was visited him at home recently as well. It's too early to tell how interested Vanderbilt is in UConn but it's clear UConn is interested in him. Kansas, Kentucky, Arizona, Houston, and many more schools are recruiting him hard.
Point Guard- Tremont Waters, Interest: Medium
The Connecticut native has been on UConn's radar for years now. This past weekend he picked up offered from Duke, his dream school, and Kentucky. Also recruiting him is Viginia, Indiana, Kansas, Michigan, Stanford and others. Waters is in no rush, but with his receiving an offer from his dream school it wouldn't be too surprising if he committed there by the end of the summer.
Shooting Guard- Hameir Wright, Interest: Medium
Wright has been on UConn's radar for a little while now. Ollie and his staff watched him a few times over the last two weeks and have been showing more interest in him lately. In addition to UConn, Villanova, Maryland, Virginia, Syracuse, and many other schools are currently recruiting him.