Life After Geno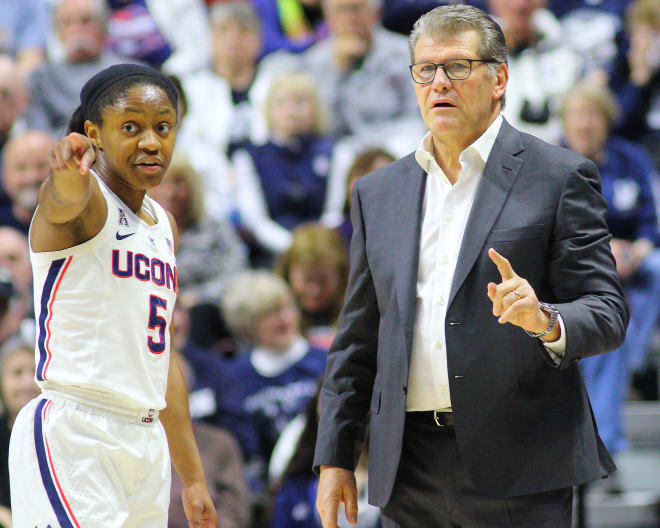 On Wednesday, Tennessee fired head coach Holly Warlick, Pat Summitt's hand-picked successor for the Lady Vols' women's basketball team, after they failed to get out of the first weekend of the NCAA Tournament for the third straight season. Once the preeminent program in women's college basketball, Tennessee has fallen from its prestigious perch over the last seven years without Summitt.
Women's college basketball is still so young that few elite programs have needed to replace their coaches. Summitt's health forced the Lady Vols into an otherwise unthinkable situation. Tennessee's experience with Warlick does raise an uncomfortable question those in Connecticut will have to face eventually: Who will eventually replace Geno Auriemma at UConn?
One thing is for certain though. Auriemma expects to be back next season.
"Just want to let everybody know that I'm still the coach at UConn, and I intend to be the coach at UConn next year in case anybody had any questions about that," Auriemma said facetiously on Thursday, taking a jab at his friend and Louisville head coach Jeff Walz over rumors he would be the new Tennessee head coach.
So it won't be after this year, but when exactly does Auriemma plan to retire?
As of last year, he said he didn't have a certain time in mind yet. Auriemma was asked the question of how much he has left in the tank before his 1,000th career win and gave a non-committal answer.
"There's going to come a point in time where I wake up in the morning and say I don't want to do this anymore," he said back then. "I don't know when that is. It's not going to be tomorrow morning but I think we all get to that point."
Auriemma seems to really enjoying coaching. This year, he looks like he enjoys the challenge of coaching a team that isn't the undisputed favorite like they have been for so many years. He even pointed out how much fun it is to coach freshmen Christyn Williams and Olivia Nelson-Ododa, despite (or perhaps because of) the challenges.
So what would make him want to leave?
"I've always said, depending on the kind of kids we get, that will depend how long I'm going to coach," he also said last season. "If all of a sudden we can't get the kind of kids that can live up to the standards that we have here, that would be a signal to me so but each year we keep getting them so that's another sign that I need to keep doing it."
As of now, Auriemma is still getting enough of the kids he wants. He secured Williams and Nelson-Ododa, the No. 1 and No. 4 recruits in the class of 2018, respectively. He's also gushed over Aubrey Griffin, the Huskies' sole recruit in the class of 2019 at any chance he can. Still, Griffin is only the No. 33 player in the class and UConn missed out on many top targets.
Could that be a sign Auriemma isn't getting the players he wants anymore? Maybe, but it also could just be a temporary lull, one UConn has experienced at times in the past. If Auriemma signs a generational talent (think Diana Taurasi, Maya Moore, Breanna Stewart), it's hard to imagine he'd quit during such a run. But it also should be noted that Summitt didn't get to plan her departure. Life has an unfortunate way of foiling plans, sometimes.

So when the time comes when Auriemma decides he's done enough, who gets the impossible task of stepping into those massive shoes? Auriemma says he won't be part of that decision.

"I get asked all the time who would the next coach at Connecticut be and I said 'I really have no opinion on that.' Maybe a bunch of my assistants would want that job or former assistants," Auriemma said. "I think it's hard for a person in my situation to say 'Well I'm going to hand-pick the next coach.' I think anybody who's tried to do that has not done a good job of it."
He's right. Tennessee is the perfect example of it. Few people have been prepared for a job like Warlick was to take over for Summitt and it still failed. Auriemma pointed out how his idol, UCLA coach John Wooden, didn't even pick the right successor.
"I remember being at an age when I was maybe the biggest UCLA fan of all time 3,000 miles away in Philadelphia and when John Wooden retired, what that program went through -- still going through -- who knows?" he said.
Even at UConn we have seen a hand-picked successor of a legendary basketball coach, Kevin Ollie to Jim Calhoun, not go well.
While Auriemma claims he'll recuse himself from the process, it's hard to imagine. This is a program he built from practically nothing and turned it into the greatest dynasty the sport has ever seen. He'll want to see it last beyond him. The Hall of Fame coach is never one to shy away from sharing his opinion, so why would he choose not to give one when it comes to one of the biggest decisions in program history?
One contender that many other places haven't had is someone like Chris Dailey, Auriemma's No. 2 throughout his entire time in Storrs. Last year, Dailey didn't commit to leaving at the same time as her coaching partner.
"I'm being honest, I honestly don't know (if she plans to keep coaching after Auriemma retires)," Dailey said. "I think it would be really difficult but I wouldn't say that it wouldn't happen. I think it would be kind of fitting if we came in and left at the same time."
Even if Dailey became the head coach, she's 60 years old herself and wouldn't be a long-term option. But Dailey could be a key piece in helping maintain the program culture while the new coach sets up.
So if not Dailey, who else would make sense? It seems logical that the school would want someone connected with the program in some way. Jen Rizzotti played at UConn from 1992-1996 and has been at a head coach at UHart and George Washington for 20 seasons now, but hasn't exactly blown the doors off the mid-major ranks.
Boston University head coach Marisa Moseley didn't play for Auriemma but coached with him as an assistant for nine years. In her first year in charge of the Terriers, Moseley won the NEC regular season championship.
Another assistant, Shea Ralph, checks off a lot of boxes as well. She played with the Huskies from 1996-2001 and has been an assistant with the team for 11 seasons. And despite not having any head coaching experience, an anonymous survey of 235 Division I coaches by High Post Hoops had Ralph tabbed as the current assistant that will make the best head coach. It doesn't hurt that Ralph sounds like Auriemma when she talks as well.
"She's in between not bad and sucks," Ralph said back in November when asked how Christyn Williams' defense was progressing.
And then, there's the chance UConn goes after someone that isn't coaching, like a Rebecca Lobo, or goes outside the program completely and hires a much more established head coach. The last part shouldn't be discounted, especially after Auriemma's comments on Thursday.
"I just know that whoever does step into those situations (of replacing a legendary head coach) does not have it easy. Not at all," he said. "Especially if that person is still around the program and there's still a connection to the program. Because you're always going to be measured against that. I don't know how you can function in that type of environment. It's very difficult."
Nobody quite knows when UConn will have to find a successor to Auriemma. The coach himself may not even know. But Warlick's firing is just an unpleasant reminder that the Huskies will have to deal with life after Geno at some point and as of now, there are many more questions than answers.