UConn WBB revels in tournament victory with "spontaneous" celebration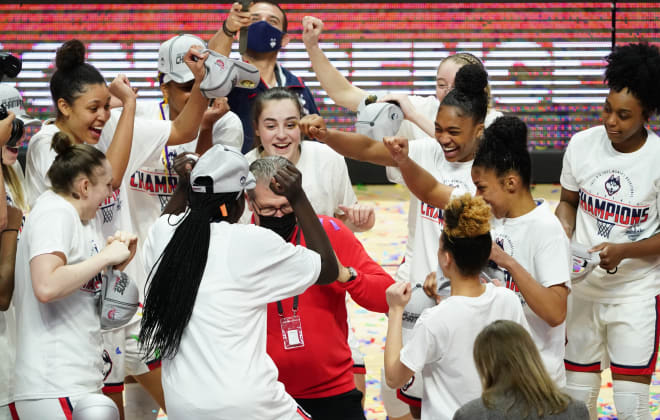 Geno Auriemma sat at the podium beaming, a rare sight for a coach who's disgruntled with his team more often than not.
Seven months after UConn women's basketball reconvened on campus and began what would be a long, disjointed regular season, the Huskies captured the Big East Tournament title with three dominant performances over the span of three days inside Mohegan Sun Arena.
Auriemma – though he and his team still have greater aims for this season – allowed himself to soak in the moment for a bit.
"I've never been more proud of any team, to be honest with you," he said. "All these young kids and how much they've grown up over the course of four or five months, it's really been refreshing to watch. The celebration – I don't know if you all got a chance to see it – that the kids had after they won. We've won a lot of these. I don't know how many. I'm sure somebody will bring it up, how many of these. I don't remember quite a spontaneous and joyful celebration like these kids had."
UConn kicked off that spontaneity with a dancing circle near midcourt. Soon after, the team doused Paige Bueckers with water during her postgame interview. Once the Huskies lifted the trophy and confetti rained down, they all fell to the court and did confetti angels. They quickly turned their attention outward and began dumping confetti on unsuspecting members of the program, like Kathy Auriemma, trainer Janelle Francisco, and even some Mohegan Sun staffers.
Once they got that out of their system, the players returned to the confetti piles on either side of the trophy table. The older players continued on with the confetti angels while the team's seven freshmen piled into a pyramid for a photo. Finally, the entire team convened together for one final photo on the court – without their hats on at the behest of associate head coach Chris Dailey. They finally sauntered off into the locker room, though not before Saylor Poffenbarger checked with the photographer to make sure the pictures came out okay.
"It was fun. It was really fun. That's just kind of the team we are. We're all about having fun," Bueckers said. "You see it on the court as well but off the court, it's a whole different level. And obviously winning that championship was a whole lot of fun so we just kind of showed it and wanted to get everybody involved. I think we threw confetti on every single one of the people on our team, staff included. So, no, we just want to enjoy the moment as much as we can, especially in times like these."
"It was fun to see the freshmen get to experience that. It was good to see. It was a lot of fun," Christyn Williams added.
There was plenty for UConn to celebrate. Over the three Big East Tournament games, the Huskies dominated defensively, allowing a total of 119 points – 39.7 per game. For Auriemma, it wasn't just the fact that they played well defensively. Instead, he saw a team that took pride in its defense, something that hadn't been the case earlier in the year.
"I would say their willingness to want to compete on the defensive end as much as they enjoy being on the offensive end. I would say that kind of growth and understanding of team defense and team dynamics and how everyone is tied into it and how everyone has to be committed to it. That, to me, is the biggest growth," he said.
UConn also benefited from the best stretch of basketball Williams has ever played. She transformed into a true lockdown defender in the tournament, holding St. John's Leilani Correa to seven points on 3-18 shooting, Villanova's Maddy Siegrist to three points on 1-10 shooting, and Marquette's Selena Lott to two points on 1-5 shooting.
"I've been just taking those matchups personal," she said. "I don't want them to score 25 on me or our team. So that was my mentality going into the game and I did my job."
Though Williams tried to deflect credit to her teammates during her postgame press conference Bueckers, justifiably, would have none of it.
"First of all, it's not even all on me because –"
"No, it was Christyn," Bueckers interrupted.
"No, no, no, it was a total team effort because I got Liv and Aaliyah in the back, I got my guards and Paige and Nika on the side of me," Williams continued. "I don't want to give all the credit to me, that's not right. It was a total team effort and we shut those guards down as a team."
Williams also averaged 18.7 points per game and made a case to been named the tournament's Most Outstanding Player.
"Christyn hasn't had the kind of year she wanted to have. She hasn't been in any kind of a flow whatsoever," Auriemma said. "For her to come out here and then for three days do an amazing job on the three best players that she faced this weekend and still play at a real high level on the offensive end – as much as Paige was MVP, I thought Christyn could just as easily have been as well."
For UConn, the tournament couldn't have gone much better, especially considering Auriemma said just over a month ago that "it wouldn't bother me one iota" if the Big East didn't hold a conference tournament. But with the way it all unfolded, the coach is happy it ultimately went on.
"It ended up being great for us because we're going into the next tournament with a better sense of who we are as a team, a better identity of who we are as a team," he said. "We found out a lot about some of our players these last three days."
And that's something worth celebrating.
"My life doesn't change that much winning another championship," Auriemma said. "But my life was changed tonight because I got a chance to see the way that they celebrated. That was worth waiting six months for."
Check out our postgame coverage to watch Christyn Williams and Paige Bueckers breakdown their team's dominant performance and discuss what this Big East Tournament title means to them!