UConn WBB advances to Big East Tournament final with win over Villanova
Check out our postgame coverage to watch Christyn Williams and Paige Bueckers talk about their blowout win!
If UConn women's basketball needed a blueprint for how to win a national championship this season, Sunday's semifinal win over Villanova provided it.
The Huskies dominated the Wildcats on both ends of the floor en route to an 84-39 demolition. It was as close to a perfect performance as it gets and the latest evidence UConn is peaking at the right time.
"I feel like we're playing our best basketball right now," Paige Bueckers said postgame.
"It's a great feeling when you watch a team play late in the season and all the things that you've been trying to work on come to life," head coach Geno Auriemma said. "It makes the kids feel like all the work and all the effort they put into it are worth it. Everyone that played played their role perfectly."
It all started on the defensive end for the Huskies. They held Villanova to a season-low 39 points and allowed just three points in the second quarter. UConn didn't just rely on turnovers either as the Wildcats only coughed the ball up 12 times and had 64 possessions to the Huskies' 65. Instead, UConn played suffocating defense that held Villanova to 6-33 from 3-point range and 15-61 overall.
"Jamelle [Elliot] last night and Shea [Ralph] tonight put together two great game plans. 'This is how we're going to defend it. This is what everyone's responsibility is.' It's not one person that's going to get it done. It's a team effort," Auriemma said. "It worked as well as you can possibly hope that it will work and at this time of the year, that's exactly what you need to win."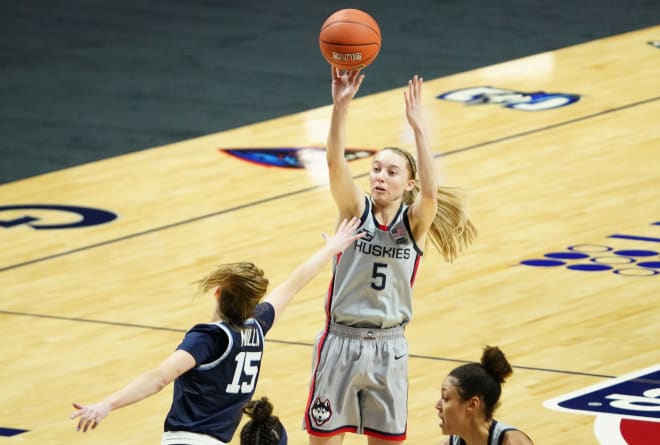 A major piece of the Huskies' defensive success came from Christyn Williams. The junior was tasked with marking Villanova star and Big East leading scorer Maddy Siegrist and held her to a career-low three points. Without Siegrist's production, the Wildcats didn't have enough firepower to keep up.
"She's a great player. She had 30 last night. So if we could shut her down, we could handle the other players as well," Williams said. "I felt like we did a great job as a team today stopping her."
Williams' emergence as a lockdown defender is a crucial development for a UConn team that had plenty of issues stopping an opposing team's best player earlier in the year – just think Chelsea Dungee's 37 points for Arkansas or Leilani Correa's 33 point night for St. John's.
With how Williams is playing, UConn doesn't need to draw up any exotic defenses to stop a star player. All it needs to do is stick Williams on her and figure out how to slow everyone else down.
"[The coaching staff has] been putting me on their best guards, so I've definitely tried to take advantage of that just to get better each game," she said.
Williams also led the team with a game-high 26 points against the Wildcats. She played confident and aggressive, unafraid to attack the rim or take a 3-pointer. Williams has now scored in double-figures in seven of her last eight games, in large part because of her defense.
"I've taken a lot more pride in my defense, and I think that has relieved some pressure off the offensive end," she said. "I'm trying to become a more complete player consistently. I feel like I've grown a lot in different areas in my game."
"Christyn Williams finally realized how to just play to her potential and play to who she is, and it was really great to see because she's been struggling with that all season," Auriemma said.
"I think today was the culmination of her being great defensively on a really tough assignment and just letting the natural part of who she is happen on the offensive end," he added later.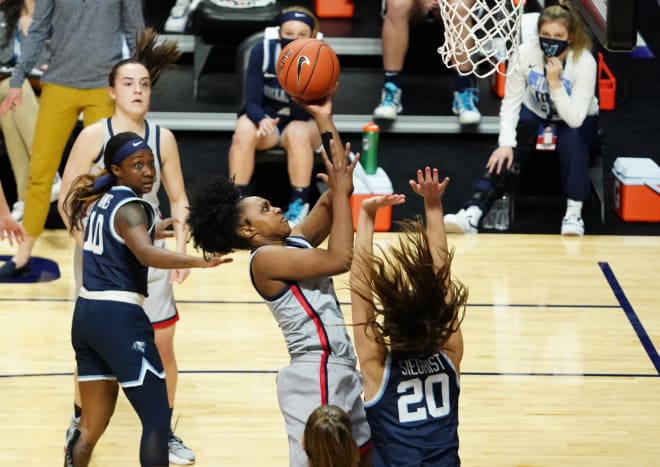 Williams' effort headlined a balanced offensive night for the Huskies. Bueckers' line of 18 points and eight assists has become standard for the freshmen while Olivia Nelson-Ododa added 13 points, seven rebounds, and five assists. Evina Westbrook chipped in where needed with eight points, seven rebounds, and three assists while UConn's bench contributed 16 points.
The Huskies didn't rely on one player to carry the offense and attacked the basket from every corner of the floor. That meant Villanova couldn't key in on a specific player or aspect to slow UConn down.
"I think when we're playing together and as a team and we're all looking to get each other open and just be selfless, that's when we play our best basketball," Bueckers said.
Even the often unsatisfied Auriemma described his team's performance as "amazing." The Huskies played suffocating defense in large part thanks to a lockdown from Williams on the opposition's star play. Offensively, they got contributions from their leading players in Bueckers, Nelson-Ododa, and Williams but didn't need any one of them to shoulder the load.
The victory provided UConn with the exact blueprint it needs for how to win games in March. And if Williams continues to play like she has, few teams – if any – will be able to stop the Huskies from capturing banner No. 12.
"We're a championship team if Christyn Williams plays like that," Auriemma said. "I don't know if we can be if she doesn't play like that, but if she plays like that, we're a championship team."