The Complete Katie Lou Samuelson Experience
HARTFORD -- As the second half dragged on in UConn women's basketball's 102-45 win over Memphis, coach Geno Auriemma felt he had done enough. The Huskies were up by more than 40 and were firing on every cylinder.
He decided to take a backseat and give someone else a chance to draw up some plays.
But he didn't hand his board to associate head coach Chris Dailey, or Shea Ralph or Jasmine Lister. Auriemma handed the team over to senior Katie Lou Samuelson.
"Coach said 'Go ahead Lou' so I sat down and talked with the team," Samuelson said.
With this newfound power, the senior tried to draw up a lob pass to freshman Olivia Nelson-Ododa, but it didn't go according to plan. So, in addition to explaining what Nelson-Ododa did wrong, Samuelson ran onto the court during the next timeout and simulated what the play was supposed to look like herself.
"I was too high. She was telling me about that," Nelson-Ododa said. "I felt so bad because she drew that up right then and there and I was too high."
Auriemma has shown throughout his career that he isn't afraid to call out his players when he needs to. Samuelson decided not to take to that coaching philosophy.
"They did execute," she said on the team's performance at her command. "Memphis played a little differently but they adjusted to it and went off of it. But I thought they did really good."
On the court, Samuelson was everywhere. Before she was on the bench drawing up plays on the spot, she was nearly unstoppable from three-point range, hitting 8-11 shots from beyond the arc. She dropped 32 points and also got inside for 10 rebounds. On top of all that, she added in seven assists as well.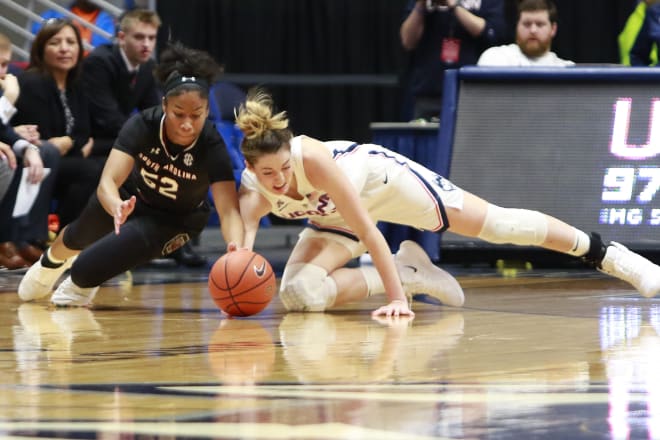 So is there anything Samuelson can't do?
"According to coach, play defense," she laughed.
Jokes aside, Samuelson's performance against Memphis is a perfect example of how the senior has transformed her game this season. Samuelson came to UConn with the reputation as a sharpshooter and lived up to the billing her first three seasons, hitting .482 percent of her threes. She was also a decent rebounder, grabbing 3.93 boards per game entering this year.
But as a senior, Samuelson's three-point percentage has dropped to a career-low .335 percent (prior to Wednesday's game). The fact her shot wasn't falling, plus the loss of bigs Azura Stevens and Gabby Williams to the pros, meant Samuelson needed to find new ways to contribute to the team.
So Samuelson decided to use her 6-foot-3 frame to full use and go into the post more. She's averaged over two more rebounds per game compared to last season and is scoring more inside. In her first three years, an average of 49 percent of her made field goals came from three. This season, that number has dropped to 37 percent.
"I need to continue to do what I did tonight to help everyone out," Samuelson said. "(Collier) does what she does every day and we take it for granted so I'm trying to get down there to help her a little bit."
Please consider supporting Storrs Central's mission of dedicated, high-quality coverage of UConn athletics by joining the membership, available now for 50% OFF!
She's also developed a toughness that helps her on the low block. Against UCF, Samuelson took an elbow to the rib and multiple hands to the face in a game where she was beat up from start to finish. The physicality knocked the senior's shot off and she didn't make a single field goal, the first time that's happened in any game since her freshman year. But she still finished with 12 points thanks to a 12-12 effort from the free throw line.
It's the type of performance Samuelson wasn't capable of making in the past. And it's one she knows she is going to need to continue to make once March comes around.
"I know I'm going to have to do a lot more moving on from here," she said. "When we get into tournament play, when threes aren't going in, I've had to get myself involved in other ways than just standing on the three point line."