Katie Lou Samuelson All Smiles on WNBA Draft Night
NEW YORK — WNBA Draft night serves as one final chance for college basketball fans to cheer for their favorite players before they begin their professional careers. Katie Lou Samuelson's self-proclaimed biggest fan had the best seat in the room.
Los Angeles Sparks guard Karlie Samuelson, who is a year older than Katie Lou, sat at her sister's table, positioned in front and to the right of the draft stage, with a smile stuck firmly to her face.
"I just want her to take in the moment because this is unbelievable," Karlie said. "I just want her to go somewhere where she will be happy. I hope she's a WNBA star wherever she goes."
After an endless session of photos, then greetings from her college coaches and former teammate Kia Nurse, Katie Lou finally joined her sister. Geno Auriemma sat with them.
But Katie Lou didn't stay there for long.
The Chicago Sky took her fourth overall in the draft — higher than expected — and she was soon whisked back to the media scrum. While it's not possible for her mood to match Karlie's, Katie Lou was all smiles. It was a stark difference to her demeanor less than a week ago.
Last Friday night, Samuelson stood at her locker in Tampa, gracious in defeat, but sullen and looking at reporters through bloodshot eyes after a third straight national semifinal loss. She thoughtfully answered every question thrown at her, but there was no hiding how crushed she felt.
While Samuelson would have loved to win a second championship at UConn, she now turns her sights to the Sky, where former teammate Gabby Williams and UConn alumna Stefanie Dolson eagerly await her arrival.
Williams described via email watching the draft and her elation when she saw her team's pick.
"I was in a public place with some of my teammates in Spain and completely embarrassed myself," she wrote. "Definitely made a scene, but who cares, I'm excited."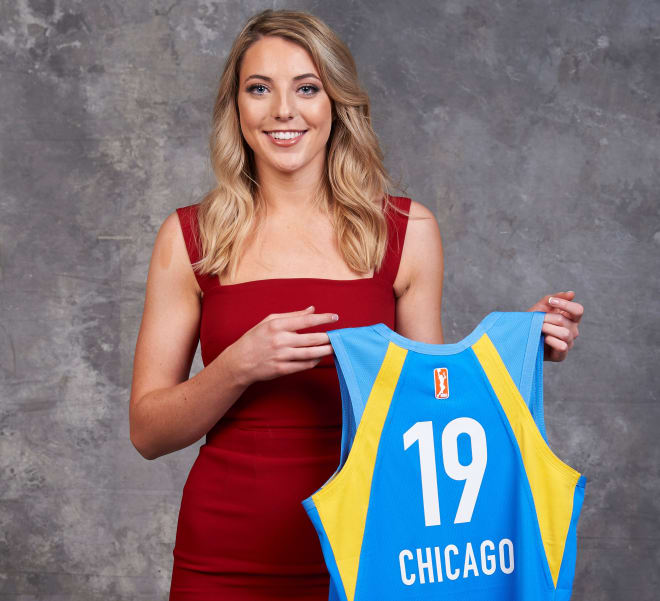 Williams also confirmed what UConn fans could have guessed: When she finally had a chance to talk to Samuelson after the draft, the words they exchanged were not suitable for public consumption.
"Just know we're excited," she said.
As quick as that turnaround was from the losing locker room in Tampa to holding up her new pro jersey live on ESPN, Samuelson's whirlwind is far from over. She graduates in May and will start training camp before then. The Sky also play their first preseason game in just over a month.
Fortunately for her, she has the support Williams, Napheesa Collier — her UConn teammate who went to the Lynx with the sixth overall pick — and, of course, her sister. Samuelson says Karlie has been giving her plenty of advice about what she has to do to achieve a successful rookie season.
"Believing in yourself and understanding how much time and work you have to put into it," Katie Lou said. "Not even on the court. Off the court, just making sure you're healthy and eating right."
Samuelson also received a message of support from her favorite player: Boston Celtic' legend Larry Bird.
As for Williams, she says Samuelson will give the Sky an offensive threat that can spread the defense and get hot at any time. Pairing her with a point guard like Courtney Vandersloot could make the Chicago offense deadly. Then, there's the natural chemistry that Williams and Samuelson developed by playing together for three seasons.
"I feel like we grew up together as teammates and that's why we connect so well on the court," Williams said.
This summer, Samuelson is poised to continue her path toward becoming a more complete player. Over four years at UConn, she went from a three-point specialist to someone who could shoot, get into the lane, take opponents off the dribble, and rebound. Naturally, Samuelson says, Auriemma reminded her on draft night, immediately after she was picked, that she has plenty of work to do. For one thing, Samuelson knows she has to get better on defense.
"That's a big weakness of mine," she said. "And learning to use my length."
That length, Karlie believes, could become one of Katie Lou's biggest assets.
"She's so versatile," Karlie said. "She's 6'3 for crying out loud and she can shoot the heck out of the ball. Everybody knows that. But she's such a smart player."
For UConn fans looking ahead, Samuelson and the Sky's first regular season game will be against Collier and the Lynx on May 25. But first, Samuelson and Collier planned to get a post-draft dinner together with their families in New York to celebrate the next step in their careers. Then it's on to the pros.