How Autumn Chassion earned a walk-on spot at UConn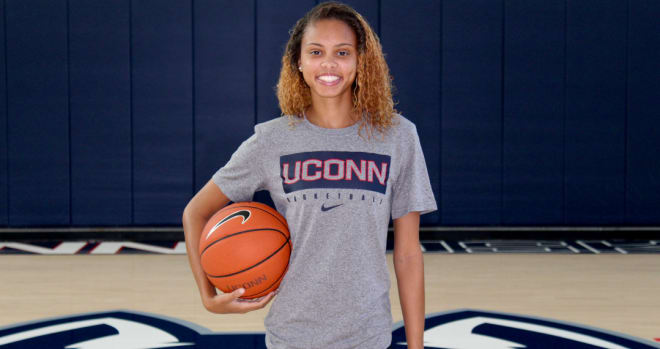 On the eve of the Louisiana Division III Semifinals in mid-March, Autumn Chassion spent the entire night in the hospital. The senior point guard, chasing her fourth state championship, was sick as could be. She suffered from headaches, extreme leg cramps, dehydration and fever. She couldn't keep anything down. Her sense of smell and taste disappeared.
Through the early hours of the morning, Chassion received IV fluids before finally getting discharged at 5 a.m. in the morning. She dragged herself to school for a half-day so she would be eligible to play.
That night, Chassion and her Lafayette Christian Academy team cruised to a 64-23 victory. But after the game, Chassion's condition worsened and she ended up back in the hospital before the state championship. At that point, her father broached the possibility that she might not be able to play.
"My kid was dead to the world, lights off," her father Tehmi Chassion said. "I'm thinking 'We might have to think about you not playing, we can't take any chances.' She was like 'Absolutely not. Absolutely not.'"
Like the semifinal, Autumn willed herself onto the court. At one point, Tehmi noticed his daughter didn't look right. When she came near his seat in the stands, he asked if she was okay.
"My kid turned and looked at me and said 'I can't feel my legs,'" Tehmi relayed. "Afterwards she was like 'I couldn't feel them underneath me. I know they're moving but that's adrenaline pumping.'"
"Like a fierce warrior", Autumn played every second of the championship game and led the team in points and assists. Unfortunately, it wasn't enough as LCA fell 51-47.
Looking back, Tehmi, a pharmacist, is certain that Autumn had COVID-19. It was right at the time the virus hit the U.S. and one of LCA's previous opponents suffered an outbreak at their school prior to their state tournament matchup with Chassion's team.
"Every tell-tale symptom points to it," he said. "I even told her 'You might have the coronavirus,' but we're not thinking about how deadly it is otherwise I wouldn't have let her play in the game. You're not thinking."
A lot of players would've tapped out after spending the first night in the hospital. Most others would've thrown in the towel after a second visit the next day. But Autumn isn't a normal basketball player. And she doesn't plan to be a normal walk-on at UConn.
For her entire life, Autumn's basketball coach was her dad. From the youth rec league, to middle school to AAU, Tehmi was on the sideline coaching his daughter.
"As long as she was playing, I didn't have to worry about losing because I had the best kid on the court," he said. "If all else fails, 'Hey I need a stop. Hey I need a bucket.'"
Despite living in Lafayette, Louisiana – around 1,350 miles and an entire world away from Storrs – the Chassions were diehard UConn women's basketball fans. Tehmi said he and Autumn watch the Huskies "24 hours a day."
"I've got at least 10 games still recorded on our DVR and have the last national championship game still recorded... She's a huge fan, always has been."
Tehmi used Geno Auriemma's offense with his AAU team, so any time the Huskies played was an opportunity for him to review film with Autumn.
"We understood what really good basketball looked like, at least we thought, so we would watch and watch and watch and we'd record games and break stuff down and watch it, and we also ran their same sets and series from AAU so it was a good opportunity to see it and watch it."
As Autumn was preparing to enter high school, Tehmi learned that UConn's practices were open. Naturally, he jumped on the opportunity and called up the Huskies' team offices. Then-grad assistant Chloe Pavlech picked up.
"You just call a general 860 number and you just ask, 'Hey, random person here, we heard we can come to practice if you want," and it's like 'Yeah, sure! Let me get you setup, let me get your name, let me get some dates for practices. Take a look at these dates.'"
The Chassions made two pilgrimages to Storrs – once for five practices during the 2016-17 season and again the next year for the same amount of time. At the Werth Champions Center, chairs are set up for visitors from the team's various Final Four appearances. As Louisiana natives, Autumn and Tehmi made sure to find the New Orleans' seats to sit in – "Little home-grown good luck," Tehmi called it.
RELATED
UConn WBB Weekly: State of the Huskies' roster
Crystal Dangerfield shines in WNBA debut
UConn Commit Paige Bueckers Brightens Huskies' Future
While in Storrs, the father-daughter pair were blown away by the warm reception they received from everyone around the program.
"They're the nicest people ever. ... We're nobody and they take the time to come over, walk over and talk to you," Tehmi said. "The most important coaches to me in college basketball – just revolutionary – and they take the time to come. And we're strangers. 'Hey, how you doing? Where do you go to school? Can you play?' Random small talk but just chatting."
"We're at practice and Batouly Camara is just so nice to us. We're nobodies in the gym and she happened to come in," he added later. "Batouly always comes and shoots free throws and she always talks to us. We're random people in the gym. She makes us feel amazing."
The trips proved to be more than just a front-row seat to the best coaching clinic of Tehmi's life, though. He asked Pavlech how to get Autumn looked at on the recruiting trail. She told him to send over Autumn's schedule and she would pass it on to Auriemma and Chris Dailey.
Autumn played for Louisiana Elite, one of the top grassroots teams in the country. Soon after those visits, various members of UConn's staff started coming to her games: Auriemma, Dailey, Shea Ralph and Jasmine Lister were all spotted in the stands throughout the circuit. However, as interest in Autumn began to ratchet up from schools ranging from Division I to Division III, NAIA to top junior colleges, the Huskies' pursuit began to fade.
"It just didn't pan out or work itself out for a scholarship with them," Tehmi said.
But the Chassions remained in touch with the staff. Though Autumn had her pick of scholarship offers, her heart remained on UConn. So Tehmi emailed Dailey to see if there could be another way for her to join the program.
"I sent CD an email letting her know my daughter loves the school and would love it if there's any possibility, even if it didn't work out...she'd love to possibly still be part of the team," he said.
With UConn in the background, Autumn started to narrow down her list. Throughout the process, she made sure to call each coach that offered her to tell them she was no longer interested. But as Autumn sifted through all her choices, none of them felt quite right. She just couldn't shake UConn from her mind.
Finally, prior to Thanksgiving last year, her dream came true. The Huskies offered her a roster spot as a walk-on.
At the DI level, most of Autumn's offers came from low-major schools. However, there was one power conference school that was in the AP Top 10 as recently as last season that showed interest, pulled off but then came back late in the process with an offer.
At that point, Autumn's heart was set. She knew the risks involved. She knew she'd get more playing time if she went anywhere else. She knew that the cost of college would be covered if she accepted a scholarship offer. But Autumn followed her heart and committed as a walk-on to UConn.
"I knew that when I was presented the opportunity to play at one of the most prestigious universities and play under the best coach in women's basketball that it was a once-in-a-lifetime opportunity. I knew I had to take it," Chassion said in a release.
Some parents would've been upset at the notion of having to pay for school when their child could've gone for free. But that didn't matter to Tehmi.
"When we had her 18 years ago and they handed her to me, I promised her whatever she wants to do, I'm going to make her dreams come true," he said. "Her dream is playing there. We went there, watched practice and she's like 'I got this, I can handle this.' I'm like 'Okay baby.'"
RELATED
Sue Bird Just Keeps Getting Better With Age
What it Feels Like to Play UConn in the First Round
Gabby Williams on Race, UConn, and Life in the Pros
By nature, walk-ons aren't expected to compete for playing time. But with just 10 players on its roster, UConn needed extra players in practice. Tehmi knows the cards are stacked against his daughter to see the court in anything other than a blowout. At the same time, he said if anyone can beat the odds, it's Autumn.
"She's a phenomenal basketball player, she's always been my point guard," Tehmi said. "She runs the team, she's a coach on the court, she can drop the ball into anyone at any point in time, you just have to be looking for it. She can get to the basket at will, she's a lights-out shooter. She can stop and pull-up, she's got unlimited range."
Assimilating with the team won't be an issue, either. After she committed, Dailey put Autumn in touch with redshirt junior Evina Westbrook. The two hit it off immediately.
"Evina has been so great and amazing to my kid, being older," Tehmi said. "Evina has a car, she's like a big sister. I can cook – I owe that kid a meal, some food because she's looking after my baby, showing her the ropes."
When they traveled up to Storrs last weekend to drop Autumn off, Tehmi was in no rush to leave his daughter and head home. But Autumn was ready to fly from the nest.
"We were trying to hang around her apartment and she was like 'Okay guys, okay guys,'" he said.
Autumn, who had a perfect 4.0 GPA in high school and was the valedictorian of her class, plans to go to medical school one day. This would requires a strenuous undergraduate program, the type that doesn't pair well with life as a Division I athlete.
"She's a ridiculously smart kid, genius-level intellect," he said. "Super high ACT score, there's nothing the kid can't do. I don't think she's ever made a B, period. And she's a really good basketball player. Like really, really good."
Going to UConn as a walk-on over other Division I scholarship offers wasn't a conventional decision. But Autumn isn't a conventional athlete. Conventional athletes don't play through COVID-19. Most players only dream of playing for UConn. Autumn willed that dream into existence.
Now that she's officially a member of the team, Tehmi believes she'll take full advantage of the opportunity in front of her.
"She's there to make the best of it but also, she's there to play, she's there to make her teammates better, she wants to win," Tehmi said. "She's going to go and fight and help the team in whatever way possible that they need her to."