What it's like to play UConn in the first round of the NCAA Tournament
After winning the Colonial Athletic Association conference tournament, the Towson Tigers earned their first NCAA Tournament bid in program history.
Their reward? A meeting with the No. 2 UConn Huskies, the most dominant program in college basketball.
As a 15-seed, Towson faces long odds, a situation Joanna Bernabei-McNamee experienced with Albany in 2017 and Joe Haigh with Saint Francis last year, both as 16-seeds against No. 1 overall seed UConn teams.
In men's and women's college basketball history combined, a 16-seed has beaten a one-seed twice (Harvard over Stanford for the women, UMBC over Virginia for the men). But a 15-seed has yet to beat a 2-seed on the women's side. So how do you prepare for a game that's close to impossible to win? Well, it has to start with confidence.
"I go into every game thinking we could win," Bernabei-McNamee said. "I think if you're a basketball coach at any level and you're not thinking like that, I think you're in the wrong profession."
That certainly isn't an issue for Towson. During their press conferences on Thursday, both Tigers head coach Diane Richardson and her players oozed confidence at the podium.
"I think that there is a lot of history with UConn basketball. But when we talk about teams and match ups, I think we match up very well with them," Richardson said.
"We knew we were going to get some history whoever we played since this is our first time. It's an honor of course for us to be able to play and be able to play in the tournament. We are going to go ahead and set ourselves up for some more history."
At the same time, it's important to know that the talent of a 16-seed isn't going to beat the talent that UConn has. The Huskies have some of the best players in the nation and multiple future WNBA players. A 15-seed like Towson isn't even in the same stratosphere, talent-wise. If they hope to pull off the upset to end all upsets, it's going to take more than a little luck.
"It doesn't really matter. Whether you're 14-, 15-, 16-seed, nobody's won those games. You're going to get your butt kicked anyway," Haigh said. "I have to sell it to my kids [that we can beat UConn].
Haigh knew the odds were slim. It came down to two options: Slow the pace, drain the shot clock and do what you can to keep it as close as possible without going for the win. Or draw up something exotic that could go very poorly but also give his team a chance -- albeit very small but a chance nonetheless -- at winning. Haigh went with the latter.
"It's implausible, but there was one scenario where we could've won and it would've involved UConn having the worst shooting day of their lives," he said.
Ultimately it didn't work out. Saint Francis gave up 94 points in the first half alone and eventually lost, 140-52.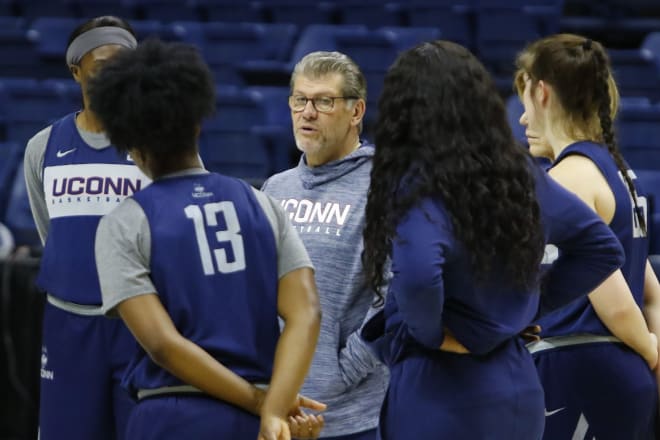 Now, Towson has to make that same decision: Keep it close or go for the win. If Thursday was any indication, Richardson is going for the win.
"I think we match up well inside and out, we have some very quick guards who can shoot the ball well," she said. "We've got some tough posts as well, and we are long inside. We have long and athleticism, so that helps us match up well against them."
Regardless of how good the gameplan may be, the players need to execute it against the best team and the best players they've ever seen. That can be tough to do, especially if UConn throws out something unexpected.
"They pressed us to start the game and for a good portion of the game and I thought that could maybe work to our advantage, because that would give us more opportunities to score," Bernabei-McNamee said. "But we threw it away a little bit. I had two freshman point guards at the time so that was smart on his point to press."
But even if the gameplan is solid and the players are performing it, UConn can still wreck it on their own rather quickly. Albany decided to concede the three-point line to some of the Huskies' weaker shooters to better defend the interior. UConn's best shooter, Katie Lou Samuelson only made 2-for-7 from three. But Crystal Dangerfield hit 4-for-7 from deep and Kia Nurse made 6-for-7 from beyond the arc.
Albany lost 116-55, giving up the most points in the first round of the NCAA Tournament at the time, topped by UConn's win over Saint Francis the next season. But both coaches stand by their decision to go down with their teams' styles instead of sacrificing it for respectability.
"One thing that looking back, I think maybe I should've slowed the ball down more, like how Quinnipiac had a very good gameplan going in with milking the shot clock every possession, and maybe we should've done something like that but that's no really my style and hell, I don't even know if we could make a pass without turning it over for a whole shot clock against them," Bernabei-McNamee said.
And Haigh offered this advice, born of experience, to Towson.
"Play the way you're best at because if you don't do your best, you have no shot against doing anything against UConn," Haigh echoed.
It's likely the score is going to get out of hand rather quickly between UConn and Towson. Both Haigh and Bernabe-McNamee know what that's like. They both noted how important it is to just ignore the scoreboard and just play hard to the final buzzer.
"I wanted our kids to be proud of the way they played, no matter what the score is at the end of the game, we competed and we played hard and we played hard the whole time," Haigh said. "Looking back at the video afterwards, you can see our players walking off the floor and they were great. Lot of smiles. We knew what we were getting into."
"Win or lose, we're going to have no regrets," Bernabei-McNamee said. "But if we get wrapped up in the score and then we start putting pressure on ourselves, that's how you end up looking not as poised."
Odds are that Towson's season ends on Friday, but there's still plenty of positives to glean from playing UConn. Haigh was appreciative of the chance to put Saint Francis on the map and said the team signed their highest-rated recruiting class in program history after playing the Huskies.
"Treat it as an opportunity, not a death sentence," he said. "I felt it was a great opportunity for our program to play UConn and to show that we're different, however many years that UConn has beaten everyone from the first round...Nobody remembers who they played or what they played, every game is a 60-point blowout anyways. We're Saint Francis, we're a tiny school....I felt like it was a tremendous opportunity to get some exposure on our program."
Bernabei-McNamee left Albany for Boston College before the start of this past year, but still uses lessons she learned in that game against UConn in her coaching.
"Connecticut plays hard every possession and they communicate with each other," She said. "It didn't matter when they went up on us or at the start of the game, it was the same level of focus throughout the game and they didn't tire. If we wanted to emulate a program and learn from and take a page from their book, what a better way to end the season than with Connecticut knowing that's what we wanted to really work on the following year: Putting into play those attributes Connecticut has and developing that mindset."
Please consider supporting Storrs Central's mission of dedicated, high-quality coverage of UConn athletics by joining the membership, available now for 50% OFF!