Gabby Williams on Race, UConn, and Life in the Pros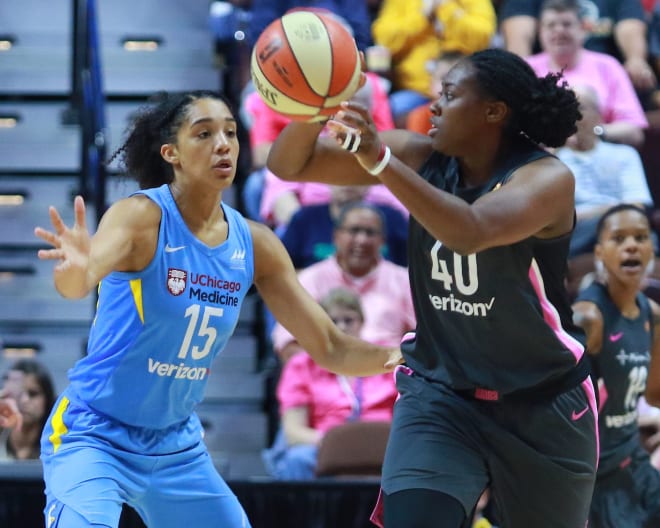 As Twitter descends into an oasis for the most vile, cringeworthy rhetoric imaginable, it can be hard to rise above the fray.
For Gabby Williams, it starts with having conversations.
Williams admits she can't know it all. She can't experience everything from everyone's point of view, and that's okay. As long as she is willing to learn. The same, in her opinion, goes for everyone else.
"People are so scared of things that are different that they don't go about trying to understand them," she said. "That's why there's so much hate."
The Chicago Sky forward has a platform as a professional athlete and UConn alumna, and she uses it to speak out about what's important to her. If she can get a conversation going, maybe someone will learn something. Maybe, at least, she can help elevate an issue that some of her 12,000 followers may not be familiar with.
Williams learned about the struggles of being a Muslim woman in America from former UConn teammate Batouly Camara, who is exactly that. She learned about what it's like to come out as a member of the LGBTQ community from Stef Dolson, who did that publicly in 2016.
"I've told her about the women in the league and how accepting they were when I began to experiment with women or started to find myself," Dolson said. "And to her, she knows who she is. I think for her, talking to me has probably been interesting."
She shared the below video on Twitter to bring attention to something that has long been a problem on the UConn campus.
According to Forbes, the UConn student body is 56.6 percent white and only 5.7 percent identifies as black or African American. Williams admits it was a culture shock when she first arrived.
"It's not a very culturally diverse campus and profiling is nothing new to Connecticut," she said. "Luckily I was kind of in my own little bubble being with athletes all the time, but the rest of the campus isn't quite like that."
Williams is always willing to talk about this stuff, she says. It's important enough to her that she encroach on her FIFA time as she covered a variety of topics in a recent interview, from racism on college campuses to athlete compensation in the WNBA.
She's done her homework and speaks with confidence. She's not afraid to hold back from those who tell her to "shut up and dribble," even if she eventually discovered that the BLOCK button is a much more useful tool.
"How come lawyers can say things? How come doctors can say things?" she asked. "What makes our occupation so different that we can't speak out either? Maybe it's because we're a bunch of black athletes working for white GMs and owners that we shouldn't be allowed to say anything."
Williams was in Spain, playing for Spar Citylift Girona, but is due back stateside with the WNBA season getting started this month. The Sky went 13-21 last year, but with a new head coach in James Wade and the No. 4 overall pick in Katie Lou Samuelson joining the fold, there is optimism in the Second City.
For those who know the team exists. That's another topic that Williams feels comfortable talking about, because she feels the lack of coverage and marketing around the WNBA has had a direct impact on her and her colleagues' salaries.
"A lot of people in Chicago don't even know there's a WNBA team," she said. "The media determines what people care about. They always say no one's gonna watch because no one cares. You're making it so no one cares. You're making it seem obsolete and that's why so many people make fun of it."

The national discussion around how WNBA players are compensated was reignited this month when Breanna Stewart — perhaps the league's most recognizable player — tore her Achilles while playing overseas. It's a blow to the league because people want to see stars, Williams says, and fewer people will tune in to the Seattle Storm knowing that Stewart won't be on the court.
It hinders Stewart and Williams' efforts, and efforts from players around the league, to try to build the WNBA up and help it reach its potential. Williams says women want to play in the WNBA because that's what they grew up watching and that's where their idols played. At the same time, the short schedule and lack of pay has made the WNBA a secondary priority compared to their teams overseas.
"The WNBA is kind of our offseason, to be honest," Williams said. "There's a whole other world of basketball out there. It's gotten to the point where overseas is kind of more important for us because of money and it's a longer season."
That's not to say Williams doesn't badly want to see the WNBA become more profitable. She called out ESPN, urging the network to air more games. She praised the league's recent deal with CBS Sports as a good start and hoped others would follow their lead.
"You get out what you put in," she said. "If you're not going to invest in it, you're not going to make any money."
Williams is set to make $53,616 this season from the Sky, according to High Post Hoops' WNBA salary database. No player on her team will make more than $117,500, which is not nearly as much as it may sound once you consider the limited lifespan of an athletic career.
It's not fair to draw a direct comparison to WNBA players' male counterparts in the NBA because the NBA produces far more revenue. So, it makes sense that their salaries will be higher. However, the minimum NBA salary for 2018-19 was $838,464 — more than seven times higher than the maximum salary given out in the WNBA. The NBA uses 50 percent of its revenues to compensate its players, while the WNBA only gives an estimated 22 percent back to the athletes.
After her playing days are over, Williams hopes to delve further into nonprofit and community organizing work. While she's playing, her availability is limited, but she is hoping that for now she can be put on a couple smaller scale projects so she can still have an impact.
After that, she may start working on the issues that mean the most to her, mainly voter rights and combating police brutality.
Social justice is more than an interest that fills her Twitter timeline or a way to justify why her and her colleagues deserve better pay. She's thinking about what is still to come.
"I don't want this to be something that my kids or my friends' kids will have to get used to," she said. "It's so normal now and I hate that it's so normal."
That's why she speaks up and it's why she has no plans to stop.