Bueckers transforming UConn WBB's offense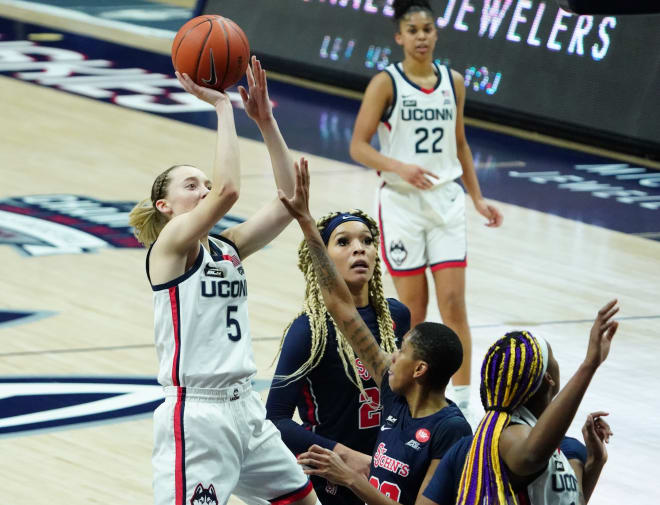 In UConn's win over Marquette on Friday night, Paige Bueckers finished with 30 points for the second game in a row and shot 12-18 from the floor. The freshman also set a new career-high with six 3-pointers, on nine attempts.
In her last four games, Bueckers is averaging 27.8 points per game and has missed just six shots from beyond the arc, going 19-25.
"She's been about as good a player as there is in the country right now," Geno Auriemma said.
For much of the season, Auriemma has pushed Bueckers to shoot the ball more. That message finally seemed to get through after the Arkansas game because since then, she's taken 53 shots over the last three games – 26 more than Evina Westbrook and Christyn Williams, the next closest players.
Bueckers' run has turned her into a magnet for defenders, which draws attention away from everyone else. Her exceptional court vision and passing ability allow her to get the ball to her teammates when they're open.
"I feel like if I'm more aggressive from the outside – I know coach is really on me about shooting the ball more – it opens things up on the inside, and especially in the pick and roll. People might jump on me more because I'm shooting more they're gonna pay more attention to me so then it opens up people in the lane and so I think that kind of plays hand-in-hand."
Though she only finished with two assists on Friday, Bueckers has taken more ownership over the offense and become a true floor general, which resulted in a more-free flowing offense, one that assisted 27 of its 35 made baskets against Marquette.
"Paige spent the earlier part of the season just trying to feel things out," Auriemma said. "Lately she's been kind of directing what we're doing and instead of kind of following a little bit, I think she's pushing and leading a little bit."
Though it remains to be seen if Bueckers can sustain this level of production, the freshman has undoubtedly turned a corner in her game and in doing so, transformed UConn's offense. Even if she comes back down to Earth, the Huskies are a better offensive team than they were just a few weeks ago.
Defense Impresses
Auriemma generally holds back from praising his team too much. Even after UConn's most lopsided victories, he typically finds something they could have done better. But after the Huskies' 87-58 win at Marquette, Auriemma sounded oddly satisfied with his team's performance.
"We just really played a solid, solid game for 40 minutes," he said. "There wasn't a time when I thought, 'We're not really playing well.' So that's one of the best things that we've done this year. I'm pretty proud of them."
While UConn's offense got off to a rocky start with five turnovers on its first 11 possessions, its defense set the tone. The Huskies allowed a basket on the opening possession but then held the Golden Eagles to just four points over the next six minutes.
UConn's strong defensive play helped spark the offense, which scored 10 of its 21 first quarter points in the final 3:12 of the period.
"I thought we were pretty locked in defensively for the majority of the game," Auriemma said. "We started off the game that way and that defensive mindset allowed us to flow into a really good offensive rhythm."
One game after they allowed St. John's leading scorer Leilani Correa to go off for 33 points and three games after Arkansas' Chelsea Dungee dropped 37, the Huskies defense shut down Selena Lott, Marquette's go-to option, holding her to just four points on just 1-7 shooting.
Unlike the win over St. John's, where UConn allowed the Red Storm to shoot 50.0 percent from the floor (and 57.7 from three) but made up for it by forcing 27 turnovers, the Huskies put together a well-rounded defensive performance.
Marquette shot 41.7 percent overall but went 3-14 from three. UConn also goaded the Golden Eagles into 18 turnovers which turned into 20 points the other way. All in all, Marquette scored its second-fewest points of the season.
For a UConn defense that got torched just 10 days ago by Arkansas, it was a major step in the right direction. Though the Huskies still have to prove they can do play at this level on a consistent basis – and they'll have quite a test on Monday with South Carolina coming to town – Friday night showed they're at least capable of putting in a quality defensive effort.
Mühl Rising
Through her first six games, Nika Mühl's impact for UConn was minimal. She had totaled just three points and nine assists and didn't see the floor in the Huskies' win over Tennessee.
Now just four games later, Mühl started the last two games (partially due to injury) and has proven herself as an indispensable player for UConn on both ends of the floor.
"She does everything for us on offense and defense," Bueckers said of Mühl. "She's an energy giver, not a taker and that makes it a lot easier for us."
On offense, she finished with eight points and nine assists against Marquette, which tied and surpassed her previous career highs, respectively.
Though she's only listed at 5-foot-10, Mühl is a strong, aggressive player with above-average court vision and passing abilities. That allows her to find a variety of ways to get the ball to her teammates.
"Nika likes to break that plane. She likes to go by people and draw any kind of help and is pretty good at getting rid of it really quickly for one of our shooters," Auriemma said. "She has a sense of that now because her strength is finding people whether it's getting to the basket and finding people, getting in the lane and finding people [or] just drawing somebody just enough and finding them."
Mühl also played a big role in UConn's strong defensive night. Though her five steals stand out, her biggest contribution was improving communication between the players on the court – something Auriemma felt his team lacked earlier this season.
"Nika is a big part of that communication. She's a big part of why we're talking more on defense, why there's more activity because that's what she does," Auriemma said. "That's what she brings. She would tell you she'd rather play defense, get three steals or make a couple plays than make three baskets. That's who she is. So her being in the lineup has changed our defense. We are much a more vocal, more active and more aggressive defense."