Evina Westbrook establishing herself as UConn WBB's Swiss army knife
Evina Westbrook doesn't lead UConn women's basketball in any major categories. Paige Buckers is first in points, assists, steals, three-point shooting, and minutes while Olivia Nelson-Ododa is the top rebounder.
That doesn't diminish Westbrook's importance to the team, though. She may not be at the top in any statistical measures but she's establishing herself as the glue that holds the Huskies together. Her leadership is well-documented – Bueckers called her "the heart and soul of the team" – but she also plays with no ego, willing to do whatever the Huskies need her to do on a given night.
So while Westbrook doesn't lead the team in any major categories, she's fourth in scoring, third in rebounding and minutes, and second in assists and three-point percentage.
"She's settling into a role that she knows she has to have on our team and she's enjoying it," head coach Geno Auriemma said. "Shoot when you're open. Get the ball to people that are open. Be solid out there defensively. Impact the game in as many ways as you can."
Against DePaul, Westbrook struggled on the offensive end, making just 4-12 from the field and turning the ball over six times – more than double her previous season-high. Yet she still found a way to make that impact with a career-best 14 rebounds, 11 of which came in the first half.
While seemingly everyone else on the roster has dealt with their share of ups and downs, Westbrook has been a model of consistency. She has reached double-digit scoring in each of her last nine games but hasn't surpassed the 20-point mark.
Westbrook has at least four assists in all but three games and at least four rebounds in all but two. She's also become one of UConn's biggest three-point threats, making 15-30 (50.0 percent) since the Huskies returned from their second COVID pause against Butler on Jan. 19.
Though Westbrook might not be UConn's brightest star – Bueckers holds that title rather comfortably – she's self-aware of that fact.
"I think E understands who's who and what's what on our team," Auriemma said. "She knows where she is in relation to what we need for her to be and she's embraced it and she's enjoying it. Every day it shows more and more."
Considering most of her teammates are still trying to figure that out about themselves, Westbrook is proving herself to be an invaluable, steady force for the Huskies.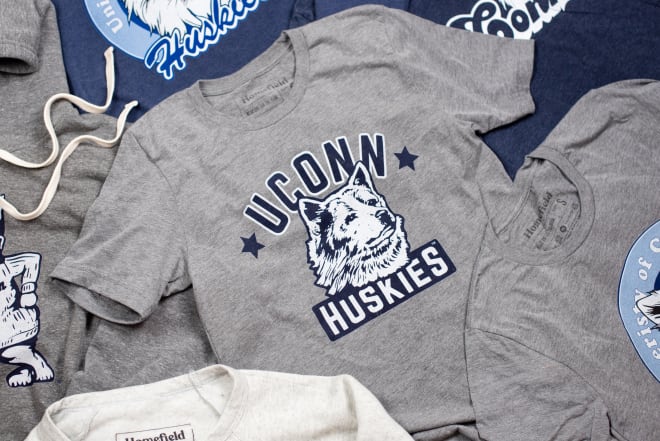 Muhl earning place in rotation
In Nika Muhl's first five games at UConn, she only played a combined 65 minutes and didn't leave the bench in the Huskies' win over Tennessee. But after Bueckers' ankle injury forced her to sit out the next game against Georgetown, Muhl got her first career and played 36 minutes – more than double her previous high.
After that, – just one week after Muhl didn't play against the Vols – Auriemma entrusted her with 25 minutes against No. 19 Arkansas. She scored a career-best eight points to go with three rebounds and two assists. Most importantly, the freshman didn't turn the ball over.
Muhl's strong week continued on Sunday when she logged 19 minutes, five points, three assists and two rebounds against DePaul.
Two weeks ago, the coaching staff deemed her unworthy of a single minute against Tennessee. But in the time since, she earned enough trust to play a combined 34 minutes against two ranked opponents in addition to a spot start. So what changed?
"As far as Nika is concerned, she just needed to play significant minutes and she has been," Auriemma said. "She's becoming more and more comfortable. Her practices have become more and more comfortable. She made practice uncomfortable for herself and for me for the longest stretches and wasn't sure why the carry-over onto the court was what it was. Now, she has a much better handle on what she can and cannot do."
At this point in her career, UConn isn't relying on Muhl for much production. She struggles to shoot the ball – it took her over four games and 13 shots to make her first basket – and averages 3.6 fouls and 4.7 turnovers per 40 minutes. Instead, she earns minutes because of how she plays while she's on the court, not what she does.
"She brings what we need," Auriemma said. "We need that energy level, we need that toughness, we need that grit that she has. Because we don't have a lot of it in a lot of our players but she certainly has enough for more than one."
Westbrook also pointed to Muhl's all-out style of play and edge as the freshman's best attribute prior to the Arkansas game.
"She's one of the toughest people that I've [encountered]," the redshirt junior said. "Super gritty, puts her body on the line at any moment for any play. To have someone on your team like that you know is going to give their all, you want people like that on your team. She's been like that day in and day out. Yes, she's gonna make mistakes. Yes, she's gonna turn the ball over. But when you can substitute that with someone who plays hard all the time, I'll take that risk."
So for now, any production Muhl adds is a bonus. As long as she keeps bringing that edge, she'll continue to see plenty of minutes going forward and should only get better with each passing game.
"We can work the turnovers out, the shooting when you need to shoot or not shoot or the case may be," Westbrook said. "She's [been] taking it day by day and made huge strides since the summer but the thing that I love about her is she's never lost that grittiness and that toughness about her."
Poffenbarger debuts
Early-enrollee Saylor Poffenbarger saw the first action of her UConn career against DePaul. She only joined the team last Tuesday after she completed her school-mandated quarantine and naturally did not play in the Huskies' loss on Thursday.
But with UConn up by 38, Auriemma sent her in with 1:52 remaining. Poffenbarger made her limited time count, launching a three each time she touched the ball. Though she missed all three attempts, it was a confident, aggressive start for Poffenbarger, one encouraged by a fellow freshman.
"When Saylor got in, Paige told her, 'Saylor, shoot it every time I pass it to you," Auriemma said. "I think Saylor really looks up to Paige and so she shot it every time she touched it. If we had played three more minutes she would add 10 more shots up."
"We were checking in together, I said, 'Saylor, I'm gonna pass to you. Shoot every time,'" Bueckers confirmed. "That's what she does in practice, she shoots the ball, really, really well. She pulls it from anywhere really. So we have to guard that in practice so I said, 'All right, go make DePaul guard it. She's been really aggressive and her entering UConn early has been really seamless so I just wanted her to do what she does in practice."
"And she did. She went out there and shot it," Williams added on.
Luckily, Poffenbarger's bold start went over well with her head coach.
"You gotta like the kid. She knows what she is. She's not shy about it," he said. "I'm sure for her, she must have been a nervous wreck."