UConn WBB freshmen impress in postseason debut
It took all of one game for UConn women's basketball's freshman class to alleviate Geno Auriemma's concerns about how they'd react to the postseason.
Before the Big East Tournament, the coach said freshmen can either treat the postseason like it's no big deal or hit the panic button. It's safe to say the freshmen passed that test with flying colors in the Huskies' 77-41 win over St. John's in the quarterfinals.
"I didn't see anything that looked like apprehension because, 'Oh, my God, it's the postseason, it's the tournament,'" Auriemma said. "So that was pretty cool to see that they just played like it was a basketball game that we had to win."
It all started with Nika Muhl. While UConn's offense struggled to get going, she helped the defense hold the Red Storm to just three first-quarter baskets by harassing the ball handlers to no end and recording four steals.
"I thought Nika set the tone defensively," Auriemma said. "Early on, she set a tone."
Meanwhile, Aaliyah Edwards continued her ascent and helped UConn own the low post. The Huskies won the rebounding battle 43-30 – including 14-7 on the offensive glass – and scored 46 points in the paint to St. John's 10. Edwards' contributions included nine points and five rebounds.
"Aaliyah has been Aaliyah," Auriemma said.
Though Paige Bueckers struggled with her shot early on, she went off for 11 points in the third quarter on 5-6 shooting once she found her stroke and finished with a team-high 17 points. Even Mir McLean saw 11 minutes – the most she's played in over a month – and contributed five points and three rebounds.
The most impressive part of their performance? It was all just a normal day's work for each player.
"All of our freshmen? Exactly what I expected," Auriemma said. "It's their first time (playing in the postseason) so you're not quite sure. But given how they've performed, I'm not surprised."
Update on Muhl's status
With just under eight minutes to go in the third quarter, Muhl flew up the court on a fast break. As she went to dish the ball off to Bueckers, she turned her ankle on the foot of a St. John's player and immediately went down in pain under the basket.
Muhl needed to be helped off the court and didn't put any weight on her left leg as she went into the locker room. She eventually returned to the bench on crutches with ice on her ankle but did not re-enter the game.
"We'll probably know more a little bit later," Auriemma said of Muhl's status. "But right now it's an ankle sprain. How extensive, we don't know. We'll know soon."
The coach hinted that Muhl could have a chance to play on Sunday if things go well, though.
"Nika is a pretty tough kid, as tough as they come," Auriemma said. "So if I were to bet...Nika is going to give it every opportunity overnight and then she's going to play. And if she doesn't play it's because it's serious. So we'll know a little bit later."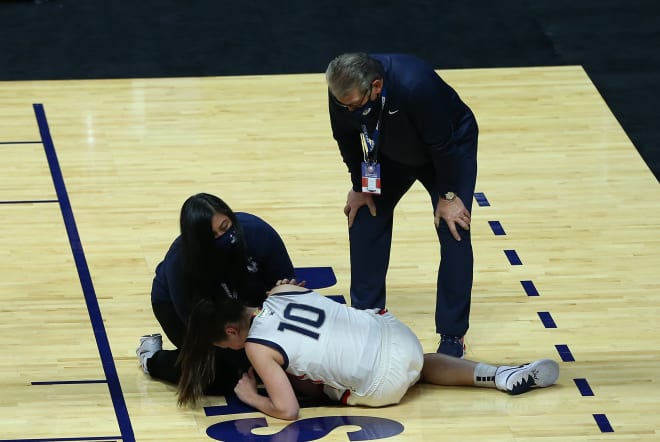 Makurat returns
After missing the previous 12 games with a stress fracture in her right leg, Makurat finally returned on Saturday. While she didn't look great in 11 minutes of action, with no points on two attempts from beyond the arc, three rebounds, and three fouls, it was still a positive sign to see the sophomore back on the floor regardless.
"They wanted us to limit Anna to ten minutes today, so she tried to help the cause. I thought she was going to foul out in ten minutes, but she managed to not," Auriemma quipped. "Obviously she's a little rusty from not having played in so long, so it was good to get her any kind of minutes."
The timing couldn't be any better, either. Makurat is one of the team's best passers (her 3.4 assists per game are third-most) and could help pick up the slack if Muhl is forced to miss any time.
"Having another ball-handler and having another passer and another perimeter player, especially in case Nika can't go, couldn't come at a better time for Anna to be available," Auriemma said.
Next up for the Huskies is a semifinal matchup with the Villanova Wildcats on Sunday at 3 p.m.
Check out our postgame coverage to hear how Paige Bueckers and Olivia Nelson-Ododa felt about their team's impressive performance!