UConn's freshmen shine in win over Seton Hall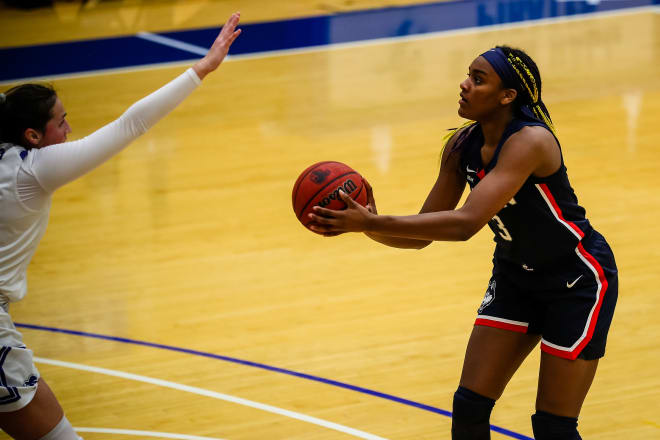 Last season, UConn women's basketball traveled down to South Orange, New Jersey in December and pushed past Seton Hall behind a standout performance from freshman Aubrey Griffin. One year later, the Huskies returned to Walsh Gymnasium and once again received a big lift from freshmen as they handled the Pirates 92-65 on Tuesday night.
UConn's rookies accounted for 48 points – 52 percent of the team's total scoring. Paige Bueckers paved the way with a team-high 25 points while Aaliyah Edwards also poured in 17 herself. Mir McLean chipped in five and Piath Gabriel added one.
The youngsters showed a glimpse of their collective talent during the season-opener and built on that in their second career game. Head coach Geno Auriemma knew that the freshmen had the ability, the only question mark in his mind was how long it would take for that to transfer over into production.
"We knew that Paige and Aaliyah were double-figure type players. We knew that," he said. "We didn't know how much or how quickly it would happen. But they're talented players. They have certain skills that are really difficult to teach. Our freshmen are good."
However, it was far from a wire-to-wire performance. Bueckers played just five minutes of the second quarter due to foul trouble.
"The couple of the fouls she had that put her on the bench, that's unacceptable for somebody that good," Auriemma said. "You're not gonna beat anybody being on the bench. So, she's got a lot to learn."
But the freshman wasn't lighting the world on fire, either. At halftime, she had just six points and no assists. Going into the locker room, Auriemma told SNY that he wanted to get Bueckers more involved in the offense.
Though UConn did make some adjustments on that end of the floor, the biggest difference came from the Huskies' defensive play.
"Mainly, when we started getting stops on defense, then she was able to get the ball out and transition, and that's when it's really difficult for the other team to defend her," Auriemma said. "But we weren't getting enough stops in the first half in order to be able to do that."
Bueckers exploited Seton Hall for 19 second-half points, including 15 in the third quarter alone. She attacked the defense in a variety of ways, showing off her comfortability leading the fast break and utilizing her mid-range game. She also recorded her first career three-pointer, giving defenses reason to fear her from every inch of the court.
Then with 5.3 seconds to play in the period, Bueckers took the ball coast-to-coast, used a screen by Edwards to shake one defender, and drove to the rim. She pulled up from about seven feet and banked a shot off the glass with .2 seconds to go while drawing a foul and converting the and-one.
The play was a microcosm of everything we've seen from Bueckers through two games: An unflappable demeanor paired with a flair for the dramatic. Somehow, just 70 minutes into her collegiate career, it was already quintessential Paige.
"I thought the impressive thing was the fact that she was able to finish in that situation," Auriemma said. "She has great vision, don't get me wrong, but what allows her to go into the lane and be so creative is that she knows that she can finish a lot of different ways around the basket. Again, that's something that she spent a lot of time on and she's worked really hard on. She's just good. Some people are just good. She's just good."
Bueckers had a more basic view of it, though.
"I was just trying to make a play with five seconds left," she shrugged.
That sequence is also a preview of what's to come. Though the Huskies have five upperclassmen, this is Bueckers' offense.
"As long as Paige has the ball in her hands, we're in good shape," Auriemma told SNY postgame.
For all Bueckers did in the backcourt, Edwards was equally impressive in the paint. Her 17 points came on 7-10 shooting and she also grabbed eight rebounds – half of which came on the offensive end. To top it off, all that came in just 18 minutes of play.
However, Edwards' production is almost secondary to the way she plays the game. She's a physical force in the lane and adds a bruising element to a UConn team that, for the most part, lacks physicality. Or as Auriemma put it:
"Aaliyah's gonna go in there and it's gonna be bodies flying,"
Edwards, along with the size and length of the 6-foot-5 Olivia Nelson-Ododa, can bully smaller teams down low, as they did against Seton Hall. But Auriemma also admitted that Edwards is a piece the Huskies have been missing in recent years. Last season, in particular, UConn struggled to deal with bigger opponents like Baylor or South Carolina.
But in Auriemma's eyes, he thinks Edwards can transform the type of team the Huskies are – especially when the games really start to matter.
"So having somebody that can be that physical a presence – we play at Connecticut, to still be playing in March, and if you want to beat some of the teams that you have to beat in March, you need a physical presence like that in the lane. You need someone that defensively and offensively has a certain mindset and she has it," Auriemma said of Edwards.
Meanwhile, it was a story of two halves for Mir McLean. In the first, she picked up where she left off against UMass Lowell as a high-energy, disruptive force on the boards. In just five minutes of action, she scored her five points and also grabbed a pair of rebounds – including one of the offensive end.
Auriemma described McLean as having "tremendous natural ability," something that stands out from the moment she checks into the game. However, that can be a double-edged sword as well.
"Mir sometimes just goes to another place like today. Today she was doing great and then all of a sudden there's like two or three possessions in a row where she went to another place, wherever that place is," Auriemma said. "She got lost and that's partly being young and partly, I have found that when you have kids that have tremendous, tremendous natural ability, they tend to pick and choose, turn it on and off."
Because of that, Auriemma sat her on the bench for the entire second half, even as Piath Gabriel and walk-on Autumn Chassion went in for the final two minutes of the game. However, the coach expects his message will reach McLean.
"When her motor's on, it's really on," he said. "Tomorrow at practice, her motor will be on. Trust me."
The fact UConn's freshmen can combine for this type of performance just two games in is remarkable – especially given the circumstances of the season. Though they're all bound to have ups and downs throughout the year, Auriemma isn't setting a cap for his expectations.
"They've got a lot of things that [they're] missing. But the things they do have, they're good," he said. "I'm not crazy about coaching them - to tell you the truth – every single day, but they're good. Nothing that they do surprises me. Let's put it that way. Nothing."