UConn in the Final Four, Unexpectedly?
ALBANY, NY -- Geno Auriemma felt sick ahead of UConn's regional games this past weekend. He couldn't bear the thought of not getting to coach this year's team any longer.
"I was nauseous all weekend thinking, 'This could be the day [we lose],' he said. "Normally when I come to the regional with the teams I've had, I'm not nauseous. I'm like the happiest guy in the world, generally, at least on the outside. But this time I was a wreck."
For Auriemma, this team provided a unique challenge for him. For a while, he didn't know what team would show up to the gym for practice or games on any given day. Each day brought a new experience.
"I have felt everything about this team all year long," Auriemma said. "I've loved them. I've hated them. I wanted the season to end. I wanted the season to keep going. I wanted ten guys to transfer. I only wanted to coach one guy. I wanted to have them over for dinner every night."
This team wasn't supposed to make the Final Four. They were weaker than most UConn teams after losing Kia Nurse, Azura Stevens and Gabby Williams to the pros. They were more vulnerable than most UConn teams, losing multiple regular season games for the first time in five years. This isn't the Huskies' most talented or deepest team. At first glance, nothing about the team this season stands out. Even Auriemma admitted that.
"We've had some amazing teams loaded with great players, iconic players," he said. "This isn't one of them. This is a team of a couple players that are pretty amazing and a couple players that may be amazing down the road."
UConn's 11-year Final Four streak would end this season. The Huskies' two losses and two-seed only confirmed that further. At least that's what most people thought.
But on Sunday, the Huskies defeated top-seeded Louisville, 80-73, to earn their 12th straight trip to the Final Four. For seniors Napheesa Collier and Katie Lou Samuelson, they've made it this far all four years at UConn. But this one means more.
"This one is pretty special, this team is pretty special," Samuelson said. "We're excited for the chance to get back there. We've worked as hard as we possibly could to get to this point, for us to win this game today, we're excited."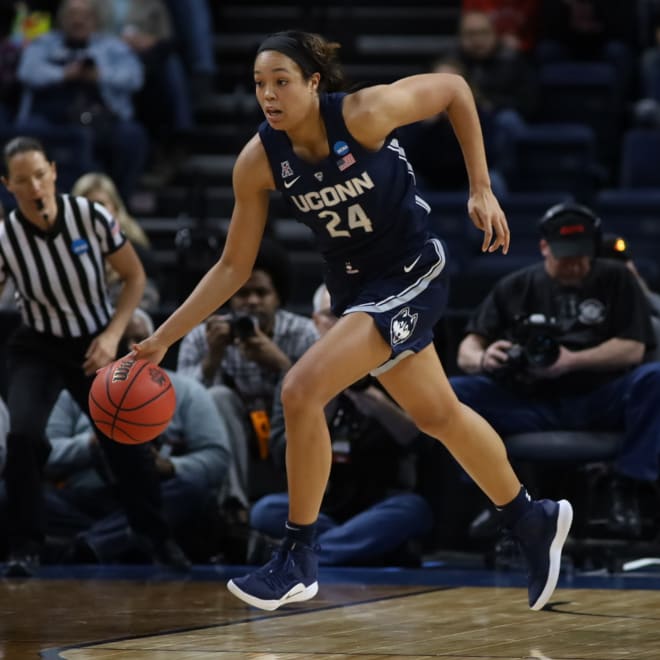 While past Huskies teams blew out all four opponents ahead of the Final Four, this year's squad earned every win.

"This one just feels different," Collier said. "We've had to work so hard for it, the payoff is so much better because it's been so hard... We've earned this."
From the moment the final buzzer sounded, it was clear this year was different. Samuelson threw her arms up in triumph before Crystal Dangerfield leaped into her arms. The bench exploded out of the sideline. The Huskies exuded raw, pure joy, as if they were making it to the Final Four for the first time ever.
"I don't think we've ever been this happy after a win like one of these," Samuelson said. "My four years, this might be the most exciting one for us overall."
UConn mobbed each other with confetti, raised the regional championship trophy and donned the regional champs hats. But they stuck to the usual tradition of not cutting down the nets. Auriemma said that decision is left up to the players, who said no. This season though, he almost wishes they decided to do it.
"Part of me does part of me says we should celebrate," he said. "But I also know where they're coming from. They're not going to come back from campus if we don't win next weekend and go 'look at this eastern regional net I have.' Nobody's going to care about that. There's only one net that matters."
And for every group of seniors reaching their fourth Final Four, there's the freshmen that are experiencing it all for the first time. Auriemma doesn't want to take it for granted, ever.
"That's why you never win a game to go to the Final Four and go 'Yeah, I've been there X number of times,'" he said. "It's not about you. It's about the people that are going there. But I had never seen our coaching staff as happy as they were today because they put a lot of time into this."
Auriemma always preaches how difficult reaching the Final Four is, but it can be easy to take it for granted when UConn beats teams by 88, 25, 13 and 29 points in the first four games of the NCAA Tournament, like they did last season. This year's Huskies showed how much effort and commitment it takes to be one of the last four teams standing. The fact that they made it look easy for much of the last 12 years is simply a testament to the greatness of this program.
"I don't think it's supposed to happen," Auriemma said when asked about reaching his 12th straight Final Four. "Not in today's world, the way things change and the way teams keep getting better and better. It's not normal, and it's something that's hard to describe."
At the same time, that doesn't mean the coach is going to apologize for all his teams' successes.
"For anybody out there that's disappointed we're in the Final Four, sorry to disappoint you," Auriemma quipped. "My guys are just as entitled to go as anybody else's guys."
As special as this trip to the Final Four may be, UConn doesn't need to be reminded that they're still UConn. They won't be satisfied with just a Final Four appearance. The Huskies will be going down to Tampa with unfinished business to take care of.
"We just have to [win] two more times," Collier said.