UConn Football Adds Verbal Commitment From Texas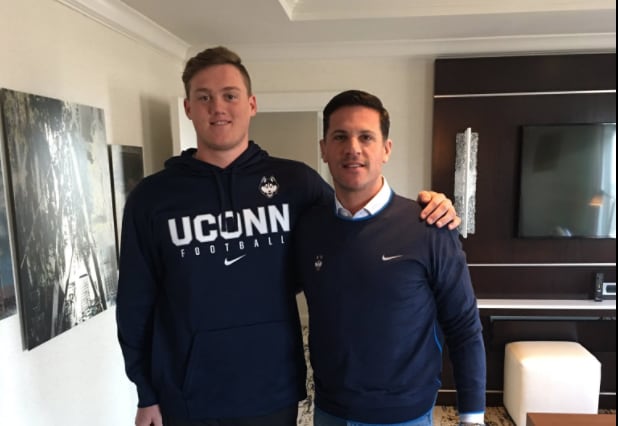 After a weekend where it hosted over a dozen prospective recruits, UConn Football has at least three verbal commitments from it. The first is Max Cummins, a big prospect from Texas who will be playing defense for Bob Diaco and the Huskies.
The other two commitments are Dallas Hobbs, a defensive end from Deerfield Academy (Mass.) and James Tunstall, an offensive tackle from Maryland.
Cummins will be playing either 3 or 5-technique on the defensive line for coach Vincent Brown.
"I don't think you can find a better coach and person than Coach Brown," Cummins told Storrs Central. "I can definitely tell that he will be a great role model, leader, and coach. He was very respectful and I could tell that he was being very honest and straightforward with me, which is something I really like."
Cummins had been on UConn's radar since last spring, but the staff first got in touch in August. He sees a good fit for himself in Diaco's defense.
"It's a role where I have to be able to play both sides of the field and be able to pass rush along with defend the run," he explained. "It's a very versatile position that I should be able to fit right in to."
The Texan made a visit this weekend along with about a dozen other recruiting targets.
"I really enjoyed getting to meet the whole staff and the players," he shared. "They were all a class act and made the visit a blast!
"My favorite part was getting to bond with my future teammates and really getting to know them and the football culture. I can honestly say I have never met a better group of guys that were dedicated to football and the classroom. They were all about the team atmosphere and not about themselves! They played a huge part in my experience."
Cummins, 6-foot-6, 250 pounds, held offers from Army and a host of FCS schools, with interest from Air Force, Houston, Navy, and Oklahoma State. Ultimately, he liked UConn best.
"I am really drawn to the family and team oriented attitude of the football program," he said. "The school really catches my eye because it has such a great campus and great academics, but I am really drawn towards the business school. It's top 20 in the nation and really interested me."
UConn Football is now at 10 verbal commitments for the class of 2017.