UConn Falls to Ohio State on the Road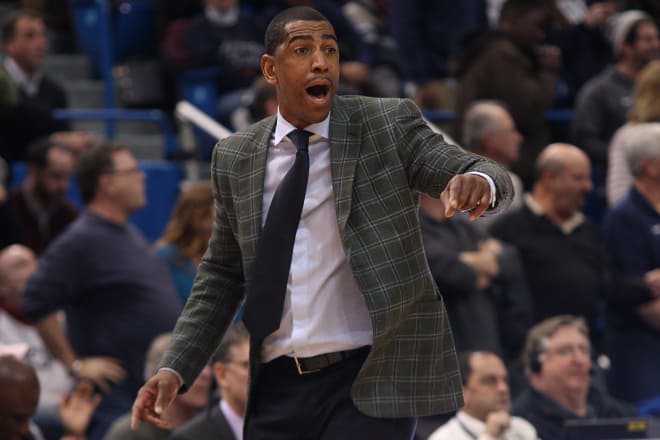 Trevor Thompson scored 17 points with 17 rebounds to end UConn's two-game winning streak Saturday. The junior center was a key factor in a foul-filled 64-60 victory for Ohio State at home in front of 12,313 fans at Value City Arena in Columbus, Ohio.

The Huskies (4-5) were down to seven healthy scholarship players going in with freshman Juwan Durham not making the trip due to the flu. Jalen Adams scored 19 points, Vance Jackson had 12 and Rodney Purvis 10 for the Huskies, who are off until next Sunday when they host North Florida.
"My guys, we fought very hard," UConn coach Kevin Ollie said. "We have seven players. … I'm very proud of our effort, you just can't foul so much."
In addition to being depleted going in, the Huskies also endured a lopsided officiating game that saw two of their players – Amida Brimah and Kentan Facey – foul out and every one of their seven players finish with at least three fouls.
"I can't explain it without getting in trouble," Ollie said about the foul difference.
UConn had 27 fouls as a team and were just 5-for-9 from the line, including 1-for-3 in the second half. OSU had just 12 fouls the entire game and were 26-for-34 from the foul line, which accounted for almost half its offense.
"You get five free throws, we make five and they make 26 – that's the ballgame," Ollie said. "We turned the ball over too much, but I thought our defense was impecable again, but we have to make the plays when it counts, too."
Despite the foul difference, the Huskies and Buckeyes were tied at 54 with 2:58 to play. OSU scored its finals 10 points at the line to pull away.
UConn, which led 34-32 at the half, held OSU to 34 percent shooting from the field (18-for-53) and just 2 of 18 on 3-pointers. In comparison, UConn shot 44 percent from the field (24-for-55) and was 7 of 22 on 3-pointers.
The Buckeyes scored 17 points off 16 UConn turnovers.
"Just careless turnovers," Ollie said.