UConn announces 21-member class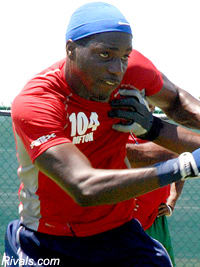 His team missed several opportunities in the passing game en route to a 35-13 loss to West Virginia, one which ended the team's 11-game home winning streak and signaled the beginning of the end of UConn's hopes to defend its Big East championship.
Three months later, it appears Edsall has found the players he was looking for.
A total of 21 players signed letters of intent to play for the Huskies next season, including five wide receivers – the most at the position in one class since UConn joined the Big East in 2004.
"I think this class is better than last year," Edsall said. "I think it's more athletic and we have more speed. I think every year, we've been able to upgrade where we're at. This is another upgrade for us."
"Those four guys are guys that have played receiver for us," Edsall said. "The last couple of years, we've finally been able to get kids that have been receivers in high school instead of trying to bring people in and convert them to wide receiver."
Despite the overwhelming need for receivers, Edsall was quick to point out that none of the players signing letters of intent have been guaranteed playing time.
"That depends on them," Edsall said. "They know that there's opportunities there for all of them, and we tell them that if they're the best guy they'll play."
Box, a 6-foot-3, 190-pounder, and Kinnard, at 5-foot-9, 182 pounds, both will get a shot to play their high school position for the Huskies. Kenney is expected to move to the strong safety.
"First and foremost, we want to get guys who can throw the football," Edsall said. "Then what we want is we want to be able to get guys who have the ability to maneuver in the pocket, who can do different things in the pocket from the standpoint of their athleticism."
The Huskies signed 10 offensive players, nine defensive players, an athlete (Williams) and a kicker in Lewisberry (Pa.) Red Land's Chad Christen[/db].
The signing of the 21 players also marks a trend toward strengthening the Huskies' primary recruiting grounds. Though Lang's signing represents the first concentrated venture into the Tampa area, Edsall said his coaching staff will continue to focus heavily on the five regions with proven interest: New Jersey, central Pennsylvania, metropolitan Miami, Massachusetts and, of course, Connecticut.
"When you break it down, where we got our kids from is really the bread and butter of who we are," Edsall said. "These are our prime recruiting areas. Anything outside of this area is a secondary area where somebody might have an interest in UConn, and if they do, we'll go out and recruit them … but ultimately, the areas you see here on this list are the areas where, to me, we're going to be strong in all the time."
Edsall said combining that with a preference for solid football players who want to graduate and have strong personal values can only lead to success.
"I know this – all these young men here fit the criteria that we're looking for," Edsall said.