Special teams miscues cost Huskies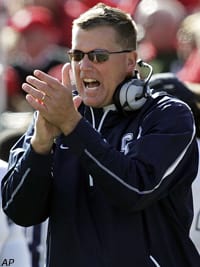 It was much more true this time.
The Huskies (5-2, 1-1 Big East) had plenty of problems two weeks ago at North Carolina, where a trio of blocked punts had them facing a large deficit that ultimately resulted in a 38-12 loss. But any of the three missed field goals Saturday would have been enough for the win against Rutgers (2-5, 1-2), especially for a team that has learned time and time again the excitement and pitfalls of the fourth quarter.
"I give our guys credit for fighting and hanging in there and giving ourselves the opportunity to win the ballgame," Edsall said. "That shows character, that shows heart and all those things, but the bottom line is we didn't get the win, and the reason I think didn't get the win is because we ended up beating ourselves more than anything else."
The missed field goals were just an exclamation point on a bigger issue the Huskies encountered: battling poor field position. UConn started three of its first four second-half drives inside the five-yard line, one of which resulted in a safety and two others that came incredibly close.
"The best decision for me was just to leave it alone," Howard said. "That's how I was thinking, but [Edsall] wasn't on the field. He was looking from the sideline. But we're both on different pages."
Edsall was at a loss for why the penalty was called – as was Bedard.
"We ran this play about four or five times in the game and the same exact thing happened," Bedard said. "I don't know why this one time the ref called it."