Review of David Pindell's Performance Against UCF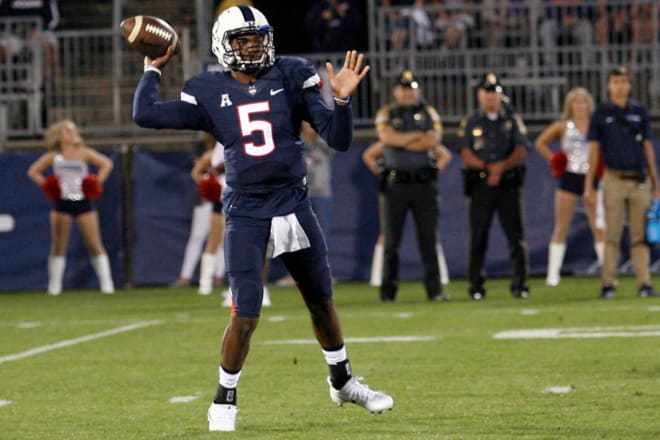 I found Saturday's UConn Football game at UCF to be one of the more intriguing and exciting ones to watch this season. Scott Frost played QB at Nebraska when I was a kid, and he was phenomenal at Nebraska. So I have followed his career and subsequent success at UCF.
I also know UConn is on the back end of a 2017 season that has seen some good, and some expected rough patches. These are the parts of the season that I know mean most to Randy Edsall. I've been through the games with him as a young QB. And speaking of young QBs, we got to see David Pindell in action for a whole game against a legit defense.
I remembered during the spring and summer how highly Coach Edsall and Coach Lashlee thought of Pindell and how excited they were to get him on campus. Game 1 didn't go as planned for him against Holy Cross, but now that he has had the opportunity to watch the system operate, get acclimated to teammates and coaches, as well as life on campus at Storrs, I wanted to see if and how he had benefited from those two plus months.
UConn's offense, schematically is derived from SEC blood. David Pindell today showed me flashes of SEC-style QB play. He has flaws, and things to work on, but he did some things today that UConn fans all should be excited about.
UConn ran a play action/bootleg pass on the opening drive and right as Pindell turned the corner of the defense his eyes went downfield. He stayed on the move and made a really nice, aggressive, and accurate throw downfield that resulted in a pass interference penalty on UCF and a big play for UConn. I loved Pindell's aggressiveness there, that mindset showed me he wasn't going to play scared or overly cautious. It's also clear he feels really comfortable throwing on the run.
On 3rd and goal on that very first drive of the game, he showed some of his inexperience. UConn calls a designed QB run, a sweep with a lead blocker outside the whole defense. If Pindell had followed his lead blocker, he walks into the end zone. He cuts up into the defense early, gets stopped short and UConn gets 3 points instead of 7. A good learning moment for a young player, and still it was an impressive 1st drive of the game on the road!
Early in the 2nd quarter, UConn forces a turnover and gets good field position. Pindell starts by missing McLean on a crossing route. What I did like on this play is how tall Pindell stood in the pocket, and although I would love to see him hit this throw, its a fixable miss. He missed the throw because he never used his back leg to throw. Guys with high end physical talent often have this flaw, its fixable.
I love how he pops up off the ground after a sack or a scramble. He's getting up right after going down, and that matters to his coaching staff and teammates. Don't overlook that little detail, because moving forward he will be carrying the ball a lot, and that energy and toughness radiates through the team.
The touchdown with about nine minutes to go in the half is indicative of the kind of threat Pindell is to a defense. He forces all 11 defenders to consistently do their jobs, on every play, and if one guy doesn't, it's a big play for the offense. The play also shows Pindell's ability to read, react and execute. On this play alone he correctly read the defensive end and the corner in under 1.3 seconds. Thats big time QB play!
My favorite play from Pindell came on a 3rd & 8 with about 6 minutes left in the 1st half. I loved the play because it represented real QB play to me. It was a big moment, UCF blitzed six defenders, and Pindell waits for Skanes to come across the field, knows he is going to take a hit and throws a great "man" coverage ball for a first down. This is a much harder throw than fans realize. Young QBs usually make 1 of 2 mistakes on this ball. They either throw it too hard for the receiver--seeing the ball from behind the offensive line while on the move is hard for them--or they have bad ball placement on the throw, which forces the receiver to stop their running stride, and in man to man coverage, that usually results in a tackle short of the 1st down marker. It's an example of Pindell's really good arm talent, where he makes a really difficult throw look easy.
I loved the tempo he has on the ball he throws to Newsome on the second play of the 2nd half. Its a ball with a little bit of touch, just up and over a defender. I believe that is Pindell's best kind of throw, one with a little bit of touch on it. He will need to make some fundamental progress in a ball that he really needs to have velocity on, and that comes with better mechanics moving forward. But that drive to start the 2nd half was very well executed by Pindell as a runner and thrower.
Overall
Pindell's escapability is real, and it's a huge weapon. His athleticism and natural instincts get himself and UConn make up for missed blocking assignments or losing a battle at the line. The next step for him will be to take that talent from being used in a reactionary manner to being used more assertively and truly getting the Husky offense into attack mode.
It seems like he can see the field well, as the ball was thrown to the route spot often, and the zone read was executed well. The UConn offensive playbook should be, and will be wide open over the few weeks and into 2018 with David Pindell. If he works to refine some of the things in his game mechanically, he can be a dangerous quarterback that makes the defense defend all parts of the field.