Numerous Regional Talents Highlight New York vs. New England 7v7 Challenge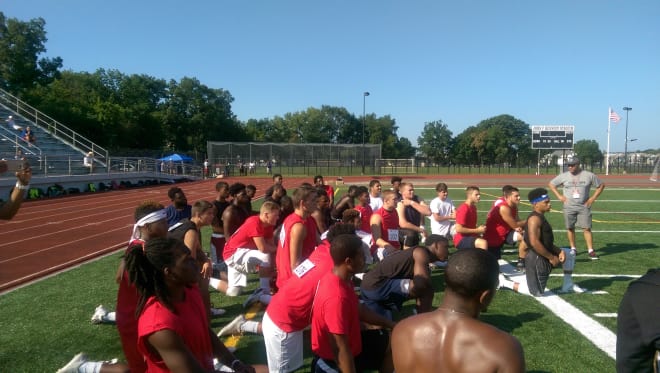 On a scorching hot day in Bridgeport, Conn., over 40 of the top high school football players from New York, Massachusetts, and Connecticut converged upon the field at Central High School for a morning of drills, 1-on-1 action, and a 7-on-7 game. In the 2nd New York vs. New England All-Star Challenge, dozens of aspiring college football players showcased their abilities on the highest available stage in this region.
While so many recruits across New York and New England go unnoticed, UConn Report and Fortt Sports partnered together to help identify the hidden talent in the area. Last year's inaugural event, at Stamford High in Connecticut, featured players who were committed to or eventually signed with Ohio State, Michigan, Stanford, Duke, Notre Dame, Tennessee, UConn, Boston College, Rutgers, Indiana, and more.
The 7-on-7 format obviously favors quarterbacks and pass-catchers, but one player who found a way to stand out was running back Siddiq Muhammed, a running back for Christ the King High in the Bronx who is currently committed to Marshall University. He scored a couple of early touchdowns as New York jumped out to an 18-0 lead.
The New England team mounted a comeback, led by a pair of quarterbacks from Connecticut: Xavier's Will Levis and Taisun Phommachanh, who recently transferred from Harding High in Bridgeport to Avon Old Farms, and also re-classified to the class of 2019. Phommachanh was one of the great stories from last year's event, where he was called up from a scout team consisting of local players to play quarterback in the All-Star game. This year, he took home co-offensive MVP honors along with Fordham Prep quarterback Matt Valecce.

At the end of the game, Brunswick cornerback Cameron Kelly sealed the win for the New England team, part of a multi-interception performance which helped Kelly earn MVP honors for the 7-on-7 game. He also returns kicks and fills the role of offensive playmaker for the Bruins.
Three committed class of 2017 standouts from Connecticut participated as well: wide receiver Russell Thompson-Bishop and defensive backs Omar Fortt and Justin Pinnock. Thompson-Bishop committed to Syracuse, Pinnock committed to Boston College, and the UConn Huskies earned the commitment of Fortt, who plays for St. Luke's under Noel Thomas Sr., father of Huskies' star receiver Noel Thomas and also the head football coach for this event.
Taft (CT) head coach Tyler Whitley led the New England team, joined by a pair of his receivers, Elliot Brown and Marcus Alleyne, and assistant coach Vincent Davis. Brown, a 6-foot-5 postgrad student from Maryland, where he also played basketball, showed promise as a receiver and currently only holds an offer from Monmouth.
Wide receiver Shameen Jones, who is currently committed to Rutgers, highlighted an impressive crew from Cardinal Hayes (NY), whose assistant coaches Kyle Amann and George Lanese led the New York All-Star team. Cardinal's starting quarterback, Christian Anderson, who has performed quite well under center, decided to take it easy on his arm and play defensive back during the 7-on-7, where he performed exceptionally. Anderson currently holds a lot of FCS interest as a defensive back, including offers from Central Connecticut State and Albany, but also had some good zip on his throws as a passer.
Elsewhere on the New York squad, Atrilleon Williams earned Defensive MVP honors for his performance against the rangy and skillful receivers from New England. The Archbishop Stepinac corner currently holds an offer from the University of Buffalo and interest from a couple of FBS schools in the area.
For the second year in a row, an underclassmen who started the day on the scout team got called up to the All-Star game and put on an impressive display. This year, it was a rising freshman, Justin Barron, a wide receiver who plays for Kingswood-Oxford in West Hartford, alma mater of recent 4-star recruit and current Duke football player Koby Quansah and current Marist quarterback Jacob Hallenbeck. Both Hallenbeck and Quansah participated in last year's inaugural event. Barron caught a couple of passes for long gains including a touchdown which he scored after juking his defender to get into the endzone after making the catch around the 20-yard line.
UConn Report will have additional coverage from the event in the coming weeks, with positional breakdowns, interviews and more.