Notes & Quotes: UConn over Iona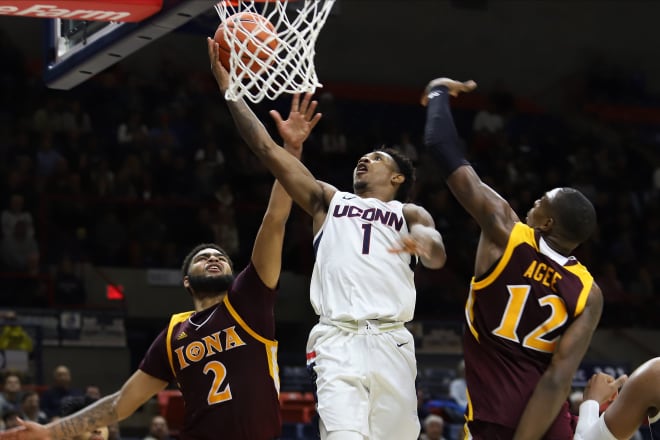 STORRS, Conn. - Dan Hurley wanted more power in the paint from his UConn Huskies - Josh Carlton accepted the challenge.
The UConn junior was a beast inside with 19 points, 12 rebounds and four blocks to lead UConn over Iona 80-62 Wednesday night at Gampel Pavilion.
"We're becoming a real program right now," UConn head coach Dan Hurley said. "We have a ways to go but we're becoming a good organization."
Christian Vital added 16 points and nine rebounds, Tyler Polley had 14 and Alterique Gilbert finished with 12 and 10 assists for UConn (6-2), which has won three straight.
After leading only 36-35 at the half, UConn rode a hot-second half start from Carlton and Polley (three 3-pointers, 12 points) to lead by as many as 22 points. Iona never cut the lead under 10 in the final 11:56.
E.J. Crawford led the Gaels (2-3) with 17 points and Tajuan Agee added 14 points. But the duo were held to just one field goal apiece in the second half.
WHAT WENT WELL
Setting the Tempo: The Huskies put their best foot forward out of the gate, hitting of 7 of 9 shots to build a 15-6 lead with 13:58 to play. Vital was 4-for-4 from the field with nine points over that stretch. UConn also opened the second half with an 11-0 run, going 4-for-4 from the field with back-to-back 3s from Polley.
Dan Hurley: "I was really thrilled with the start to the game and then the majority of the second half. I thought our second half defense was really good and we were able to get in the locker room and make some adjustments because Agee and Crawford were wearing us out in the first half. I was thrilled with obviously the way the starters started the game and the way the starters started the second half."
Big Effort Inside: It was Carlton's second double-double of the season as he tallied season highs in points and rebounds. While he might not display the fire and passion on the floor that Hurley wants, Carlton owned the paint and did a good job shutting down Agee in the second half. Carlton finished 8 of 13 from the field with five offensive rebounds.
Hurley: "He was playing against a big dude out there, Agee, and he knew he had a big match up. That's what we are going to need from him. Not necessarily 19, 12 and four, but with the force he played with - he was a man out there."
Josh Carlton: "I'm just trying to adjust to the game. I was playing more of a finesse game at a bigger size than I was last year. I put on a lot of weight, so I can't be as finesse around the rim. I really need to use my strength and just pound the ball inside."
Iona associate coach Tra Arnold: "One of the goals was to contain (Carlton) on the block and we didn't do a good job of that."
Christian Vital: "If we get him playing well, then the team plays well because they have to focus more on the post."
Sharing the Wealth: UConn tied a season-high with 17 assists, which Gilbert picked up more than half of in 33 minutes. The redshirt junior point guard is starting to come into his own in his second year under this coaching staff and it showed on the court against the Gaels. Gilbert spread the ball around well and limited his own shots to nine while being a floor general.
Hurley: "I think he's just coming up on completing his first full season if you add up (all his games). There were some stops and starts earlier in his career. He's a relatively inexperienced college player at that position and I just didn't do a good job coaching him early in the season. I think he's made adjustments and I think as a staff we are not letting him down like we were early on. … I love where it's going with him and he's so focused on his leadership."
Vital: "I know who my point guard is. The media, I feel like we are in the day and age where everybody has an opinion and they are allowed to voice it. But me personally, I know who my point guard is ..."
Alterique Gilbert: "That's one thing coach has emphasised to me - I have help and I have a lot of guys on the team that make plays, make shots and that definitely takes a lot off my shoulders. … I don't have to have 30 points, 20 points or 15 shots, I can affect the game with my defense, my leadership and getting guys involved."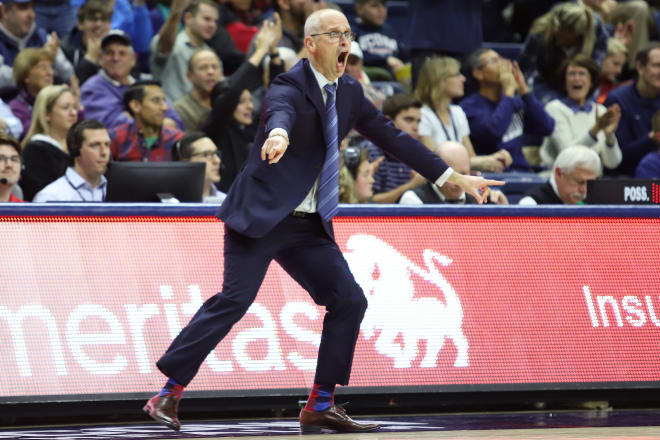 WHAT NEEDS WORK
Play the Full 40: After hot starts to open each half, the Huskies hit a few lulls of questionable decision-making. Iona used a 12-0 run in 3:27 of the first to take its first lead, 23-22, and only trailed by one at the half. In the second, Sidney Wilson's dunk made it 63-41, but the Gaels countered with a 13-1 run to cut it to 10, 64-54, with 6:01 left.
Vital: "We understand we can't put ourselves in that situation first of all. But if we do get in a hole, it's a forty minute game. It's like we were up today by a lot and the other team started to come back, so we just got to once we start to put together more forty-minute games, I think we'll start catching the grove a little more."
Quiet Bench: With the effort the starting unit put forth, the Huskies didn't need much from their bench besides strong defense from sophomore Brendan Adams and four first-half points from Isaiah Whaley. Freshmen guards Jalen Gaffney (0 points, 1 turnover) and James Bouknight (2 points, 1-for-4 shooting, two assists) played like rookies.
Hurley: "Without our older players today, exclude Akok from that … if we didn't have quality older players we would have lost today. If we had to rely too heavily on the freshmen guards, James and Jalen, to save us (we would have lost)."
AKOK AKOK WATCH
The UConn freshman logged almost 30 minutes and was especially impactful on the defensive end of the floor with two blocked shots, one steal and five of his eight rebounds pairing well with Carlton in the paint. Akok shot just 3 of 10 from the field for six points, but his offensive struggles didn't affect his overall game like with the other freshmen.
Hurley: "Because he was here mid-year he doesn't make a lot of mistakes defensively and he doesn't look lost out there."
MISC. NOTES
Assistant coach Kenya Hunter returned to the UConn bench after missing the first seven games due to an undisclosed illness. "He came in with his doctor's note today, I didn't know what was going on," Hurley said. "I tried to authenticate it - it looked like his wife wrote it." … UConn went with the same starting lineup for the eighth straight game - Gilbert, Vital, Polley, Akok and Carlton. … The Huskies have just one game over the next two weeks, and that's next Tuesday at Madison Square Garden in the Jimmy V. Classic. … Iona head coach Tim Cluess remains away from the team for an undisclosed illness and Arnold has run the team. There is no time table for Cluess' return.
UP NEXT
Tuesday, vs. Indiana, at Madison Square Garden, 9 p.m. (ESPN)
Watch more post-game video from other players and head coach Dan Hurley here!