Notes & Quotes: UConn Loses to Florida State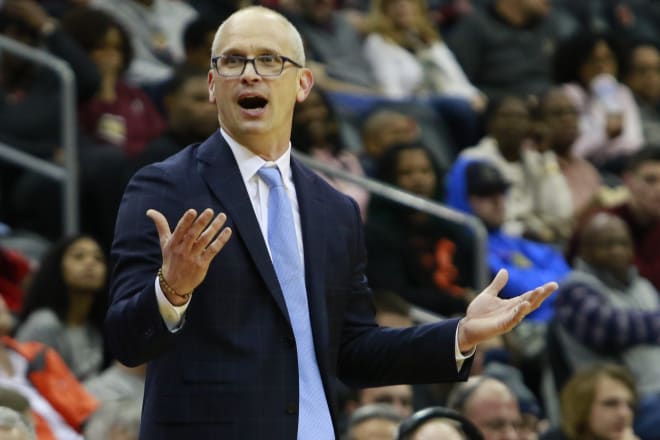 NEWARK – A pro-UConn crowd greeted the Huskies and New Jersey native Dan Hurley on Saturday at the Prudential Center, but was a sad return trip for the Huskies and their head coach.
At times, UConn played inspired basketball, but things unraveled early in the second half in a 79-71 loss to No. 11 Florida State in the Never Forget Tribute Classic.
Alterique Gilbert scored a career-high 24 and Jalen Adams added 15 heading into UConn's week-long break for exams.
"Obviously, disappointed with the loss," UConn coach Dan Hurley said. "This is a game we marked on the calendar that we desperately wanted to win, but I just love the way our guys fought and feel like we definitely could have played better."
The Huskies (7-3) fell to 1-16 in their last 17 meetings against ranked teams since Shabazz Napier's buzzer-beater against No. 11 Florida on Dec. 2, 2013. UConn beat then-No. 15 Syracuse last month at MSG to end a 15-game skid.
Terance Mann led the way with 20, David Nichols had 16 and Mfiondu Kabengele 15 for the 11th-ranked Seminoles (8-1).
UConn trailed 39-33 at the half, and by as many as 16 points in the second half before cutting it to five twice in the final 1:17.
WHAT WENT WELL
Fast Start, Late Energy: UConn looked great out of the gate with a 7-0 start, but things came apart from there with fouls and turnovers. The Huskies tried to make a game of it after getting down 16 in the second half, but couldn't even it up. Any time they could muster a run late, the Seminoles answered at the other end. Gilbert spearheaded the comeback with 14 second-half points, pulling UConn to 72-67 with a layup with 1:17 remaining.
Hurley: "Obviously the turnovers were an issue for us, but I'll take that kind of effort from the team that I coach against a team the caliber of the opponent any day of the week. These guys really played to exhaustion."
Gilbert: "We just have to come out and play hard every day – compete as players."
FSU coach Leonard Hamilton: "They were ready to play. I thought they executed their game plan, they took us out of anything we wanted to run. I thought they did a very good job of making us uncomfortable especially initially in the early part of the game.
The Yak-Way: Graduate senior Kassoum Yakwe turned in his best game of the season with four points and six rebounds. In addition to being active on the glass, he drew two charges.
Hurley: "That was encouraging – Yakwe was good. If he could just give us even that type of offense today, maybe a little bit better ball security, but you can see what he can do athletic. We don't have another frontcourt like him. We need him desperately to build on this performance."
WHAT NEEDS WORK
Bake-Off: The Huskies bolted out of the gates with a 7-0 lead, but 10 first-half turnovers helped pave the way for FSU to wrestle the game away. After an 11-assist, no-turnover night against Lafayette, Gilbert posted four mistakes, while Adams also had four. The Huskies fell to 0-3 when losing the assist-to-turnover battle, finishing with 19 total. Before scoring their first field goal of the second half on Adams' driving layup at 15:59, UConn picked up two more turnovers and four fouls as FSU's lead grew to 15.
Hurley: "The turnovers just really hurt us. … You can't make as many mistakes as we did and beat a team like that."
Adams: "Some of it being careless, some of it not coming to a stop and locating where our teammates are going to be. You kind of just assume they are going to be in a spot that they kind of shifted out of. We just have to play off of each other a lot better."
All Fouled Up: Christian Vital picked up a personal foul and a technical in the opening 3:27 and sat the rest of the first half. He was a non-factor throughout and finished with a season-low two points. Josh Carlton managed just 3:57 in the first half due to two quick fouls, while Tyler Polley, and Eric Cobb also had foul trouble, with Carlton also a non-factor. Overall, UConn had two flagrant fouls (Yakwe and Carlton) and two technicals (Hurley earned one in the final minute). FSU had a flagrant and a technical as both teams combined for 53 fouls, with the refs going to the monitor multiple times.
Hurley: "You have to be sure when you go to that monitor. They broke up that game early after we got off to a good start, then it would seem like they go to the monitor and that's all I'm going to say about what went on with those guys there."
Hamilton: "It reminded me of an old Big East game - rock'em, sock'em."
Bench Support: The Huskies lost the battle of the benches, 40-23. FSU had 30 points from its reserves at the break, with Nichols and Kabengele combining for 31. Smith had 12 of UConn's 23 points. A similar thing happened in the loss to Arizona last week with role players stepping up in the Wildcats' win.
Hurley: "We can't win a game of this caliber … you can't let your opponent's backup '4' and '5' score 26 points in the first half when there are other guys who are really struggling. … It's just one of those things – those are talented players I just think we put so much emphasis on the Manns and M.J. Walkers and the guys that have carried this team we didn't show proper respect to the guys with talent off the bench."
NOTES
The Huskies made their sixth appearance at the Prudential Center and are now 4-2 all-time. UConn last played there in 2013 against Seton Hall. … FSU is 5-3 all-time in the series, but UConn won the last meeting in 2011 with a 78-76 victory in OT in the third-place game of the Battle of Atlantis. … Phil Cofer (foot) did not play for FSU. … UConn had 2020 target Kareem Reid along with Putnam Science teammate Hassan Diarra in attendance along with their teammates and coach Tom Espinosa. … Kemba Walker and Jeremy Lamb were at the game. The Charlotte Hornets play Sunday at the New York Knicks.
UP NEXT
Saturday, vs. Manhattan at Gampel Pavilion, 8 p.m. (SNY)