Notes & Quotes: UConn loses to Creighton in OT
CATCH MORE POST-GAME INTERVIEWS IN OUR BASKETBALL FORUM!
James Bouknight scored a career-high 40 points, but UConn ran out of gas late in a 76-74 overtime loss to ninth-ranked Creighton in the Huskies' Big East opener Sunday at Gampel Pavilion.
Playing in their first game in 17 days due to COVID-19, UConn led 66-64 with 11 seconds left in regulation and guard R.J. Cole headed to the foul line for two shots.
But Cole, who had been perfect on the season at the foul line up until that point, missed both shots. That left the door open for the Bluejays, who got the game-tying bucket on a jumper from Damian Jefferson and then pulled away in OT.
"It's definitely frustrating," Bouknight said. "At the end of regulation, we thought we had the game in the bag."
Christian Bishop scored 19 points to lead Creighton, which had five players finish in double figures scoring.
The Huskies (3-1, 0-1 Big East) looked like a team that had not played in 17 days at first, but Bouknight got hot and the defense clamped down on the Bluejays (6-2, 2-1) to turn it into a battle.
"That's a top-10 team - and those guys and Villlanova are the absolute class of the conference - and a team that can make a deep, deep run in the tournament," UConn head coach Dan Hurley said. "We had them in regulation after not playing in 17 days."
This was UConn's first game since Dec. 3 (61-58 win over USC). The team resumed practice last Sunday after their second shutdown of the season due to a positive coronavirus test among a member of the team.
Cole scored 12 points and Tyrese Martin added 10 rebounds for UConn. Mitch Ballock added 13, while Denzel Mahoney had 10 points and 13 rebounds for the Bluejays.
WHAT WENT WELL
Bouk It: Prior to this game, Bouknight put up some big first-half numbers (14.3 points per game), but cooled off in the second (4.3 ppg). Not this time. The sophomore showed how bright his star is with a dominant effort in his first Big East contest. He poured in 16 points and keyed a late first-half surge after UConn fell behind 27-15 with 6:47 left to make it 33-29 at the break. He then dropped 24 points in the second half and OT as UConn's lone offensive threat.
James Bouknight: "Coach has been telling me to play a full 40 minutes. I don't think there was a certain time during the game where I felt it was my day, I just kept going. When I missed a shot I didn't hesitate to take the next one. I just kept playing and stayed focused .. and put together a good performance."
Lockdown Defense: Creighton came in as the top-scoring team in the conference with 86.3 ppg and was led by senior Denzel Mahoney (16.2) and junior Marcus Zegarowski (14.7). Credit the Huskies for keeping those players off their mark, mostly. The duo shot a combined 8-for-25 with 21 points.
Dan Hurley: "Taking those three guys (including Mitch Ballock) out and keeping those guys under 30 was the goal. We wanted to keep Zegarowski from getting downhill off ball screens and we were able to do that very successfully. We didn't give Ballock many chances and Mahoney was a huge, huge key for us as well. … We wanted to force Bishop and Jefferson and their others to beat us."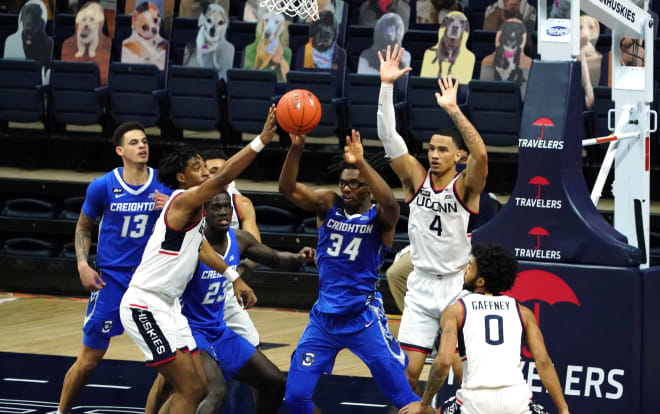 WHAT NEEDS WORK
Shaking off the Rust: Unfortunately, a normal season is impossible to have right now, but you could see a difference between Creighton and UConn right off the bat based on which team has played more this season. But credit Hurley and the players, they were prepared for the challenge and almost pulled off the upset.
Hurley: "We have a chance to have a really, really good team we just have to get some consistent practice in, get on a consistent game schedule and be ready to actually play a season without stopping and starting. I think this team showed a lot today. It's obviously a devastating loss but we showed a lot of character and a lot of toughness with the way we dragged ourselves back into that game and really should have won in regulation."
Too Many Threes: With the exception of Bouknight, the rest of the Huskies were in an offensive funk. On this day, they fell in love with the three-point shot, going 7-for-30 from deep without top outside threat Tyler Polley. Too often the Huskies settled for perimeter bombs instead of driving the lane. They also struggled inside offensively with Isaiah Whaley battling foul trouble most of the way and limited to 19 minutes.
Hurley: "Never mind a secondary scorer, we just really couldn't find scoring anywhere else. We just pretty much left (Bouknight) out there on an island."
Bouknight: "Today we just missed shots. Having been off and not playing a game in 17 days I mean that's tough for any team to do. The way we played with the toughness we showed, I was proud of our performance. We just need to knock down more shots and make our free throws."
What it Takes to Win: While it's tough to find fault with a team coming off a coronavirus layoff, the Huskies struggled to close this one out, and not just with the missed free throws. They suffered multiple defensive lapses, got beat off the boards (48-41), and didn't make enough plays to win a game like this one.
Hurley: "We didn't get to 50/50 balls, we didn't get key defensive rebounds. Excluding the free throws at the end of regulation, there were a handful of winning type plays that we didn't make. A really, really tough loss to take because we should have won that one in regulation."
Creighton head coach Greg McDermott: "UConn had us there late until they missed the free throws. You have to get lucky once in a while."
MISC. NOTES
Polley (COVID protocol) was at the game, but did not play. … Since 1979-80, UConn is 18-24 in 42 conference opening games. The Huskies are now 17-18 in the Big East, while they went 1-6 during their American Athletic Conference run. … This was the first meeting between the schools. … Donyell Marshall holds the UConn record for most points in a Big East game with 42. … Bouknight's points were the second-most by a player in their Big East debut. Marquette's Steve Novak scored 41 against UConn on Jan. 4, 2006. … It's the first 40-point game by a Husky since Amida Brimah scored 40 on Dec. 14, 2014, against Coppin State.
UP NEXT
UConn's next scheduled game is on Dec. 30 against DePaul. The game is set to be televised on Fox Sports 1 at 9 p.m. ET.