NJ LB Ryan Dickens Commits to UConn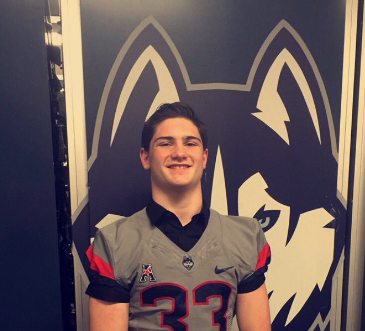 UConn Football has its fourth verbal commitment for the class of 2017 as Ryan Dickens announced his decision on Twitter Wednesday afternoon. He plays linebacker and fullback for Raritan High and becomes the second Garden State native to commit to the Huskies, joining defensive end Rob Saulin.
"It's a linebacker's dream defense," he told UConn Report about his feelings on UConn's defensive scheme.
The Husky staff first got in touch with Dickens this past winter, stayed in touch regularly and invited him up to take a visit, which he did on June 1. That's when he got the offer from UConn which he would accept two weeks later.
At the time of his UConn offer, Dickens held offers from Monmouth and Cornell. He also had interest from Navy, Northwestern, Boston College, Temple and Rutgers.
"There's no school out there better for me as a student athlete," Dickens said after his commitment. "They have one of the top business schools in the country which was important. UConn was the best fit for me and that's why I went with them."
UConn Report has spoken with Dickens and will have a profile up on Friday.