Napheesa Collier having a rookie season to remember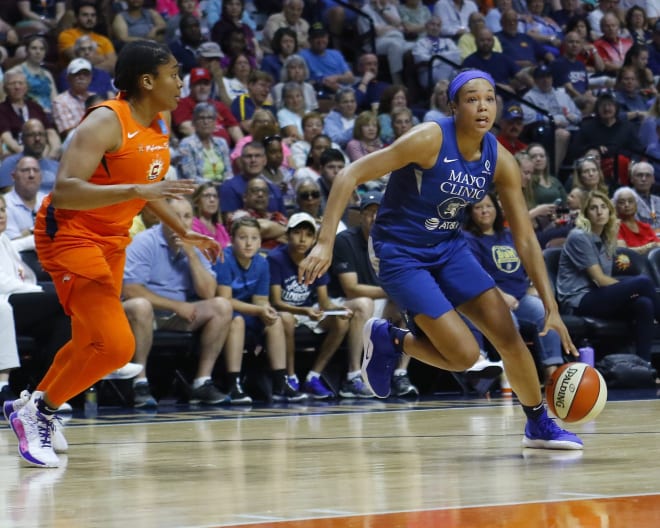 ATLANTA – Following her graduation from the University of Connecticut, Napheesa Collier moved from Northeast to the Midwest, from a college basketball dynasty to a professional one, and from the four to the three.
As she stretches mid-court ahead of the Lynx's mid-July matchup with the Atlanta Dream, she says, "It has kind of been a whirlwhind, but I've been having a lot of fun. I've been a little up and down it feels like for a rookie year. But my goal is just to be as consistent as I can."
Just over a week later, she was named a WNBA All-Star, the lone rookie to earn the honor.
Collier started her rookie season in a unique position. She arrived in Minnesota with an immediate opportunity to play following Lindsay Whalen's retirement, Maya Moore's sabbatical and Seimone Augustus' surgery.
Her team's roster has been in flux since the start of the season, with fellow rookie Jessica Shepard going down with a season-ending knee injury, Damiris Dantas recently returning following a calf injury and Karima Christmas-Kelly undergoing knee surgery. Her team also temporarily lost players to the EuroBasket tournament.
Collier has started and played in the Lynx's first 19 games, and currently averages 32.5 minutes, the second-most of her team. On the season, Collier is averaging 11 points per game, 5.9 rebounds and 2.3 assists and 1.9 steals. She currently ranks third in the league in steals, leading all rookies and also setting a team high.
Despite transitioning to the three, Collier played at the four against Atlanta, and finished with four points, shooting 2-for-11 in Minnesota's loss to Atlanta. She grabbed eight rebounds and added two assists, two steals and a block. But she also missed layups and said after the game she didn't play as strong as she could have.
"She's had a hard time today," said Lynx head coach Cheryl Reeve postgame. "But the one thing she'll always do is she'll keep playing. She'll try to deflect, she'll try to rebound, and you know, all the little things. She's always going to compete."
The results against Atlanta don't reflect a typical game for Collier, though she doesn't have a "typical" game quite yet. That's why one of her goals is to find a rhythm at the professional level, similar to what she created while at UConn.
In the season opener vs. Chicago, Collier scored 27 points while shooting 8-for-10 from the floor and 3-of-4 from three while grabbing six rebounds. From that day, she firmly placed her name at the front of early conversations about Rookie of the Year.
Two games later, she scored just five points on 1-for-7 shooting. Three days after that, she scored 17 points on a 6-for-11 performance, tallying three rebounds, three steals and two assists.
On the nights when her shooting is off, Collier says she shifts her focus to rebounds, hustle plays, assists or steals, whatever she can to contribute.
Since joining the WNBA, Collier's had to learn to be ready to shoot at all times, as well as shoot more threes and defend guards who are often quicker than her. Augustus, who plays the three when healthy, has been working with Collier on defending the position and effectively using her length on both ends of the floor.
"I don't think people understand the learning curve that the rookies have when they enter the league. Like, it's a lot," Augustus said. "It's six seconds knocked off the clock from the college level. The three point line's a lot further back, people change positions. A lot of stuff goes on for their adjustment to the WNBA, and Phee has been very mature as far as her focus and her dedication to wanting to get better and learn the game so that she can be where we need her to be on the floor."
Collier got experience with her future teammates, coach and other WNBA players when she was named a finalist for the 2018 USA World Cup Team. But what sticks with her is advice Augustus and Lynx center Sylvia Fowles gave her when she arrived in Minneapolis.
"'Just to play your game and not to think about it too much,'" Collier said, recalling the advice. "It's really hard transitioning, obviously, to a new team, and league and style of play. But just do the things that I can control."
As far as her off the court changes, "Making money's pretty nice," Collier says with a smile. But she also enjoys Minneapolis, having her own apartment and much more free time than she did before entering the league. "I can do whatever I want all day," she said.
Collier's name is still being mentioned in Rookie of the Year conversations, and she finished fourth in fan voting for the 2019 WNBA All-Star game.
"It feels awesome to know that so many people support me and I ended fourth in the voting which is amazing," Collier said. "I'm really thankful to all the fans and my family, and everyone voted for me. It was really cool. Even if I don't make it to the all-star game, it was kinda cool that I ended up fourth in the fan voting."
She didn't make the initial All-Star team, which factors in coach and media votes in addition to the fan votes, but after Las Vegas All-Star A'ja Wilson was injured, WNBA Commissioner Cathy Engelbert selected Collier as a replacement on the team.
So, Collier's whirlwhind rookie season continues — this weekend, in Las Vegas.
Less than 24 hours before the All-Star announcement, the Lynx fell in Las Vegas to the Aces, a game where Collier managed 8 points and six rebounds in 34 minutes. But Collier says she doesn't harp on losses, though she's glad she doesn't have much time off to focus on them, like she had in college.
"That's what's fun about the WNBA, there's so many games in such a short amount of time," Collier said following the loss in Atlanta. "When you have a bad game like we did today, we get to redeem ourselves on Sunday."
And Collier did just that.
Two days after the loss in Atlanta, Collier notched her first WNBA double-double, scoring 14 points and grabbing 11 boards in the Minnesota's win over Phoenix. There have been a lot of firsts already, with more to come.
Hear from Napheesa Collier's head coach Cheryl Reeve and a bunch of other WNBA Huskies on our YouTube channel!!!