Kia Nurse key to Liberty's success this season
The New York Liberty have quite a few fresh faces this season, with seven rookies coming their way – including No. 1 overall pick Sabrina Ionescu out of Oregon.
This incoming wave of new talent makes returning Liberty players like Kia Nurse feel like a relative league veteran. Well, perhaps a "baby vet" would be more suitable as that's what Nurse called it.
"Obviously, we have a lot of new faces this year," Nurse said during her media availability last Saturday. "So, trying to use my insight into what I've gotten through in my first few years of the league, kind of help them out."
The 24-year-old will be the most experienced player in the starting backcourt, which she will share with Ionescu. She will also be sharing the sideline with her former UConn teammate Megan Walker, who played with Nurse in the latter's senior year. Walker is out at the moment, however, recovering from COVID-19.
"She's a leader by example and she's also been really vocal," said head coach Walt Hopkins of Nurse.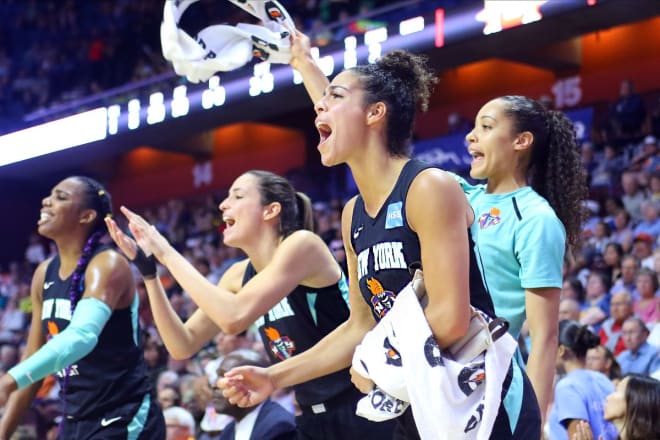 Last year, she started her first All-Star game en route to scoring 13.6 points per game, which was the 16th best in the league and the second-highest on the roster next to Tina Charles' 16.9 ppg.
"She's shooting the heck out of it," Hopkins said. "I mean, she's a stud. We've got a really good one with Kia."
Nurse was the only player on the team last year to hit 35 percent or more from three while playing more than 20 minutes per game. She also hit 87 percent of her free throw attempts, which led the Liberty.
While at UConn, Nurse was a knockdown shooter, hitting more than 44 percent of her 3-pointers in each of her last three seasons at the school.
Nurse also mentioned that she's looking to improve defensively this season. She averaged 2.5 rebounds and less than a steal per game last year.
The Liberty won just 10 games last season, finishing in second-to-last in the WNBA. They are returning just three of those players, though, with Nurse, Amanda Zuhai B, and Asia Durr - who will not be playing this year while she recovers from COVID-19.