Josh Carlton Developing into UConn's Big Man of the Future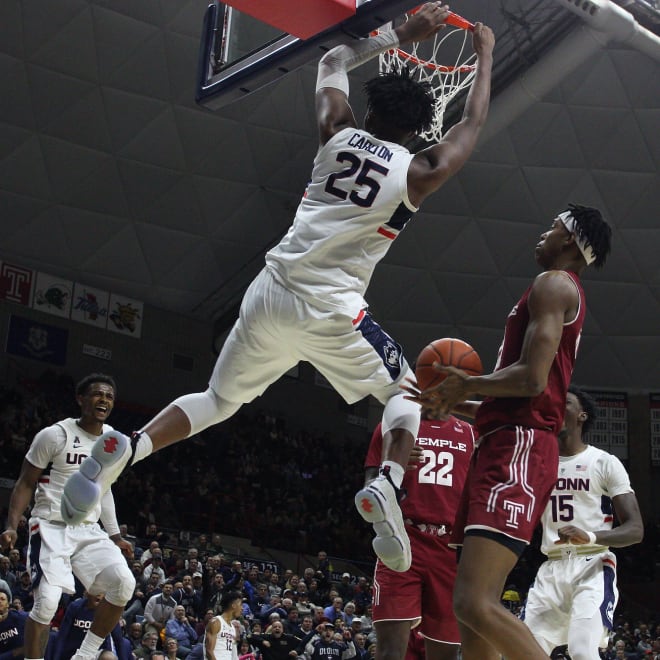 The errant three-ball from Alterique Gilbert bounced off the rim and right into the waiting hands of Josh Carlton. Without hesitation, the 6-foot-10 UConn sophomore attacked the basket and slammed the rebound home, firing up the Gampel Pavilion crowd.
Carlton would finish with a career-high 21 points, seven rebounds and two blocks against the Owls, but once again UConn came up short, falling 78-71 to close the regular season at Gampel with an 8-1 mark.
A year ago, Carlton likely wouldn't have made that play. He was showing flashes, but hesitant to take action consistently.
"He's been great," point guard Alterique Gilbert said of Carlton's development. "It's because of his motor, high energy, and he just has to be consistent.
"He's growing each and every day, and I'm proud of him."
The hiring of head coach Dan Hurley last March had Husky Nation hoping the end of the program's losing ways was near. However, at 14-16 (5-12 AAC) with one game to go in the regular season before the conference tournament, that appears unlikely for this squad.
While the wins and losses might not have changed in Hurley's first year, the Huskies' play on the floor has undergone a major overhauling, starting with a fight-to-the-finish mentality.
"This is what it should look like in year one of what we've got to do here – rebuild this thing," Hurley said. "It will get better.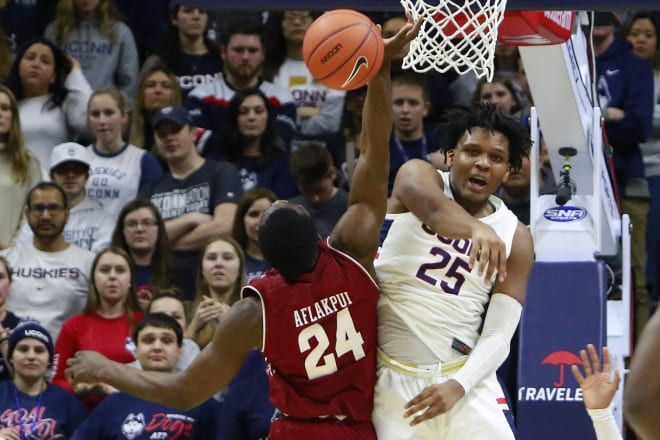 CHECK OUT OUR POST-GAME INTERVIEWS WITH HURLEY, CARLTON, AND MORE!!!
"If you can't see the difference, then you don't know what you're watching and you should go watch football or baseball."
It's hard to miss the emergence of Carlton, who might be the American's most improved player as he has fill a much-needed role inside for the Huskies. Sophomore Tyler Polley, redshirt freshman Sidney Wilson and freshman Brendan Adams have had some momentum as well.
"A lot of people are growing up right in front of everyone's eyes on that court," UConn junior guard Christian Vital said. "For Josh to have the types of games he's been putting up recently, it just shows his commitment to wanting to better himself. His aggressiveness, his confidence and Tyler as well, Sid as well. … A lot of the young guys are developing and heading in the right direction."
In starting all 30 games for the Huskies this season, Carlton's scoring average has risen from 3.7 points per game to 8.8, which ranks fourth on the team. He's also averaging a team-high 5.9 rebounds, up from 4.4 a year ago, and has 52 blocks (24 last season).
After scoring in double digits in just four game of his 32 games last season, Carlton has done it 13 times this year and posted two double-doubles.
"He's terrific, not only in playing against us, but in watching the film he really has a nice confidence level going," Temple coach Fran Dunphy said. "His foot work is great and his shooting percentage is outstanding. I'm very impressed with Josh, and he battled for some extra rebounds, too, that hurt us.
"He had five offensive rebounds and a couple of those were stick backs that just break your back."
Carlton shot a tidy 7-for-9 from the field against the Owls and ranks third in the American in field goal percentage at .604. He's also second in blocks at 1.7 per game, trailing only USF's 7-6 Tacko Fall (2.5 bpg)
"Josh is a talented player," Hurley said. "A guy that will get better and better.
He's gotten better and better, and he will benefit greatly and be an even better player next year when he gets a full offseason with us in the weight room."
"And Josh, he'll get better once he watches film," Hurley added. "There are opportunities, pick-and-pops where he could have taken like a 10-foot face-up shot – Josh is a pretty good shooter – and he kind of dribbled himself into bad situations at times.
"But you can see he's a guy that's coming on. He was close to 20 and10 today, and his rim protection is better than I thought it would be."
Please consider supporting Storrs Central's mission of dedicated, high-quality coverage of UConn athletics by joining the membership, available now for 50% OFF!