Huskies Fall on the Road to NC State
It was another road game against a ranked opponent, and another lopsided loss for the Huskies as they fell to NC State 41-10. The Wolfpack struck quickly, a 75 yard TD pass from Devin Leary to Thayer Thomas on the first play from scrimmage. Upon receiving the ball, UConn would get two first downs, then turn the ball over on downs in NC State territory, as Zion Turner was stopped short on a 4th and 1 sneak. It would be the last two first downs for the Huskies until the 13:22 mark of the 4th quarter.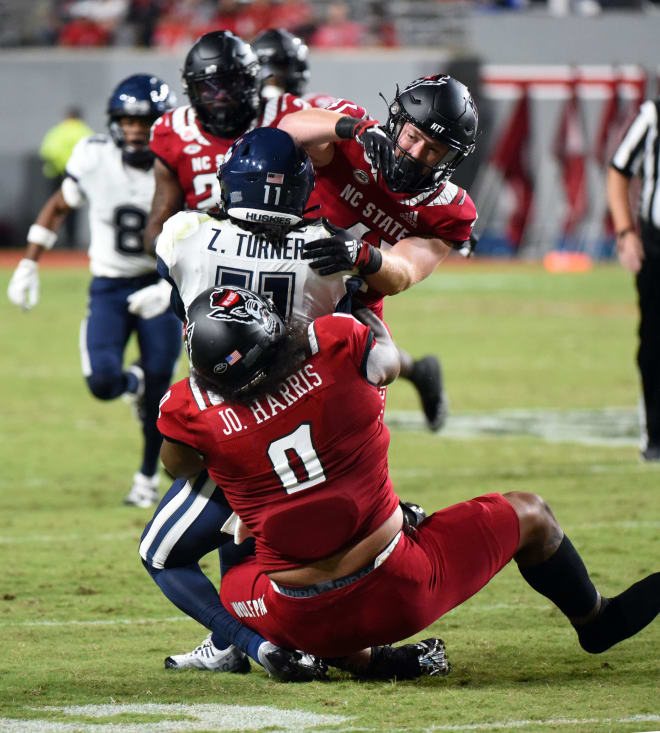 Leary and NC State would be in control the rest of the evening, as five of six first half drives ended in a score. An interception by LB Brandon Bouyer-Randle and the subsequent 31 yard return would give the Huskies field position at the Wolfpack 11. The Huskies would manage only one yard on the drive, and settled for a Noe Ruelas FG as time expired on the first half, entering the locker room at a 31-3 disadvantage.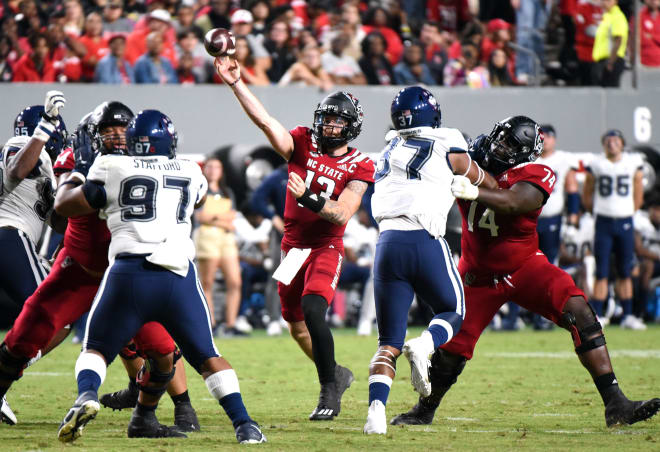 UConn would receive the ball to start the second half, but a prompt 3 and out gave NC State the ball back on a drive that would start at the UConn 32 yard line after a George Caratan shanked punt. After gaining 22 yards, NC State faced a 4th and 4, and attempted a fake FG that was snuffed out by the UConn defense. After another 3 and out, NC State would end their next drive with a TD, this time Devin Leary to Porter Rooks, a 4 yard pass that ended a 52 yard drive.
In the post-game presser, HC Jim Mora mentioned that starting CB Kaleb Anthony is likely lost for the season with a torn ACL. LB Ian Swenson was suffering from back spasms pregame, but still played, however he had to be removed from the game.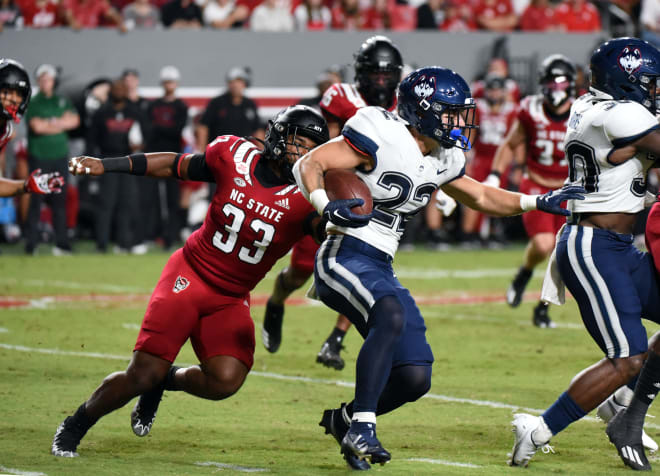 The lone bright spot offensively for the Huskies was their final drive of the game, a 10 play, 70 yard drive, all on the ground, that ended with a Victor Rosa TD. Rosa carried the ball five times for 43 yards on the drive, while Robert Burns had 17 yards. Backup QB Cale Millen added a ten yard of his own. It was the first TD for the Huskies since the Syracuse game in Week Two. The Huskies as a team had 121 yards rushing on the night. After throwing for only 17 yards last week against Michigan, Zion Turner threw for 39 yards, throwing only two incompletions. The Huskies will face one more tough team in Fresno State next Saturday at The Rent before a more manageable schedule the rest of the way. Game time is 3:30 and will be televised on CBS Sports Network.
Final Stats
| | NC State | UConn | |
| --- | --- | --- | --- |
| Total Yards | 492 | 160 | |
| Passing Yards | 323 | 39 | |
| Rushing Yards | 169 | 121 | |
| Turnovers | 1 | 0 | |
| 3rd Down Efficiency | 10/14 | 2/12 | |
| Penalties | 4-25 | 2-23 | |
| Possession | 35:29 | 24:31 | |