Hurley's Huskies strike again with 2021 SG Jordan Hawkins
Due to coronavirus, UConn men's basketball might not be doing much winning on the court for the immediate future, but that's not stopping Dan Hurley and his staff from achieving victories on the recruiting trail. For the second straight week, the Huskies added a top-50 talent to their 2021 class after 6-foot-4 shooting guard Jordan Hawkins announced his decision to play his college ball in Storrs on Friday morning.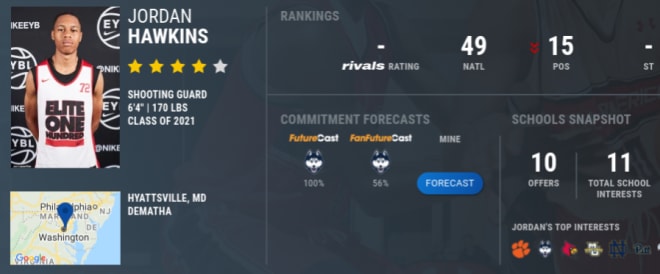 The addition of Hawkins out of Dematha Catholic in Maryland gives UConn an elite backcourt of the future, with 6-2 guard Rahsool Diggins (41st overall) having already committed to the Huskies twelve days ago.
Hawkins was planning on tweeting out his top-11 last week, but he cut to the chase and announced his decision to go all-in with the Huskies. The move leaves UConn with one open roster spot for 2021-22, pending any roster turnover.
Hawkins' announcement continues a banner run for Hurley and his staff on the recruiting front as they re-enter the Big East after seven years in the American Athletic Conference. Last season, the Huskies added three starters in Akok Akok, James Bouknight, and Jalen Gaffney. Coach Hurley and his staff then went out and reeled in guard Andre Jackson (71st ranked), center/forward Adam Sanogo (83rd), and four-star center Javonte Brown-Ferguson for this year's freshmen class.
Junior transfer Tyrese Martin may join the team as well, but the 6-6 guard who followed Coach Hurley from the University of Rhode Island is waiting to hear from the NCAA on whether he'll be granted a waiver to play.
Hurley is 35-29 in two years at UConn and is coming off his first winning season with the Huskies.