How Jen Rizzotti Found Fulfillment and Success in Coaching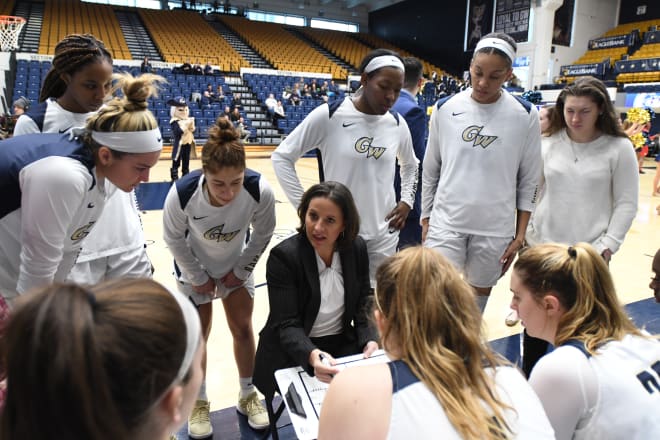 George Washington University Women's Basketball head coach Jen Rizzotti never saw herself coaching until she received a phone call in the spring of 1999 that would change her life forever.
"The Athletic Director at [the University of] Hartford called me and offered me a chance to interview for the head women's job there," Rizzotti told Storrs Central in a phone interview.
At the time of the call, Rizzotti was in between her time playing for the New England Blizzard of the American Basketball League and the WNBA's Houston Comets. After helping UConn win its first-ever championship, and being part of the first wave of WNBA players, Rizzotti was blazing another trail as a former player getting into coaching.
"It wasn't really something that players of my generation really thought of as a career path back in the 1990s."
The coaching job at Hartford was only supposed to an interim one, but Rizzotti, who was playing in the WNBA from April through the beginning of September, thought it would be worth hearing out Patricia Meiser, the Director of Athletics.
"I think as I was driving away from the interview I thought how I might never get that kind of opportunity again, I was 25, I had no coaching experience, and I was getting offered an opportunity to run my own program."
She certainly made the most of that opportunity. At first, she looked to figure out if it was something she wanted to do without making a long term commitment. It didn't take it long for the former UConn floor general to figure out it was what she was meant to be doing.
In 17 years coaching the Hawks, she led the team to a 316-216 record, six NCAA tournaments and four WNIT berths. However, the job had its challenges, especially at first.
"I was very comfortable with how to run a practice and how to teach defense and even what kind of offenses I was comfortable with teaching but I didn't know how to recruit, I didn't know how to manage a program or a budget, I didn't necessarily have an idea of what fundraising would look like,' Rizzotti said. "So my first four-to-six years was very much about learning the ropes about the business of coaching."
Rizzotti found out that running a successful program isn't just about basketball, rather being good at every aspect.
"[I] had to learn how to manage a staff at a young age, be able to keep strong relationships with my players, but also make sure there was a line, because I was young," Rizzotti said.
What ultimately sold Rizzotti on coaching was realizing the positive impact she could have on other people, a lesson learned from her years with Geno Auriemma, which included the 1995 NCAA championship and 1996 AP Player of the Year Award. In 135 games in blue and white, Rizzotti averaged 11.1 points, 4.7 assists and 2.6 steals per game.
"[W]hen I started coaching I realized how much of my daily life was a reflection of what I learned as a player at UConn," Rizzotti said. "It made me realize how much my coaches were a big part of who I became as an adult and so I thought a lot about how I could impact a lot more people in the coaching role than a playing role."
Though Rizzotti continued to play in the WNBA through 2003, she never doubted that coaching was what she was meant to be doing. Notably, that transition was made easier by both the mentoring of Auriemma and Rizzotti's position on the court, reinforcing the conventional wisdom that point guards make the best head coaches.
"I think as a point guard, the relationship you have with your head coach and the expectation that your head coach has [is] that you're going to be an extension of them on the floor," Rizzotti said. "I took that responsibility really seriously, so it just meant a good relationship off the court, somebody that I could trust, someone who I felt trusted me, and many meetings. I was in his office and watched film and really just tried to take everything that I could, even if I didn't agree with it at the time, I tried to just really bleed everything I could from his expertise so that I could be a better leader and point guard for him."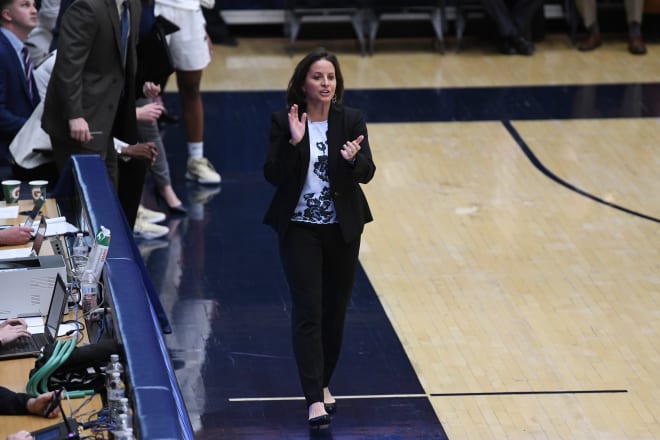 While she said that everybody she played for had an impact on who she became as a coach, both good and bad, she noted Auriemma's influence stood out the most.
"There's no doubt in my mind that my coaching style, my coaching philosophy, was most impacted by Geno," Rizzotti said, recalling that she'd often shoot over to UConn practices when she was coaching at Hartford, bouncing ideas off the staff on how to handle both on-court strategy and off-court matters. "He will continue to be a role model for me and somebody that I can look up to, a mentor, and I think that that style just fit me in terms of my personality. His ability to connect with players and motivate players is definitely what I wanted to be modeling my career after."
Auriemma has always been someone she could call for advice; Geno often offered variations on a theme: always telling her to trust her gut.
It's worked. Like Auriemma, Rizzotti has also been involved with USA Basketball in a variety of capacities over the years. She has coached the US to gold in the FIBA Americas Under-18 Championship in 2006 and 2010, as well as in the FIBA Under-19 World Championship. In addition to also spending time as a scout and on one of the Junior National Team Committees, Rizzotti most recently served as an assistant coach under Dawn Staley for the FIBA World Cup this past September.
"To be around the kind of coaching minds, for me, and even the players, professional players and how they prepare for games and the way that they think about the games and the preparation for those games has forced me to sharpen my focus and be a better coach for my team at GW," Rizzotti said, noting that she asked a ton of questions to those on USA Basketball's staff, like Staley and Minnesota Lynx head coach Cheryl Reeve. "I really appreciate how open all of the coaches have been."
Rizzotti, who just finished her third year at GW, finished the season somewhere unfamiliar: out of postseason play. In her first two seasons, Rizzotti finished 39-23 and an impressive 23-9 in Atlantic 10 play. Earning a WNIT bid in year one, winning the Atlantic 10 Women's Basketball Tournament and advancing to the NCAA tournament in year two.
This season the Colonials finished 10-20, ending the year on a three-game losing streak. This, too, represents an opportunity to learn in Rizzotti's eyes.
"I think as I've gotten older, my challenges have just been to manage my own expectations, both for my players and for the level of success that I want," Rizzotti said. "I tell my players all the time that they can control what they can control and I think I need to listen to myself more often, sometimes I want to control everything, and I can't... I can always make something good no matter what, whether we're great and have 25 wins, or in this case, this year we have 10, I still feel like I can make a positive impact on the kids that I'm coaching and I'm around every day."
25 wins or 10 wins, Rizzotti's competitive drive is what keeps her challenged. Every moment is an opportunity to get better — at 44, already so accomplished, she still thinks purely in terms of how to build on that experience.
"I feel like every time I watch basketball it forces me to think about, 'Well maybe I could be a little bit better at being creative defensively, maybe I could be a little better at the plays that were drawn up at the end of the game'," Rizzotti said. "I always think there's room for growth for me in the game, because the game is evolving and changing."
Rizzotti's mantle is flexibility, to grow and develop along with the game she loves. It's flexibility that served her well — ever since she had the foresight to alter her path thanks to a single phone call.
Please consider supporting Storrs Central's mission of dedicated, high-quality coverage of UConn athletics by joining the membership, available now for 50% OFF!