2016 CT CB Tahj Herring has a lot to like in Storrs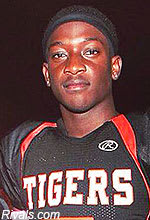 Like many Connecticut prep schools, Suffield Academy is starting to garner significant attention from the FBS ranks. They put their name on the map in a big way last year with 5-star DT Christian Wilkins, who committed to Clemson.
Wilkins was one of two Suffield Tigers to accept an FBS offer in the Class of 2015. Class of 2014 prospect Brice McAllister chose UConn over offers from Army and Harvard.
Now
Tahj Herring
is the one fielding interest from around the country. He also happens to be quite close with McAllister.
"That's one of my best friends," he told UConn Report, "so we talk all the time. He tells me how the players act with each other, and what the coaches are like."
Herring currently holds offers from Virginia and Vanderbilt in addition to UConn. Boston College is close to offering, and he has been in touch with Duke, Penn State, Michigan, and Wisconsin, among others.
The junior shared his thoughts on the main factors behind his college decision: "Definitely the academics, then how close I feel I could be with the team, and if I could see myself being at that school in terms of campus life. Also, if I see a trend in the right direction for the football program." He plans to study business in college.
Herring wants to decide by the beginning of the fall and, while most schools are giving him the hard sell, he has really appreciated the approach taken by UConn's coaches in his recruitment.
"We mostly just talk about life and how I'm doing. [Coach Anthony Poindexter] wants me to be comfortable being where I am even if it's not UConn," he said, adding, "that's why I like him a lot. He's not pressuring me to commit."
There are a lot of positives for Herring with UConn, including the facilities, which are "a lot better than what I've seen at other schools, very state-of-the-art." He also would cherish playing in his home state.
"I think that's a great opportunity, to be the hometown hero, and play for the state I grew up in. It's also good because it's in close proximity to my family."
Regarding the tight-knit team he seeks, Herring has seen it at UConn as part of a broader culture change, "the players are a lot closer than I've seen before. They're all one team."
Herring said it also helped UConn's cause to see Husky cornerback Byron Jones selected in the first round of the NFL Draft.
"It definitely helped a lot, because we have a lot of similar traits. It makes it easier for me to believe that UConn can do great things with its defensive backs," he said, acknowledging a few other former UConn stars currently playing in NFL defensive backfields, such as Darius Butler.
The 6-foot-1 Herring is primarily being recruited as a cornerback though he may end up playing safety or even wide receiver at the next level. He believes his strengths as a player are his speed, instincts, ability to read a quarterback and also his ability to recover quickly.
We'll be sure to stay in touch with him as he gets closer to making a decision.