Notes & Quotes: UConn Overwhelms North Florida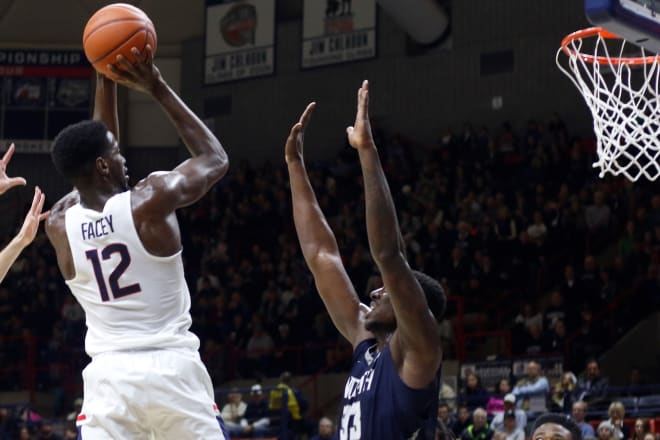 STORRS, Conn. – Kentan Facey scored a career-high 20 points to lead UConn over North Florida, 80-59, Sunday afternoon at Gampel Pavilion in front of 7,110 fans.
The Huskies (5-5) dominated in the front court, outscoring the Ospreys 40-10 in the paint, and finished with five players in double figures. Facey finished with nine rebounds, while Jalen Adams did pick up a double-double with 13 points and 10 assists.
"We were all just ready for this game," Facey said. "We tried to come out with as much energy as we could."
Christian Vital added 13 points, and Rodney Purvis and Amida Brimah each had 11. UNF's Dallas Moore scored 18 points (4-10), as the Ospreys shot 12-for-31 from the perimeter.
Here's what went well and what needs work after UConn pulled to .500 on the season with one game to go before American Athletic Conference play begins:
WHAT WORKED
Getting Ahead – For the first time all season, the Huskies enjoyed playing in front almost the entire game. Their 11-point lead in the first half (28-17 on a Vital layup) was the largest of the season to date. After withstanding a pair of North Florida runs, UConn led by double digits the final 10:17 of the game and thrived by sharing the wealth on offense.
UConn head coach Kevin Ollie: "I just thought we played well. That team was coming in shooting hot, shooting 45, 46 percent and to hold them to 33 percent. They took a large amount of 3s, but we played some solid defense."
Paint Patrol – The Huskies held a huge advantage in size (Ospreys had just one player over 6-8) and took advantage of it. Three UConn big men scored at least seven points (Steven Enoch had seven) and the team collected 13 blocks (Brimah, Enoch, Facey each with four). Overall, the Huskies shot 53.7 percent from the field and 60.7 in the first half – their second best of the season (63 percent in second half against Oklahoma State).
Kevin Ollie: "I thought we executed real, real well and our bigs dominated the game. … Kentan was huge playing in the 'four' hole just playing aggressive with 20 and nine, and then Amida played very well."
Guard Jalen Adams: "The past couple games we've been trying to throw the ball inside because we've been taking a lot of perimeters and I think that shot us out of a lot of games. We wanted to have balance, working inside and out."
Moore is Less – Moore came in averaging 23.2 ppg, and after scoring 15 points in the first half, he was on pace to eclipse that against Huskies. But, Adams, Rodney Purvis and Vital held him to just three in the second half to snap Moore's string of six straight games with 24 or more points. Overall, the Huskies clamped down on the perimeter, where the Ospreys were 8-for-17 in the first half and just 4-for-14 afterwards.
Adams: "He's very talented. You can't give him any spaces to shoot the ball. We just all took turns (defending him). Everybody knew we had to step up and take the challenge at different times. When I got tired Rodney stepped up and guarded him. And then when he got tired, Christian stepped up."
Ollie: "He's going to be in the NBA. He's a talented, talented player. I mean he was going left and we were trying to get him to go right. … He's been hot. He's been scoring 30 points on every big program he's played against so far, so to hold him to 18 I thought we did a really, really good job."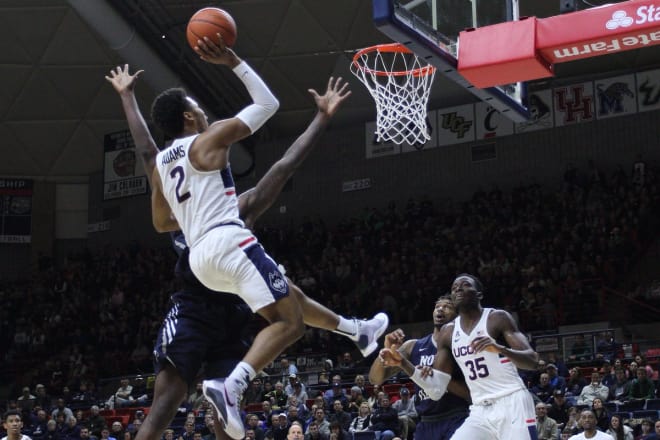 WHAT NEEDS WORK
Free Throws, Again – The Huskies were much better at the foul line , going 18-for-26, but nobody stepping to the line seems to be a sure thing, especially Brimah (1-for-5). UConn came into the game ranked last in the AAC in free throw percentage at 60.9 percent. That needs to change in league play.
Closing Time - The Huskies have rarely enjoyed a big lead this season, so they were newbies when it came to closing out the half with a lead. UNF cut an 11-point deficit down to three with an 8-0 run before Enoch scored at the buzzer to make it 41-36.
Ollie: "We just have to do a better job closing the first half out. I think we had an 11-point lead and we came down and had four careless turnovers, and they came back on the other end and hit 3s. Other than that, I thought they executed very well."
NOTES: Assistant coach Rickey Moore missed the game due to illness. …. Vance Jackson and Facey returned to the starting lineup in place of Enoch and Vital. … Ollie said the Huskies did "an awesome job" during exam week and juggling their studies before turning attention to the Ospreys. …. UConn hosts Auburn at 2:30 Friday afternoon at the XL Center in Hartford before Christmas break. … The Huskies open league play with Houston on Dec. 28.
NEXT UP
The Huskies host Auburn on Friday, December 23rd in the last non-conference game before AAC play starts. UConn has one more non-conference game after conference play begins, against Georgetown on January 14th.