Notes & Quotes: UConn Men's Basketball Exhibition Win Over SCSU
STORRS, Conn.—UConn senior center Amida Brimah scored the first 14 points of the second half to help the Huskies cruise past Southern Connecticut State University on Saturday afternoon, 94-65. This was the final exhibition game for UConn before opening the regular season on Friday, Nov. 11 against Wagner.
Here is a look at what went right and what needs work for the Huskies:
WHAT WENT WELL
1. IMPROVED DEFENSE: Head coach Kevin Ollie was not pleased with his team's defensive effort in the exhibition opener against the University of New Haven. The Huskies responded by limiting the Owls to 31-percent shooting and forcing 17 turnovers. Southern's leading scorer Mike Mallory was limited to just 14 points on 4-of-17 shooting.
Kevin Ollie: "We made an emphasis on really getting out and pressuring a little bit more and pointing and talking, behind any actions especially with Mallory. I think they really locked in on the game plan this week."
Scott Burrell: "[UConn] is big, long, athletic—they play like that against everyone. Every pass is tough, every handoff is tough against a team like that. They're going to have a really successful season, they're going to be good…They got better from last week, defensively. They obviously knew [Mallory] was a great scorer, nothing was easy for Mike."
Rodney Purvis: "It takes a lot of effort and it takes a lot out of you but to be great that's what you have to do. That is something we have to do as a team, we have a lot of great weapons and a lot of athleticism so we have to put that use."
2. GETTING OUT ON THE RUN: Ollie has stressed the importance of the Huskies getting an advantage in transition. UConn built at 14-4 edge on the break in the first against Southern, outscoring the Owls 20-8 overall.
Ollie: "Twenty assists is great, 20 fast-break points but I thought we really could of had 30…I just love getting on the break with those guys, I love how they were unselfish, my point guards did a good job."
Burrell: "As soon as they came out of the gate [in the second half] and got four or five layups in a row, then you are like, 'here come the walls—they're coming down.' You find a way to stop it but when they are long like that and they are running their offense hard, getting rebounds and run outs, it is demoralizing."
Terry Larrier: "I definitely like to get out and run, some of the lineups we had in tonight were small so we were able to do that and get easy buckets in transition."
3. BRIMAH ASSERTIVE ON THE BLOCK: Brimah was a force in the paint, scoring the Huskies first 14 points of the second half, sparking a 27-6 that put Southern away for good. Brimah was quick and decisive on the block, punishing the smaller Owl defenders.
Amida Brimah: "Before the game coach told me the way for me to be my best against a small team is dominate offensively—posting up really hard. That is something I'm going to add to the game instead of me sitting out because we have a small team, I need to make sure I have an impact on the game."
Ollie: "They did a great job in the second half finding him…That's great, they were just unselfish finding him on the post. Just going to his jump hook, not making the game difficult. When he dribbles a couple times and tries to do his Dream Shake, that's when he gets in trouble. When he goes straight up—that's when he is really, really good, catching lobs and being active down there… No matter who he is playing, he has just got to do the same thing."
Purvis: "Oh it was great. I was one of the main ones telling him to keep eating, I like when Amida is doing well because he does so much for this team…I'm happy for him, he has been through a lot, and I just want to see him continue to do well—we are going to keep giving him the ball because we like when he is dunking and hanging on the rim."
4. LARRIER IMPRESSES AGAIN: For the second straight game, redshirt sophomore Terry Larrier impressed with his offensive versatility. The VCU transfer ended with 13 points, three assists and two rebounds throwing down the highlight dunk of the game in the first half. Larrier was 6-of-8 from the floor, knocking down a three, showing a nice step-back jumper and finishing with authority at the rim.
Ollie: "He is 6-9, long, active, can shoot—that don't come around too many times. When he is out on the court we play better, but I want it to be consistent though…I think he knows his strengths—his strength is being a spacer…He just has to be solid with the basketball, I thought he took good shots today. The thing I like about him is his versatility—I can play him at the three, the four, I can play him at the two sometimes. That's the thing I want him looking for, being ready to shoot and play with energy. If he brings energy with his length it is going to be tough to handle him as he attacks."
Larrier: "Today coming off the bench we were able to bring energy, get out and run and score some buckets in transition."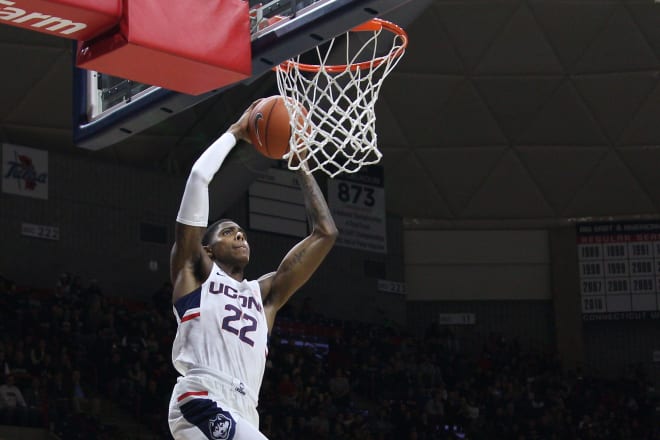 WHAT NEEDS WORK
1. DEFENSIVE REBOUNDING: The Huskies won the rebound battle, 40-33 but gave up 16 offensive rebounds to the undersized Owls.
Ollie: "To be a great defensive team, you have to be a great rebounding team. We just have to clean that up…We want our bigs to start stabling themselves and dominating the backboard. That's the one thing I'm a little disappointed in."
2. TURNOVERS: UConn was pushing the pace for most of the game, getting out on the run and showing a full-court trap once again. However, things were sloppy at times with the Huskies committing 19 turnovers.
Ollie: "The 19 turnovers I didn't like—we had a couple of breaks where we just turned the ball which we cannot have…We cannot have carless turnovers and I think a couple of them were careless."