Notes & Quotes: UConn Loses Season Opener to Wagner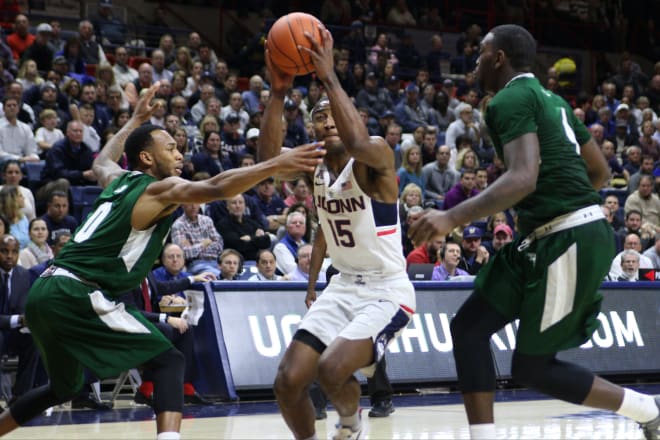 STORRS, Conn. – Wagner stunned 18th-ranked UConn 67-58 in front of 9,523 fans at Gampel Pavilion Friday night.
The Huskies only led once – 2-0 just 47 seconds into the game – and lost for the first time in a season debut at Gampel in 28 years (The building opened in 1990). UConn also dropped its first season opener since a Nov. 11 1999 loss to Iowa in the Coaches vs. Cancer IKON Classic at Madison Square Garden.
Wagner's Mike Aaman and Romone Saunders each scored 15 points, while a third starter, Corey Henson, added 10. Terry Larrier netted 19 in his UConn debut and freshman Alterique Gilbert added 14.
"We just have to take a step back, get together and come to practice (Saturday) and we just have to find someone who can make some shots," said UConn coach Kevin Ollie, who lost his first season opener in five seasons.
WHAT WENT RIGHT
Scoring Machine – The Huskies struggled on offense, but Larrier appears to be a weapon for them going forward with his 6-for-12 shooting night, including 3-for-7 on 3-pointers. Larrier scored inside and out, plus added a team-high seven rebounds.
Kevin Ollie: "He played well for us. He was a real bright spot for us. He played very, very well for us, played with a lot of heart and played with pure heart."
Young Backcourt – In their debuts, freshmen guards Gilbert and Christian Vital were two of the stronger performers for the Huskies. Trailing 49-37 in the second half, Gilbert (5 of 8 shooting) had six straight points to spark a 12-0 rally that tied the game. He also went a team-high 35 minutes without a turnover. Vital also came off the bench and played hard, finishing with five points, two rebounds and a steal in 14 minutes. His 3-pointer and a steal, which lead to two Vance Jackson free throws, helped UConn tie the game, 35-35, right before the half. Wagner would lead 38-35 at the break, though.
Ollie: "My two toughest guys was probably my smallest guys and that was CV and Al. And they are the two smallest guys we got, so we got to get tougher and that starts with me as a coach."
WHAT NEEDS WORK
Man with a Plan – Credit Wagner coach Bashir Mason and his Seahawks, they came in with a plan on how to beat UConn and then followed through on it. The Seahawks dictated tempo throughout, outrebounded UConn 37-33 and just flat outplayed their host the entire night.
Mason: "My guys, you know what we studied UConn, this program, a blue-blood program, that we have a tremendous amount of respect for. Watching these guys play in two exhibition games, overwhelmed watching them with their talent and length and athleticism, and obviously, the only way we had a chance to be in the game was to try and control the tempo. … Tonight we were able to pull off probably one of the greatest victories in our school's history.
Ollie: "They played a great game. They hit 3s (9-for-25) and they really challenged us at the end of the shot clock. I think he was very confident just running the clock down and getting something good. Coach Mason did a great job getting those guys ready to perform."
Answering the Bell – The Huskies failed to match Wagner's intensity to open the game, falling behind 21-11 with 11:41 left in the first half. The Seahawks shot 5-for-9 at the onset (3-for-5 on 3-pointers) and got a solid performance inside from Aaman (nine points, four rebounds).
Ollie: "I just thought our juice wasn't there."
UConn guard Jalen Adams: "I don't think we came out with the same intensity that we did in the last exhibition game. We weren't hitting shots and we kind of got down on ourselves, let that effect our defense. Right off the bat I think we let them dictate the tone for the game."
Off the Mark – UConn made just 8 of 30 shots in the second half (26.7 percent) and were 20-for-56 (35.7 percent) for the game. The starting backcourt had the roughest night with Adams going 4-for-15 with nine points and Rodney Purvis hitting 2 of 7 for five points. Purvis also had four of the team's nine turnovers.
Ollie: "Rodney really, really struggled with four turnovers and couldn't get no good looks. Jalen struggled. You know you have both of those guys go 6-for-22. I mean it's hard to win when you have your two top guards (struggle)."
Grabbing the Ball — UConn had the size advantage with the 7-foot Amida Brimah one of four Huskies listed at 6-10 or taller. However, the Seahawks won the battles in the paint for loose balls and didn't let their lack of size be a factor.
Gilbert: "It started with offensive rebounding and just getting stops. … We are going to take it as a learning experience and get better from it."
Ollie: "Not good. 37-33, so I wouldn't say it was good with those numbers."
NOTES – UConn confirmed earlier on Friday that it had received National Letters of Intent from three players – guard Makai Ashton-Langford, forward Tyler Polley and forward Josh Carlton – for the 2017-18 season. "We are excited to add these three students-athletes to our UConn family," Ollie said. "They are people of high character as well as outstanding athletes." … UConn started Purvis, Larrier, Adams, Brimah and Kentan Facey. … First basket of the season – Brimah on an alley oops from Adams.
UP NEXT – Monday, vs. Northeastern, 7 p.m., Gampel Pavilion.