Kia Nurse Emerges as the NY Liberty's Second Star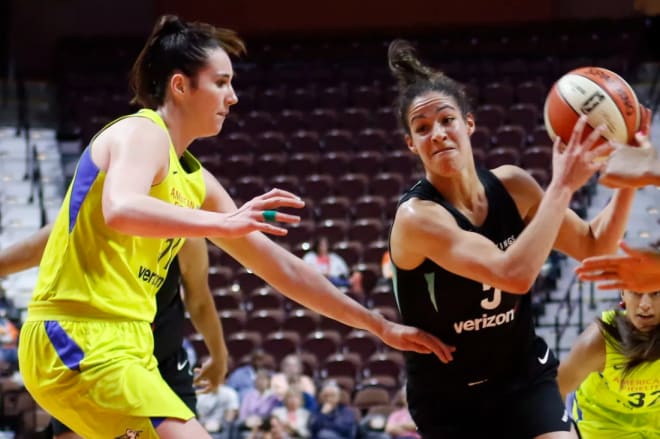 For four years, Kia Nurse was a major contributor at UConn, playing on a pair of national championship teams and averaging double figures through most of her career. But playing on teams with Breanna Stewart, Gabby Williams, and the embarrassment of riches that UConn trotted out from 2014 to 2018 meant Nurse was rarely at the top of opponents' scouting reports.
Now, on a New York Liberty team that features Tina Charles, that's mostly still the case. Yet Nurse has quietly become a force in the WNBA.
Ten games into her second season, Nurse has broken out in a major way. She's started every game the Liberty have played, places second on the team in scoring with 16.1 per game, is shooting 88 percent from the line, and has brought her three-point percentage up from 29 to 37.
"Since my last couple years at UConn, I considered myself a shooter,' she said. "Last year, the shots that I took that felt good just didn't fall. I really do think for me it was just a matter of continuing to shoot the ball."
The unfortunate part is that despite Nurse's efforts, the Liberty are just 7-8 on the young season. But considering they won just seven games all of last year and started this one 0-4, there's at least some reason to think the team is moving in the right direction.
To Nurse's credit, she's done her part, and that includes more than just scoring. She says she takes pride in setting screens and is often tasked with defending the bigger guards on the other team. Nurse is six feet tall, making her a valuable asset in a league where so many players flow seamlessly from the 2 to the 3.
Like so many UConn alumnae, Nurse has seen several of her former teammates join her in the WNBA. She entered the league last year alongside Williams and Azura Stevens, then Katie Lou Samuelson and Napheesa Collier followed this year. Having gone through a season already and dealt with the highs and lows of being a WNBA rookie, Nurse is impressed with what she's seen so far from Samuelson and Collier.
Mostly, that the two rookies are showcasing their versatility.
"I think [Collier] is continuing to show day in and day how versatile she is in her ability to play a different position," Nurse said. "She's able to knock down shots, she's able to make plays, she is a big post technically, but she has the skillset of a guard and that's something that we saw at Connecticut and is something we're going to see even more of now."
Over her first 10 career games with the Minnesota Lynx, Collier is averaging 11.9 points and 5.3 rebounds, while shooting 35.5 percent from three. She made a statement from game one, when she scored 27 points on 8-10 shooting in her WNBA debut, and is currently ninth in All-Star voting.
As for Samuelson, her rookie season with the Chicago Sky is on hold temporarily as she recovers from a wrist fracture, but even in a cast, she is still doing what she does best: getting shots up.
Nurse acknowledged the obvious — that Samuelson's ability to knock down threes will take her far in the WNBA, then added that she has the potential to be a matchup nightmare.
"You can play her at the 3, you can play her at the 4," Nurse said. "It allows your defense to use switching techniques, a lot of different things, and I think that would be great for them in Chicago."
Samuelson played in just three games before her injury and struggled over limited minutes. Thankfully for her, she has former teammate Williams and UConn alumna Stefanie Dolson by her side as teammates — something that Nurse said cannot be undervalued.
Former Huskies tend to look out for each other, even if they haven't played together. Nurse used Charles as an example. The two played for UConn in different eras but formed a quick bond on the Liberty.
"She was a great asset for me," Nurse said. "She took me under her wing and said 'here's what's going to make you successful in this league. If you need anything, let's go to dinner, we don't just have to talk in practice.' And that was something that was special for me."
It's a bond of shared experience, formed by more than just playing basketball at the same college. So often we hear the story of former UConn players talking about how Geno Auriemma demands the best from his team, both in games and in practice. Nurse feels that it has prepared her well for the next level, and it's something that all former Huskies can relate to.
"The reason that there are so many of us who are still in this league, which is one of the toughest leagues to make year in and year out, is because we went to as school that prepared us for this," Nurse said. "They made sure each and every day, from the moment that we stepped on campus as freshmen, that we understood and we knew that we needed to be professional in what we did."
As for the team still in Storrs, Nurse does her best to keep up, but playing in Australia during the winter comes with its challenges. She says the 16-hour time difference and a lack of ESPN made watching games difficult in 2018-19, but she occasionally found a way. Her and former Husky Kaili McLaren joined their Canberra Capitals teammate Kristi Wallace (a Baylor grad) in watching UConn's game in Waco this year.
She also frequently texts with Chris Dailey — mostly inside jokes and funny tweets — but will see her and Auriemma throughout the summer. The two UConn coaches are hitting the recruiting trail and have already watched some players on Nurse's Kia Nurse Elite EYBL team in search of future Huskies and, perhaps, future WNBA teammates and rivals for Nurse herself.