Finding the Optimal Lineup for 2016-2017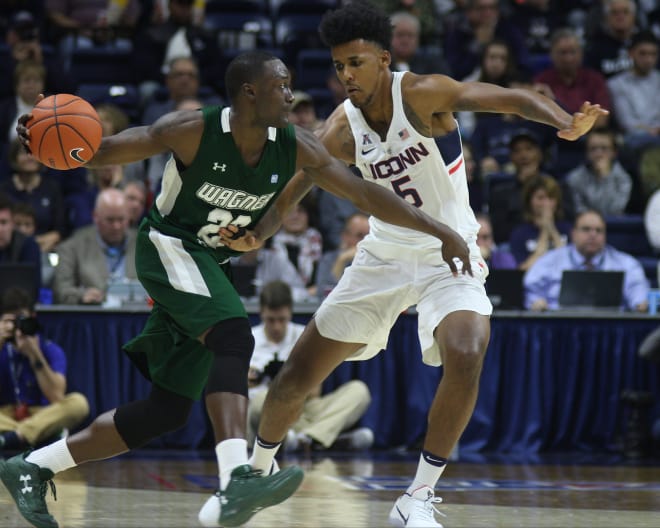 Kevin Ollie has been known to tinker with different lineups across a season and this one is no different. After his UConn Huskies lost a disappointing opener to Wagner University, it is safe to assume he hasn't found what he is looking for just yet.
The Huskies opened the game up with a predictable starting five: Jalen Adams, Rodney Purvis, Terry Larrier, Kentan Facey, and Amida Brimah. However that group saw the floor together for less than five minutes on Friday night, posting a plus/minus of -7. Purvis' (2-of-7, 5 points; 4 turnovers; -17) overall struggles had a lot to do with the unit's ineffectiveness but generally speaking the hope is to get a little more from the starters.
"Rodney really, really struggled with the four turnovers—he couldn't get good looks," Ollie said. "Jalen struggled and when you have both of those guys going 6 for 22 it is hard to win."
Ollie's first two players off the bench were Alterique Gilbert and Steven Enoch. Enoch only ended up seeing seven minutes of action and was a relative non-factor (0 for 5 from the floor; 2 rebounds; 1 block). Gilbert on the other hand was dynamic in his collegiate debut. The team was -4 when the freshman was running the point and while that number certainly isn't ideal, when compared to Purvis or Adams (-19), Gilbert's positive impact is undeniable.
"We have got to get tougher. My two toughest guys were probably my two smallest guys out there and that was [Christian Vital] and [Gilbert]," said Ollie. "We got to get tougher and that starts with me as the coach."
Ollie's most productive unit featured Vance Jackson, Vital, Gilbert, Adams and Brimah. This lineup was +5 in the closing 4:50 of the first half, helping the Huskies cut an eight-point deficit down to just three at halftime. The three-guard look was scrappy on the defensive end, forcing three Wagner turnovers while getting out in transition. Adams came up with a steal and a layup; Vital added another steal and a three pointer off an out-of-bounds play; and Brimah got an easy dunk.
"With that lineup we can kind of get going and usually we can score quickly," Adams said. "I think tonight we just couldn't hit any shots—missing easy layups that we should make and we weren't getting to the free-throw line. If anything I think we should've drove to the basketball a lot more, a lot harder and gotten free throws."
Vital and Gilbert also played key roles in the Huskies' second-half comeback. Vital, Adams, Gilbert, Larrier and Brimah were +6, the best plus/minus of any UConn combo against Wagner, in just over three minutes of work midway through the second half.
"Those two no matter what are going to play with heart—they're tough guys," said Adams. "They just took this as another game, it wasn't really a big deal being the first college game they were just playing basketball doing what they love to do."
The most-used combination on Friday night was Adams, Gilbert, Purvis, Larrier and Brimah. The group was -3 in the first half, but helped spark part of the 12-0 run that tied things up at 49-49 with 6:46 to play. Overall the unit was -5 for the game while on the court together for nearly 10 minutes.
Overall Takeaway: Ollie's lineups and rotations are still very much in flux, understandably. A night to forget by Purvis really sinks the collective ship but the Huskies were best with Gilbert, Adams and Vital on the floor together. Vital alone was +13 in 14 minutes making an impact without exactly stuffing the stat sheet (5 points, 2 rebounds, 1 steal). Mamadou Diarra was out on Friday and Juwan Durham only played two minutes.
"We were playing with three freshmen at times because we got in foul trouble…but I thought those guys played hard and that's what I'm going to be looking for. Guys who are going to wear this jersey need to honor their craft, take the game serious because it is serious," Ollie said.