Where UConn Hoops Targets Landed in Rivals' Updated Top-150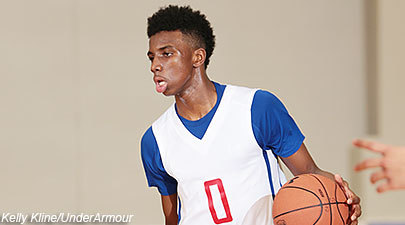 Earlier this week, Rivals released an updated 2017 rankings, with many UConn recruits scattered throughout the top 150. Here's a breakdown on where the main UConn targets are on the new rankings with a quick recruiting update on each:
5-Stars
-#4 overall, PF Mohamed Bamba: Kentucky and Duke are his perceived leaders at this point. After those two schools, UConn looks to be somewhere among the next group that also includes Arizona, Indiana, and many others. We spoke with Bamba after he had a chance to work with Kevin Ollie at the recent Team USA U-18 tryouts.
-#7 overall, SG Hamidou Diallo: One of, in not the, top targets for the UConn staff for a while. UConn is undoubtedly in his top group along with Kentucky, Duke, Syracuse, and others. This is a battle of the best of the best in college basketball's recruiting world and Kevin Ollie has UConn right in the thick of it.
-#13 overall, SF Jarred Vanderbilt: Coach Ollie went down to Texas to visit him during the spring but at this point it's unclear where UConn stands regarding him. Kentucky, Texas, Baylor and many others are after him hard.
-#21 overall, C Nicholas Richards: The talented big man is undoubtedly one of UConn's top targets. He recently has said his top five schools are UConn, Kentucky, Syracuse, Arizona, and Indiana. He's been on campus before but look for him to take another visit to Storrs at some point.
4-Stars
-#29 overall, PF Cody Riley: He has named a top five of UConn, Kansas, Oklahoma, USC, and UCLA. He has come out and said he would like to use his five official visits on those schools as well. However, at this point in his recruitment, it's thought that the west coast schools lead.
-#39 overall, PG Tremont Waters: The Connecticut native was high on UConn's radar early in his career but has dropped the Huskies below a few big-name players lately. Kentucky, Duke, Stanford, and Virginia seem to be among his top group. UConn Report spoke with Waters at the National Prep Showcase in New Haven this past winter.
-#40 overall, PG Makai Ashton-Langford: The top point guard target for UConn was recently on campus with his AAU team. UConn, Providence, and Louisville are his top group and things are looking good for UConn with him currently even though Ashton-Langford has said he plans on taking his time with the recruiting process.
-#42 overall, SG D.J. Harvey: The talented shooting guard is very high on UConn himself. It looks highly likely that he will take an official visit to Storrs at some point. He has a current list of ten schools but look for him to cut that down to five within the next month or so. From our recent conversation with him, it seems like UConn is definitely going to make his next cut.
-#43 overall, C Ikey Obiagu: The shot-blocking big man has been watched by UConn a bunch this summer. He's one of the top big man targets for the staff but the competition is stiff for him. Arizona, California, Louisville, and Georgia are among UConn's competition. Obiagu was one of the first centers UConn started showing interest in after the Zach Brown situation began spiraling downward.
-#51 overall, PF Derek Culver: A relatively new name coming from this summer but he seems like an under the radar target. Arizona, N.C. State, Illinois, and others are after him as well.
-#60 overall, PF D'Shawn Schwartz: Colorado and Stanford seem like his top two but Oregon, Cal, and UConn are also involved with him a fair amount. UConn will likely need a visit from the west coast big in order to get to the top of his list.
-#64 overall, SG Chaundee Brown: Ollie has been after the athletic guard since the spring and hasn't let up since. UConn is still recruiting him pretty hard along with Florida, Maryland, Georgia, and others. UConn Report recently spoke with Brown's coach of five years about what kind of player he is and where his recruitment stands.
3-Stars:
-#121 overall, SG David Beatty: He released his top eight yesterday which included UConn, Maryland, UCLA, Virginia, Indiana, Georgetown, Temple, and Lasalle. He also very recently unofficially visited UConn and rumors are swirling that UConn is his top school currently.
Coach Ollie is after some very talented players in the class of 2017. Look for an official UConn Big Board update with all of UConn's recruits late next week before July's first live period here on UConn Report.