UConn offers Florida OL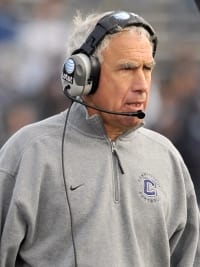 Clearwater (Fla.) Countryside offensive tackle
Giovanni Negron
is up to eight offers including two from BCS programs. One of these two is UConn, who is currently doing a very good job with the Sunshine State lineman.
The 6-foot-4, 280-pound offensive lineman, who claims offers from UConn, Arizona, South Alabama, Miami-Ohio, Middle Tennessee, Georgia State, Florida International and Ohio, currently has a top three list.
"I'd say my favorites are Arizona, Ohio and UConn," Negron said.
"I heard Arizona is going to have a new training facility and the program and coaches look really good. I wanted to take a visit down there over the summer.
"Ohio, they were really the ones that had the first interest in me so I want to stay true to that school. The football program's really good, too.
"UConn is just because I love the team and I want to go up there and see what it's like."
The Huskies are relatively new to the chase, but have made a very positive early impression on Negron.
While Negron wants to visit UConn and Arizona, the only trip planned for the summer is to Florida State on June 15th at this time.
UConnReport.com will stay in touch with Negron to see if he schedules a visit to UConn and to see how his recruiting process progresses during the summer.
UConnReport.com presents the UCONN team store where you can buy jerseys, hats, hoodies, t-shirts, jackets, and more to support the Huskies. Just
CLICK HERE
to start shopping.