UConn offers 2017 DB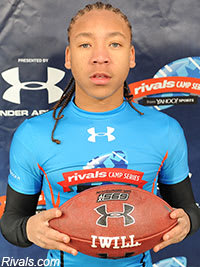 While the majority of the recruiting focus is obviously on finishing up the Class of 2015, it is also important to look to the future. UConn did that earlier this week by offering 2017 cornerback
Aapri Washington
, who has a connection to the Nutmeg State.
"Overall, recruiting has been pretty good, but as of the past month of December and beginning of January it has been a little slow because it has been the dead period," said Washington.
That didn't stop UConn from offering earlier this week, as they joined Boston College, Ole Miss, Mississippi State, Syracuse, Wake Forest, Ohio and Old Dominion who have already pulled the trigger. Washington also mentioned that Ohio State, Penn State and Tennessee have been showing serious interest.
Up next for Washington are a couple of visits.
"Well I'm planning to get up to Connecticut since I am going to visit my family sometime during the spring and I think West Virginia," he said. "That's all I know as of now."
Washington explained how the UConn offer came about.
"I figured it would come soon because I had visited there in eighth grade when the old coaching staff was there, and this year Coach Lineberg came to one of our games this season and told me to keep in touch," he said. "I had called him Saturday afternoon and I found out I had an offer."
As with
Robert Washington
, who is Aapri's cousin, there is a deep connection to the state of Connecticut.
"That is where a majority of my dad's side lives and his mother, who is my grandmother, is from there and my family lives there," said Washington, who mentioned that his family lives in Waterbury. "We try to visit every summer but if not every other summer."
So what are Washington's thoughts about the UConn program and school?
"It's a good school to be a student-athlete and not just an athlete and also I think the program is trying to rebuild by recruiting the right type of players that could help the program," he said.
While only a sophomore, Washington continued to produce on the field in 2014.
"We finished as back-to-back state champs and I won all-conference and all-state honors," he said. "I had about 1,000 all-purpose yards, two interceptions, but people barely threw it, 19 pass breakups and six touchdowns."
UConnReport.com will continue to check in with Washington throughout his recruiting process and after he takes his visit to campus.
UConnReport.com presents the UCONN team store where you can buy jerseys, hats, hoodies, t-shirts, jackets, and more to support the Huskies. Just
CLICK HERE
to start shopping.