UConn commit has big goals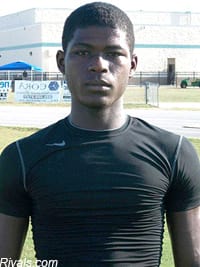 With his commitment to UConn almost two months behind him, three-star wide receiver
Neally Cunningham
of Palm Bay (Fla.) Bayside has been laying low and preparing for his senior season. UConnReport.com caught up with Cunningham last night to discuss his off-season preparation and his plans to visit UConn.
"Everything is going good," said Cunningham. "UConn is the only school I have talked to since I committed. Everything is good."
Cunningham's communication with UConn over the last two months has been with Coach Don Brown.
"We talk about a lot of things besides football," said Cunningham. "He is a good guy."
One of the topics that has been discussed with Cunningham is his official visit, which will take place in December. In the meantime, Cunningham continues to prepare for his senior season.
"We have one week till practice starts," said Cunningham, who is 6-foot-2 and 195-pounds. "This is my last year so I have no choice but to be ready. I run two times a week and I power lift two times a week."
Cunningham realizes that this will be his last chance to make a statement at Bayside High School.
"I wanna do something that has never been done at my school and that's to beat our rivals Palm Bay and to win states," said Cunningham. "We're looking good so far. We're going to be better than what everybody expects us to be. We can play with anybody."
Finally, Cunningham discussed how it feels to have his recruiting process over with.
"A lot of stress has been lifted off my shoulders," said Cunningham. "Now all I worry about is getting better."
UConnReport.com will continue to stay in touch with Cunningham to see how his senior season progresses.
WANT TO GO INSIDE UCONN?
Try our 7-day free trial now, just CLICK HERE to start getting the inside scoop on the Huskies and becoming a part of the best online community for UConn sports.