The next generation of WNBA Huskies shine on All-Star Weekend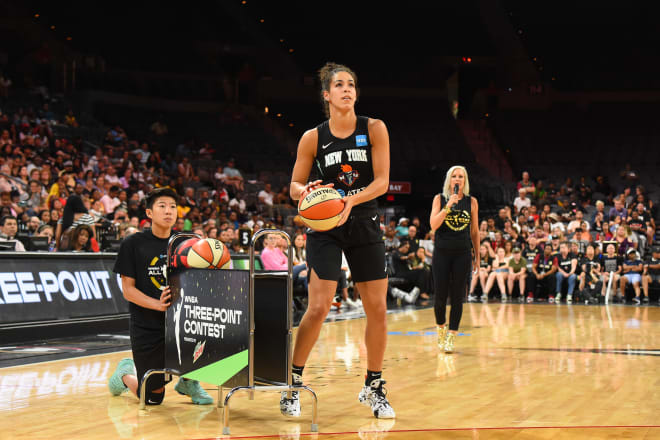 LAS VEGAS — Every year, it's pretty much a given that four of the best players in women's basketball history -- University of Connecticut alumnae Sue Bird, Diana Taurasi, Maya Moore, and Breanna Stewart -- will be named WNBA All-Stars.
This season, however, Moore is out for personal reasons, Stewart is out due a torn Achilles, and Bird and Taurasi are still recovering from knee and back surgeries, respectively. In total, the four legends have played 16 minutes this season, thanks to Taurasi's brief appearance in a July 12 game for the Phoenix Mercury. UConn only had three players in the 2019 WNBA All-Star game in Las Vegas, the fewest since 2013.
But there's a silver lining for Huskies fans -- with the legends on the sidelines, the next wave of UConn greats got a chance to shine.
First-time All-Stars Napheesa Collier of the Minnesota Lynx and Kia Nurse of the New York Liberty joined six-time All-Star veteran Tina Charles on the roster.
Taurasi, who was on hand for the unveiling of an expanded U.S. national team program to help the women's team prepare for the Tokyo Olympics, said she was thrilled to see the new generation step up.
"I mean, it's pretty amazing what we've been able to do as, you know, as a school. And then translating into the WNBA," Taurasi said. "You know, I think that's one thing we take a lot of pride in, is, you know, coming to the WNBA ready to play."
Nurse, a second-year guard with the New York Liberty, was the only UConn alum that was voted by fans, media members, and players to be an All-Star starter. Elena Delle Donne drafted Nurse onto Team Delle Donne in the first-ever televised WNBA All-Star draft.
Taurasi noted she was particularly impressed with how hard Nurse competes on a game in, game out basis -- which is quite a compliment considering the source.
"It's funny how Kia in a lot of ways was kind of in the shadows at UConn. And you look at her now, and she's one of the premier players in the world, not only our league, but what she does with the Canadian national team," Taurasi said. "She just plays so dang hard. It's nice to see someone compete like that."
The Canadian's family was able to make the trip to Vegas to watch her not only play on Team Delle Donne, but also participate in the three-point contest held the day before the game. She scored 14 points in the competition, landing her fourth out of the six participants, but fared better in the big game on Saturday, with 15 points and 2 rebounds. Overall it was a weekend to remember.
"Being able to be a part of it with so many great players that are also great people – and getting to know them off the court was so much fun," she said. "The fans were great, the atmosphere was great."
Nurse was able to play with her Liberty teammate, center Tina Charles, on Team Delle Donne. Charles was selected as a reserve by the WNBA coaches. This season, she is averaging 17.2 points and 7.6 rebounds in 2019, just ahead of Nurse's 15.4 points, 2.5 rebounds, and 2.1 assists per game.
"Tina has been someone who has taken me under her wing from day one," Nurse said. "I'm so grateful for her."
Charles was originally drafted by A'ja Wilson in the All-Star draft, but Delle Donne decided to trade for her. Delle Donne offered Collier in exchange for Charles, which was fitting since Collier was actually a last-minute injury replacement for Wilson, who suffered a high ankle sprain the week before the All-Star Game.
Charles had four points and five boards in Team Delle Donne's 129-126 loss to Team Wilson. Collier had four points and two boards for the victors, and admitted afterwards to being very nervous at the start.
But nerves haven't been a problem for Collier so far in the WNBA. She is averaging 11.2 points, 6.2 rebounds, and 2.3 assists per game in her rookie campaign with the Minnesota Lynx, and is the perfect example of the deep connection that so many UConn players have. She played for three years with Nurse at UConn, is getting major starting minutes her rookie season in Minnesota because of Moore's absence, and she's even been mentored by Charles throughout the years.
"It's kind of like a little family and we all know each other," Collier said. "Tina comes back a lot, I'd always see her at Final Fours, and she always took me under her wing when we were at USA Basketball and things like that. So like I said, it's kind of like a little family."
In this family structure, it's safe to say that Collier has impressed her elders.
"Napheesa has definitely stepped up to everything that coach Reeves need her to do," Charles said. "I don't think you could ever fill a void with what Maya Moore brings to the court, but she's definitely making a difference."
Or, as Taurasi put it: "She looks like a 10-year vet."
Overall, all three Huskies left Vegas in good spirits. Charles was incredibly impressed with the accommodations, fans, and respect shown by the host city, and Nurse and Collier were just thrilled to carry on the #BleedBlue tradition.
"What [head coach Geno Auriemma] and [associate head coach Chris Dailey] have been able to do there, I don't think it's ever gonna be able to be replicated by anyone ever again," Collier said on the eve of the All-Star Game, as she walked the orange carpet. "So I think we're all just so honored and proud to be part of their legacy."