Renee Montgomery's Winding WNBA Career Gets Lit in Atlanta
ATLANTA — The Atlanta Dream's culture shift to a close-knit, fun-loving team is in large part due to veteran guard Renee Montgomery.
Most practices are loud and have sideline celebrations, but the Dream's are next level.
There's a now-viral video out there of Atlanta's bench dancing to Ciara's Level Up during a preseason timeout. Four of her teammates were also dancing, but right there in the middle was Montgomery.
"I want them to enjoy each other. I want them to have fun. I don't have a problem with them dancing, as long as they're focused when they step on the court," head coach Nicki Collen said. "So, she kind of heads up that kinda culture shift that we had here."
It all started during her first training camp in Atlanta.
"I think somebody scored and Renee ran down court and was screaming," guard Brittney Sykes recalled. "And [Collen] stopped practice and she's like 'look at that, I want that every single time in this gym. And you know, we followed suit."
Montgomery, the No. 4 draft pick in 2009 out of the University of Connecticut, signed a multi-year contract with the team in February 2018, and brought the high-energy and positivity she's known for with her.
"It was lit," she said about the Dream's first practice of 2019. "It was lit!" she said again, this time in a shout.
If there's a basketball around Renee Montgomery, whether it's in a practice gym or arena, she's excited to be there. Her high energy and positivity are part of her leadership style.
In the Dream's 2019 season opener, Montgomery remained the leader on the court, directing the ship as the team's starting point guard, but also by staying loud and proud in big or seemingly small moments.
Montgomery scored 15 points on 5-of-7 shooting, including 3-of-4 from three, and three assists, to help her team win the game. But she lifted her teammates in other ways, too.
Nia Coffey's first points as a Dream player came from a three-point play. After Coffey scored Montgomery ran from three point line to the paint, screaming "Yes!," and congratulated her teammate before screaming again - Montgomery was, at least visibly, the most excited player on the floor.
"We want somebody to EuroStep past her defender so we can do it on the sidelines with them," Montgomery said. "We want to interact with each other and see other succeed, so that's what makes it the fun part."

Montgomery is in her 11th WNBA season, after spending most of her career in Connecticut and Minnesota before signing with the Dream. She and her head coach Collen have a close relationship — their first conversation was two hours long.
"Where I think she and I connect, we both have an incredible love for the game, and playing the game. I would probably be a lot like her if I was playing, because she plays with a joy," Collen said. "She likes showing up and doing her job. And that rubs off. And it rubs off on everybody."
The head coach also works with her captain to get messages through to players, sometimes having Montgomery deliver advice or information that would be better digested coming from a teammate.
Montgomery, who calls herself a positive and consistent leader, compares it to hearing a message from your friend instead of your parent. Her teammates say she leads by example.
Forward Monique Billings, who was a rookie out of UCLA last year, said Montgomery was a poised veteran for her to look up to and help her adjust to the league, giving her confidence she needed to believe she'd get where she needed to be, eventually.
"She always uses her voice and she's the glue to our team, so that helped me a lot," Billings said. "That made me feel just comfortable. And I was really just thankful to have her as a vet on my team. She hyped me up when I did well, and she'd get on my head a little bit when I had things to fix."
Even veteran Jessica Breland, who had a game-high 17 points in the Dream's season-opening win over Dallas, said after the game that she'd had conversations with Montgomery about being more aggressive offensively.
The only time Montgomery hasn't been a vocal person was during her brief stint participating in ballet. Otherwise, she's always been one of the loudest people in the room. She says she didn't become a leader until she was at UConn, where head coach Geno Auriemma made her a captain as a sophomore.
"I honestly knew I could lead, just by how I move and how I talk, but for him to put me in that role, that's when I really embraced it," Montgomery said.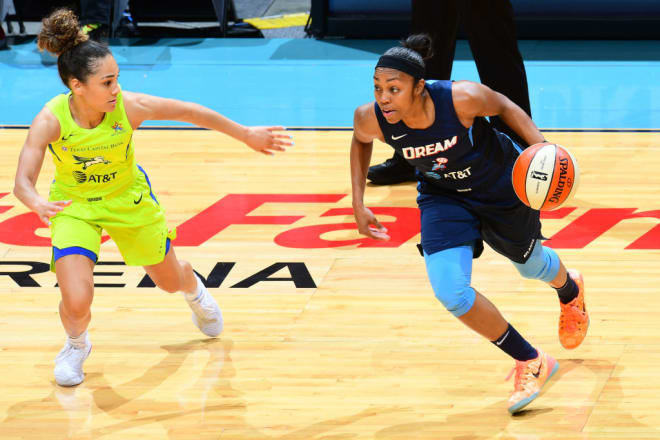 There's a lot of personality on the Dream, players like Montgomery, who you can hear yelling at any given moment, and there's Breland and Elizabeth Williams, who may be quietly talking to each other, but she works on connecting with each of her teammates in the way that suits them.
In addition to her positive energy, Montgomery has the ability to read her teammates and the way they like to be spoken to, how they like to receive information, and most importantly – how they don't.
It also doesn't hurt that she's known to make that extra pass, likely one of the most crucial parts of building trust on a team of professional athletes.
"I'm not out here shooting a lot of shots, trying to make all-star. They know if I say something, it's literally for the betterment of the team," Montgomery said. "I'm not chasing this record or that record. When I do deliver the message, they take it the right way, because they know I don't have a hidden agenda behind anything."
Montgomery's goals for the 2019 WNBA season aren't numerical, she's more focused on making sure she's doing certain things each game - including being more aggressive. Last season, she set career highs in three pointers and steals and season highs in points and assists.
She's a two-time WNBA champion, she's been named the WNBA Sixth Woman of the Year, but has also been traded twice in one year. And even after a decade in the league, she's says it's weird to look back on her career because she's still playing, but also calls it a blur.
"I'm happy with the things that's happened in my career," Montgomery said. "I'm really happy with each trade, each decision I've made. It's brought me to this point here and I'm happy in the right now."