Quansah camps at UConn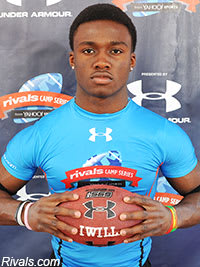 2016 linebacker
Koby Quansah
of West Hartford (Conn.) Kingswood Oxford has positioned himself as one of the top players to watch in the state next year. Earlier this week he made his way to UConn to try and earn an offer from the Huskies.
"They moved me to safety for camp and things went really well, but not as great as it would have at linebacker because it's not as natural for me," said Quansah. "But I still had a good day. No offer, but Coach Dex and Coach Diaco said they liked watching me at safety because I'm capable to play there."
Quansah, 6-foot-1 and 205 pounds, gave some more insight on the coaching staff.
"I liked them all," he said. "I got more of a feel for coach Dex since I was with him. He's a cool dude. We joked around and got to know each other a little bit while still doing work during the drills."
During his stay on campus, he did have a chance to speak with the coaching staff as it relates to his future with UConn.
"We talked a little bit during the team meeting before the position drills started and then after camp," said Quansah. "They said with their defense I would be best at safety unless I grow a couple inches."
Because of his proximity to the school, for Quansah it was not his first time on campus as he also camped at UConn last summer and has attended a couple of basketball games.
Quansah does not have any additional college camps scheduled, but will participate at the Rivals Underclassman Challenge down in Florida in a couple of weeks.
"I've been doing team lifts and workouts, then going on more runs to make sure I'm not winded with the different weather and air pressure down in Florida, but that's making me lose weight so i gotta cut that a little," said Quansah. "And I'm also taking things from camps and working on them at home."
Overall, Quansah already has offers from Rutgers, Syracuse and Rhode Island. Along with UConn, other schools that have been showing increased interest recently include Boston College, UMass and Duke.
UConnReport.com will continue to stay in touch with Quansah to see how his recruiting process progresses with the Huskies in the coming months.
UConnReport.com presents the UCONN team store where you can buy jerseys, hats, hoodies, t-shirts, jackets, and more to support the Huskies. Just
CLICK HERE
to start shopping.