Multiple Class of 2015 recruits will play in first year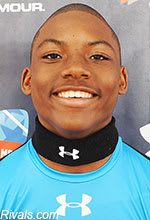 With so much rebuilding still under way in Year 2 of Bob Diaco's tenure at UConn, the opportunity for underclassmen to get on the field is a good one. This season, like last year, there are some true freshman who stand a chance to see playing time.
First, at wide receiver, Tyraiq Beals and Hergy Mayala have seen time with the second offense during preseason practices. Beals, a speedster from New Jersey, and Mayala, a physical receiver from Canada who did a post-grad year at Trinity-Pawling (NY), will both have an opportunity to stand out among the group of unproven receivers vying for playing time. Taller targets Aaron McLean and Frank Battle will also get a chance, according to Diaco.
Both Beals and Mayala were among the highest-rated recruits in the class, so it is not surprising to see them getting a chance to play early. No receiver has the size which McLean and Battle offer, which is why they will get their chance. All four benefit from the lack of proven options at their position.
Another position looking for answers is tight end, where two additional freshmen will be making contributions. Zordon Holman, a Croatian-born world champion in Brazilian jiu-jitsu from Maine, and Chris Lee, a two-sport star from Severna Park, Maryland, have both been named among true freshman who will see the field by Bob Diaco. Sophomores Alec Bloom and Tommy Myers are looking like the first options at the position, but after that it's wide open.
Massachusetts offensive tackle Matthew Peart is another true freshman who has been impressive in the preseason. The former two-sport athlete from Byfield, MA was thought of as a raw, long-term prospect because of his team's offense, but apparently has shown enough to see some playing time this season.
Lastly, kicker Michael Tarbutt may have a chance to earn the starting kicking duties or perhaps a job as the kickoff specialist.
There are some other true freshmen, and a number of redshirt freshmen, who are expected to see playing time this season. It is a testament to the opportunity for any incoming recruit at UConn to get early playing time and make an impact from Day 1.
There are multiple commitments in the Class of 2016 who asserted an interest in early playing time, and likely more to come. When they see how many true freshmen are participating across this year, especially after so many saw the field last year, some in key roles, they can be certain Bob Diaco is honest and forthright about the opportunity if he believes it exists in some position groups.
Diaco and his staff anticipated having openings at wide receiver this year and acted accordingly, bringing in multiple talented options who ended up being among the highest-rated players in the class. Despite graduating a small senior class after this season, the Huskies will be losing key defensive starters in all three positional groups, leaving opportunities for underclassmen at defensive line, linebacker and defensive back next year. Perhaps we will be writing this same article next year featuring WR Quayvon Skanes, CB Tahj Herring, S Eddie Hahn, or even a prospect yet to commit.