How UConn Hoops players would be rated in NBA 2K
Last week, Adam Gorney released his Madden Ratings of ACC football players, which turned out to be a great read and looked like a fun exercise. Inspired by this, I decided to do the same, but in a smaller region: UConn Basketball Players. Of course though, we won't use EA Sports' Madden; instead we'll use the basketball equivalent, 2K-Sports' NBA 2K.
A few things to note before I start discussing my ratings. The scores are on a 0-99 scale, but 2K gives out 99's much less freely than Madden does. Madden currently has four players rated at a 99, while 2K has none with its highest player as former MVP Giannis Antetokoumnpo at a 97. With that in mind, I've rated UConn's men's hoops players within the realm of college basketball. So for instance, reigning NPOY Oscar Tshiebwe would be a 97 or 98 because he's arguably the best player in CBB and he's coming back. This is NOT a rating of how a player would be in the NBA, but merely in the NCAA universe. A star player on a top level team will be in the 90-97 range. An average to good starter will be between 80-89. Role players and benchwarmers will be in the 65-79 range. Without further ado, let's get into this…
92 - Adama Sanogo, 6'9'' C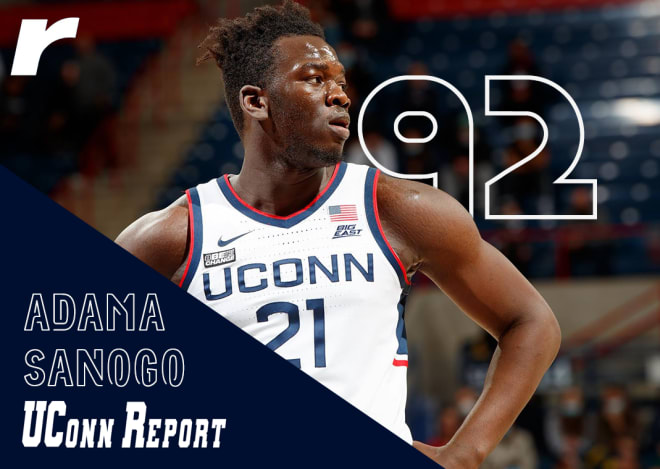 To start things off, we have the player that some may consider the frontrunner for Big East POTY. Sanogo was roughly the fifth best center in college basketball last year AND he's returning. So why doesn't he get more love than just a 92? The answer is that a 92 is still a really good rating. The 10th best player in 2K, James Harden, is a 92. Sanogo, who lines up to be the third best center in CBB after Drew Timme and Tshiebwe ranks between 10-20 in the country overall, warranting this rating. He's a complete beast and there's a strong chance he can get even better to have a more complete season than he did last year.
88 - Andre Jackson, 6'6'' PG/F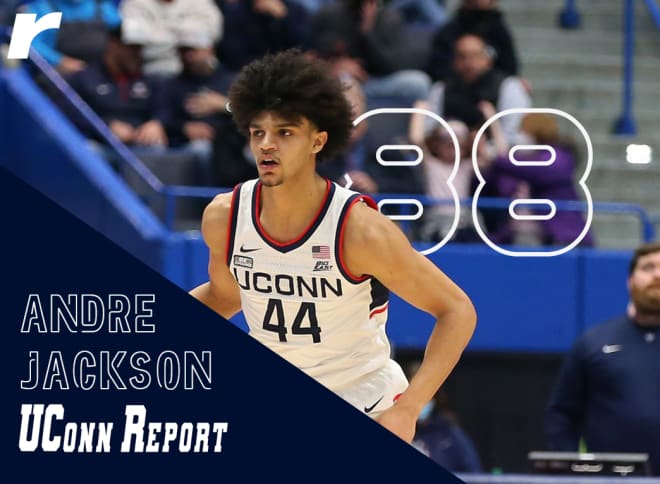 Having Jackson as an 88 might seem a bit high to some, but the rating comes with the thought that he's going to take a considerable leap going into his junior season. Why not though? He figures to grow into more significant point guard duties and in offseason videos, his shot has looked cleaner and more fluid than it did last season. His aggressiveness increased last year and it should only increase. His rating puts him in a similar spot to Zach Lavine or Paul George, players whose heights he's capable of reaching in the college world.
85 - Jordan Hawkins, 6'5'' SG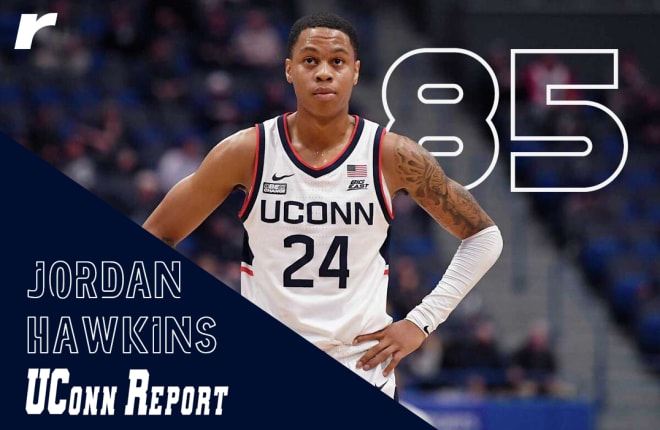 This may seem a bit low with the amount that Hawkins is supposed to grow this year, but it can be hard to accurately predict development on a player in his first true, healthy offseason. Visually, his jumper looks like it should connect at least 40% of the time, but he only made a third of his threes. Expect Hawkins' accuracy from deep to go way up and for him to get more aggressive on drives. He seemed to have confidence issues at times last year which is the reason why he's a touch lower, but at year's end we could be looking at him as a 90+ type of player.
83 - Tristen Newton, 6'5'' G
Newton is another player who's hard to predict just because of his transition from the American to the Big East. He has all the tools, but questions remain with his jumper and how much will be asked of him. Performing in the AAC is very different from Power 6, so as an elite player on East Carolina who isn't expected to develop too much more, an 83 seems fair. However, if the change doesn't affect him too much and he comes close to his 17, five and five line, he could leap all the way to an 88.
80 - Nahiem Alleyne, 6'4'' SG
After Newton, deciding who's going to start gets sticky. Typically, on a good team, the worst starter is around an 80. There are three or four guys contending for that fifth slot and Alleyne seems to be at the top. He brings ACC pedigree and started on Virginia Tech, a tournament team. He shoots the rock at a high level, which will help the Huskies space the floor well.
78 - Hassan Diarra, 6'2'' G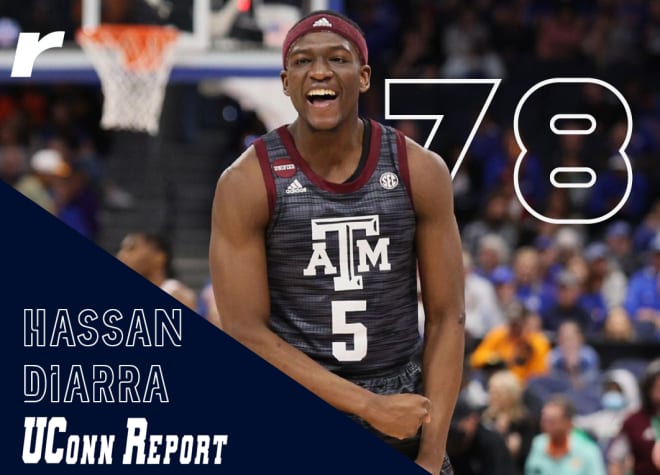 Diarra doesn't figure to start, but will bring roughly 15 minutes a game of toughness on defense. He's mentally tough and has a clutch gene that scored him and his Texas A&M Aggies a few extra wins in March. Otherwise, his offense is a bit shaky, but his ability to guard on-ball will keep him in games and earns him a "Marcus Smart"-esque rating in the high 70s.
78 - Alex Karaban, 6'8'' PF
The best rookie in 2K every year gets roughly an 81 and it decreases from there. Karaban gets a slight bump since he's been with the program for an extra semester improving, and he has a chance to contend for serious minutes. Karaban has a long frame and shoots great for his size. His all-around skillset and height will give him an opportunity to break out in a big way in a revamped four guard lineup.
77 - Samson Johnson, 6'10'' PF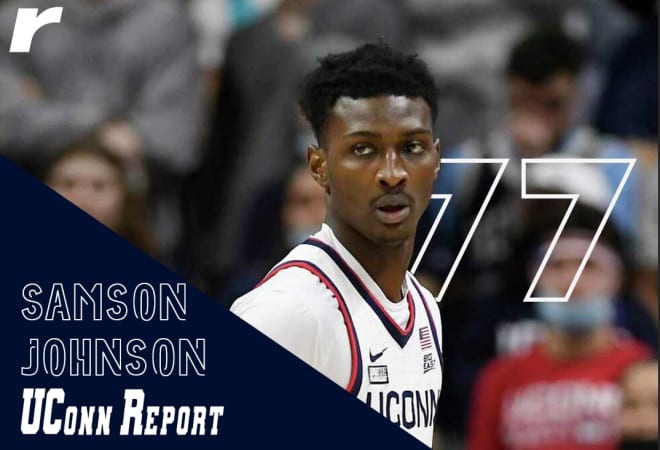 Johnson might be the biggest question mark on the team. Hurley said the forward had potential to be a lottery pick going into his freshman year and proceeded to give him less than 100 minutes on the season. Jon Rothstein recently tabbed him as a projected starter. A lot of people around the program have said many positive things about the rising sophomore, which do help his rating, but it will be up to Johnson to prove it, as he did virtually nothing last year.
76 - Joey Calcaterra, 6'3'' G
Calcaterra figures to be a fringe rotation player used as a spark plug deep-threat. If he can shoot well, he'll find time on the court, but nothing else about his game sticks out too much positively or negatively. His floor is high, which is expected of your sixth-year senior, making his rating relatively stable.
76 - Donovan Clingan, 7'2'' C
Clingan is one of two true centers on the roster, alongside Sanogo. It's tough to tell how good he'll really be, given the fact that he played public school-ball for the past four years, which may hinder his rating against his actual skill. Fortunately, he won't be asked to do too much with Sanogo out there for most of the time. This year will give a nice taste of Clingan in a low-pressure situation, lowering his short-term ceiling.
70 - Richie Springs, 6'9'' PF
Springs is going into his redshirt junior year and has been a non-factor so far. Ratings are partially based on potential, which Springs is running out of with each passing year.