Get To Know St. Johns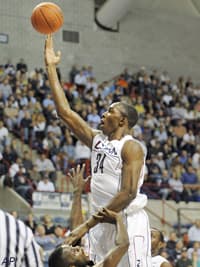 The longstanding series between UConn and St. John's has had its share of close games and defining moments. Though
Jeff Adrien
and the Huskies have won the last seven meetings between the two teams, the Red Storm are out to prove that their upset of Notre Dame two weeks ago was not a fluke. The teams clash tonight at Madison Square Garden with plenty on the line.
The Basics
St. John's record: 10-5, 1-2 Big East
Last game: Lost at Pittsburgh, 90-67, on Sunday
Head coach (record at school/season):
Norm Roberts
(58-72/Fifth season)
UConn all-time vs. St. John's: St. John's leads series, 32-25
Notable former players in the NBA: Hall-of-Famer Chris Mullin, Houston Rockets forward Ron Artest
Important UConn offense vs. St. John's defense match-up:
Hasheem Thabeet
vs.
Sean Evans
. Thabeet will have a significant size advantage over the Red Storm front court, with only one player -
Dele Coker
- in the regular rotation who is taller than 6-foot-8. "He'll face good players, but not quite the size that he's had to face recently," UConn head coach
Jim Calhoun
said Wednesday. "Therefore, we need him to be an important part of [the offense]."
Important St. John's offense vs. UConn defense match-up:
Quincy Roberts
vs.
A.J. Price
. Roberts, a freshman combo guard, is expected to make his fifth consecutive start at point guard in place of
Malik Boothe
, who has been sidelined with a left thumb injury. He has fared well in Boothe's place, averaging 9.3 points, 4.8 rebounds and 2.0 assists per start, but had just two points, two assists and six rebounds in 31 minutes in the Red Storm's win over No. 12 Notre Dame two weeks ago.
What To Watch For
With The Big Boys: This season appears to be the first in Roberts' five-year tenure that he's built a team capable of making some noise in the Big East. He has a team that can rebound inside - the Red Storm are second in the conference in offensive rebounds - and has athletic players on the wings who can score. It's a recipe that helped St. John's upset Notre Dame at Madison Square Garden on Jan. 3 and also one that has Calhoun thinking that a good Big East time could end up with as many as eight losses.
Zoned In: Pittsburgh employed a zone defense that frustrated St. John's on Sunday, helping the Panthers pick up a 90-67 home win. Though Calhoun prefers to play man defense to make his players more accountable for their actions, he admitted that the plans may change after watching the Panthers' success. "We're all kind of learning from each other and stealing from each other," Calhoun said.
History Lesson: The rivalry between St. John's and UConn been tense since Calhoun arrived in Storrs, leading to a 23-18 mark all-time against the Red Storm for the coach. Seven of the last 11 games have been decided by less than 10 points and UConn is just 10-10 all-time in games against St. John's at Madison Square Garden. A win tonight would not only give the Huskies another step up in the Big East race, but it would mark the first time UConn has ever won all three games of a Big East road trip under Calhoun.