Frazer a game-time decision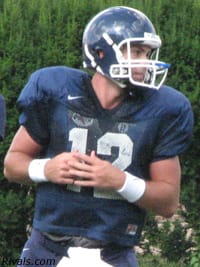 UConn quarterback
Zach Frazer
's availability for this weekend was classified as a game-time decision by head coach
Randy Edsall
on Thursday, casting doubt as to whether or not Frazer will be able to make his third consecutive start.
Edsall did not clarify whether or not Frazer, who is believed to have suffered a concussion late in the Huskies' 12-10 loss to Rutgers last weekend, practiced at all during the week or is even cleared to play. He was healthy enough, however, to attend class and sit in on positional meetings.
One player said Tuesday that he had been informed Frazer suffered a second concussion.
"I worry about all injuries, but the head is a little more complicated," Edsall said. "I get all my information from the doctors and the trainers. If the doctors and trainers tell me that the young man is cleared to play, then we'll play him. If they tell me he's not cleared to play, they don't play."
Frazer's first concussion occurred midway through fall practice – an injury that kept him limited for nearly a month. If Frazer is unable to play,
Cody Endres
, a redshirt freshman, will make his first career start at quarterback against Cincinnati on Saturday at noon (MyTV9, SNY).
The 6-foot-3, 229-pound prospect from Washington (Pa.) Trinity has played in two games this season, completing 4-of-5 passes for 49 yards in the season-opener against Hofstra and handing the ball off late in the Huskies' win over Virginia.
Edsall chose not to comment on the extent in which Endres practiced during the week, maintaining that the quarterback practiced "just like he's been practicing every week."
"That's all private and confidential information," Edsall said.
Edsall said on Tuesday that true freshman walk-on
Johnny McEntee
, a 6-foot-2, 204-pound quarterback from Fullerton (Calif.) Servite, would serve as Endres' back-up, with true freshman
Casey Turner
, a 6-foot-4, 235-pound quarterback from Chesapeake (Va.) Great Bridge third on the depth chart.
Both McEntee and Turner are expected to redshirt this season. McEntee has traveled with UConn on the road in every game this season to serve as the emergency quarterback.
Not an option at the position is wide receiver
D.J. Hernandez
, who started at quarterback as a freshman and sophomore before moving to his current position before his junior season. Hernandez has a career 55.7 completion percentage and has thrown for 1,364 yards and 15 touchdowns.
Quarterback
Tyler Lorenzen
, who started the season at the position, remains at least a month away from returning to action after suffering a broken foot at Louisville on Sept. 28.
Edsall denies report
A report that appeared on the Web site of The New York Times on Wednesday claimed Syracuse athletic director Darryl Gross has hired a search firm to locate potential replacements for head coach
Greg Robinson
. That report said Edsall was the first individual contacted by that firm.
Not true, said Edsall, who opened his teleconference Thursday with a statement regarding the rumors.
"I haven't been contacted by any college, any university, the NFL, any person or any people regarding any job, end of story," said Edsall, who signed a contract extension in December through 2013.
Edsall, a former quarterback at Syracuse and defensive backs coach, has publicly denied interest in the head coaching position at Syracuse in the past. Robinson is 8-34 since taking over for Paul Pasqualoni after the 2004 season.
Dillon, Sherr out
Defensive tackle
Brandon Dillon
and running back/long snapper
Nathan Sherr
each suffered leg injuries in practice this week and are considered day-to-day, but neither is expected to dress against Cincinnati. … Punter
Desi Cullen
is expected to remain the holder for kicker
Dave Teggart
, who replaced
Tony Ciaravino
as the starter this week. Frazer had been the holder for Teggart on the second team.