Christian Vital Unexpectedly Steps Into Key Role for UConn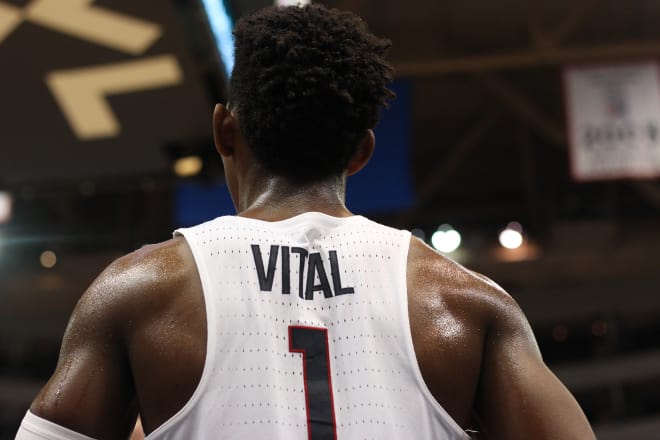 If things had gone according to plan, Christian Vital would be working out in Nevada right now preparing for a game against Duke next weekend. Instead, the freshman guard will be wearing a UConn uniform Monday night when the Huskies play former Big East rival Syracuse at Madison Square Garden.
It's hard to say if Vital would have quite as large a role with the Runnin' Rebels had he decided to stick with that program following a coaching change in the off-season. But he's a Husky and the injury-riddled roster desperately needs him in the lineup this season.
Vital heads into the game with Syracuse (4-2) looking to build off a career night – in which he notched a season-high in points (13) and minutes (36) - in a 51-49 win over Boston University last week that improved the Huskies to 3-4.
"I believe in myself," said Vital, who is tied for second on the team with seven steals. "I'm very confident in myself. I believe I can play a lot of minutes, being a freshman or not, but I do need to be more solid."
Despite being the last addition to UConn's self-billed "Top Five" recruiting class, along with being the lowest ranked (145th nationally) in the group, Vital has had the largest impact through seven games.
"Just understanding his role, you don't have to prove yourself all the time," UConn coach Kevin Ollie said about what Vital needs to do. "Play good defense, stay in front of his man and play tough, try to rebound and be solid. … I want him to play solid, solid, solid.
"You know I can't take these guys out. They got to be solid, they got to grow up – they can't be freshmen no more."
Of course, losing highly-touted freshman point guard Alterique Gilbert to a season-ending shoulder injury helped open the door for more minutes for Vital since the Huskies only have two other guards on the roster, starters Jalen Adams and Rodney Purvis.

Freshman power forward Mamadou Diarra (133rd) is also redshirting this season due to chronic knee problems, while forward Juwan Durham has been eased into the lineup following two knee injuries in high school.
"I want him to have a little more presence out there," Ollie said of Durham. "I want to give him more minutes, but he's got to have life out there. He has to say 'I'm Juwan Durham, I'm out on the basketball court.' That's offensively and defensively."
Redshirt sophomore Terry Larrier (knee) is also out for the season.
"Seems like guys are dropping every game. Hopefully, that curse can leave us," Vital said. "As of now we do have eight players, so everyone just needs to keep learning with each other."
That leaves forward Vance Jackson and Vital, who missed one game due to a bad back. In six games, Vital is averaging 27 minutes and 8.2 points while Jackson is playing 19.9 minutes and scoring 7.0 ppg.
Coming into UConn, Vital drew comparisons to Ollie from his coach at St. Thomas More, Jere Quinn. He's starting to sound like Ollie, too.
"I feel we have a lot of guys on our team who can hit big shots," Vital said. "If the ball comes my way, I'm completely fine with that and I'm completely confident in my shot, taking the last shot to win the game.
"But if it's also me screening for a teammate or me needing to pass to a teammate for him to get the final shot, I'm equally as fine with that."