Anna Makurat primed for breakout year
By most measures, Anna Makurat was one of UConn's best offensive players in the final two months of the season. On Jan. 19 against Tulsa, the Polish freshman had a career night with 21 points on 4-7 shooting from beyond the arc. The 92-34 win represented a dividing line in Makurat's first season.
In the 16 games prior to Tulsa, Makurat averaged 5.2 points per game and shot just 36.2 percent from three. In the 15 contests after, however, she recorded 10.7 points per game and shot a blazing 45.1 percent from deep.
Despite the clear improvement, Makurat wasn't happy with herself when the season ended. Even if the NCAA Tournament occurred, it wouldn't have made a difference. The freshman's displeasure wasn't anything to do with the way she played basketball.
"I didn't feel great last season," Makurat admitted to the media last Monday. "I think it pushed me down a little bit because I was thinking about being tired especially, but not only about basketball, executing stuff on the court."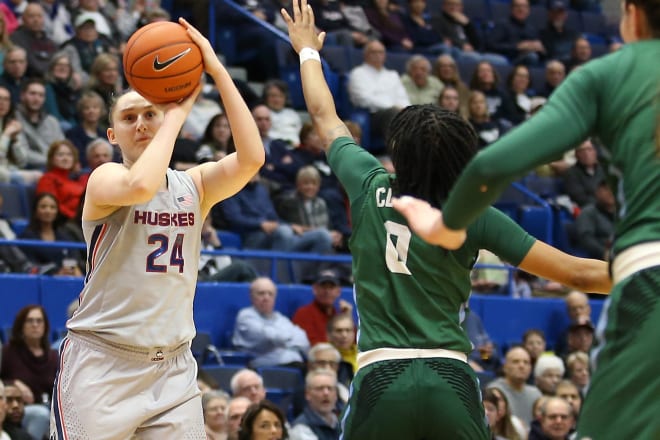 After the COVID-19 pandemic shut down UConn's campus and Makurat returned home to Poland, her main focus was to get herself in better shape. To do so, she enlisted the help of a nutritionist and set out to improve her conditioning level. The difference is already noticeable.
"I think I'm definitely more comfortable," Makurat said. "It's an extra energy and strength I gain. It's definitely easier to focus on all the little things that are important in basketball instead of focusing on being in bad shape."
Last season, UConn relied on Makurat to provide a three-point threat and be the fourth or fifth option on offense. But with Crystal Dangerfield and Megan Walker now in the WNBA, the Huskies will need more out of the rising sophomore. Not only will Makurat need to shoulder a larger scoring load, she'll also likely be asked to take on a role as a facilitator.
During her freshman campaign, Makurat averaged 3.3 assists per game and routinely showed off an advanced court vision. With no clear replacement for Dangerfield, Makurat could be a dark horse candidate to take over some of the point guard duties.
But Makurat isn't focused on claiming one specific role. Instead, she just spent the summer trying to improve all facets of her game.
"I try to be an all-around player, more versatile, and have different ways that I can use to execute plays: either three-point shots, midrange or drive to the basket," she said. "If you have more things, it's easier to execute plays."
Unlike many of her American teammates, Makurat had the opportunity to play organized basketball over the offseason. Once Poland got a handle on the virus, the Polish Basketball Association organized a three-week national team camp which gave Makurat a chance to play against some of the best players in the country.
"It was a really good three weeks of practices, competing," she said. "We played two scrimmages, so I had a little bit of basketball after the season stopped in March so that was pretty cool."
For a little while, though, there was some uncertainty over whether or not Makurat would make it back to Storrs. The US closed its borders due to the COVID-19 pandemic, which left international players like Makurat in limbo. Despite admitting that dealing with the uncertainty was difficult, she also knew she just needed to be patient.
"It definitely was a ride," Makurat said. "I didn't know how I'm going to get here and when I'm going to get here. I was at home, patiently waiting for some information but like I said, it was a lot of unknowns. But we did it, the borders got opened so I'm here."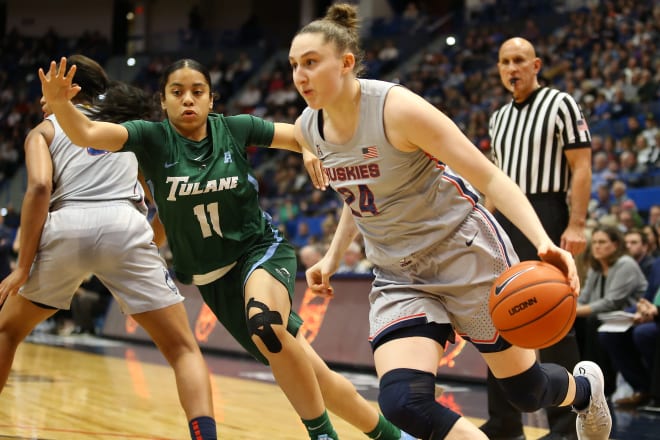 At this time last year, Geno Auriemma predicted that Makurat wouldn't need any time to get acclimated to the college game as a freshman. That obviously didn't come to fruition as Makurat struggled for much of the first half of the season and needed a surprise trip home to Poland over the Christmas break to finally break out.
Auriemma wasn't inclined to make any bold predictions about Makurat when he met with the media last Monday. But with the amount of work the sophomore put into herself this offseason, he didn't need it.
"Anna's completely different, she looks like a completely different person and a completely different player," he said. "Her conditioning level is just a complete 180 from last year. And she spent a couple weeks with the national team over there in Poland. You can tell. She's so confident and her quickness (is better), everything."